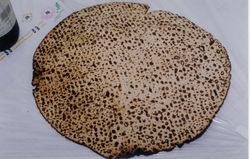 Unleavened Bread

The days of unleavened bread for 2019 started at sunset April 19th and run through sunset April 26th.
Here is a sermon from the ContinuingCOG channel:
The Days of Unleavened Bread is one of God's Holy Days outlined in the 23rd chapter of Leviticus. What did this Holy Day reveal? Is it still commanded to be observed? This Holy Day reveals Christ's victory over death. What day was that victory proclaimed? What significance does the day of Sunday play in this Holy Day? God commands us to eat unleavened bread for the seven days of this feast. What symbolic role does leaven play in the life of a Christian?
Here is a suggested holy day service for this week for our scattered brethren:
For those interested in two services, here is a suggestion for the second service:
Note: If you have a slow internet connection, you can watch these by starting the video, then below it (and towards the right) look for an outline of a gear–if you click on that, it will allow the YouTube video to be played with lower video quality, but at least it will not stop often–you can select a quality as low as 144p. If your internet connection is still too slow and/or you prefer audio messages to audio-visuals ones, go to the YouTube link for the message, click on SHOW MORE related to the description. You will then see something that says, "Download MP3." Below that is a link to an MP3 file. Most computers (and even some cellular telephones) will allow MP3 files to be downloaded and played. This is an option we have made available (but we are also looking into ways to improve that as well)–and, of course, we have written article options. Some people have found that if their internet connections are not fast enough, that they can simply listen to the messages that are found at the Bible News Prophecy online radio channel.
Some items of possibly related interest may include:
Should Christians Keep the Days of Unleavened Bread? Do they have any use or meaning now? What is leaven? This article supplies some biblical answers. Here are two YouTube videos intended to be viewed for the first day of unleavened bread:Leaven and Sin and Christians and the Days of Unleavened Bread.
How to Keep God's Festivals Many have heard of God's Holy Days and wonder how they are kept in the 21st century. This is an overview article. A related sermon is also available titled: How to Keep God's Feasts. Here is a link to a related article in Spanish: ¿Cómo guardar los Festivales de Dios?¿Cómo guardar los Festivales de Dios?
How often should we partake of THE LORD'S SUPPER? Herbert Armstrong answers that question.
Keeping Passover and the Days of Unleavened Bread How should Christians keep Passover, especially if they are by themselves. Why does the Church of God not require lambs for Passover? How does one keep the Days of Unleavened Bread? For a step-by-step video for Christians to keep it, check out a CCOG Passover Service. Here is a link to a related article in the Spanish language: Guardando la Pascua y los Días de los Panes sin Levadura.
Examine Yourself before Passover This article goes into some of why real Christians are to do this. Two related sermons are Really examine yourself before Passover and Passover Examination.
Preparing for Passover The Apostle Paul taught that Christians should examine themselves prior to taking Passover. This YouTube video sermon gives suggestions on how to prepare.
Passover and the Early Church Did the early Christians observe Passover? What did Jesus and Paul teach? Why did Jesus die for our sins? There is also a detailed YouTube video available titled History of the Christian Passover.
The Passover Plot What was the first Passover plot? Which plots have Islam and the Greco-Roman faiths perpetuated about Passover? A sermon video of related interest is The Passover Plots, Including Easter.
Melito's Homily on the Passover This is one of the earliest Christian writings about the Passover. This also includes what Apollinaris wrote on the Passover as well. Here is a related sermon, also titled Melito's Homily on the Passover.
TPM: Passover on the 14th or 15th? While the real COG observes Passover on the 14th, some observe it on the 15th. Why is the 14th correct? A related sermon is titled Is Passover on the 14th or 15th for Christians?
Unleavened Bread recipes A Serbian COG member, now CCOG elder, sent these recipes for those who would like more ways to prepare unleavened bread. Here is a link to recipes in Spanish: Recetas de Recuerdo.
The Night to Be Observed What is the night to be much observed? When is it? Why do Jews keep Passover twice and emphasize the wrong date? A related animation is available and is titled: Night to Be Observed.
The Seventh Day of Unleavened Bread What happened? Does this day have any type of fulfillment in the Book of Revelation?
Offertories: Unleavened Offering and 7th Day of Unleavened Bread Offertory for 2018.
Living as a Christian: How and Why? In what ways do Christians live differently than others. What about praying, fasting, tithing, holy days, and the world? There is also a YouTube video related to that also called: Living as a Christian: How and Why? 
Overcoming Sin What is sin? How are Christians suppose to overcome it? Here is a link to a version in Mandarin Chinese: QKg f/'͉v". Here is a link to a version in Spanish: Vencer al pecado. Here is also a link to a video in English titled How YOU Can Overcome Sin.
Marcus, the Marcosians, & Mithraism: Developers of the Eucharist? Marcus was a second century heretic condemned for having a ceremony similar to one still practiced by many who profess Christ. Might he also be in the apostolic succession list of the Orthodox Church of Alexandria?
Tradition and Scripture: From the Bible and Church Writings Are traditions on equal par with scripture? Many believe that is what Peter, John, and Paul taught. But did they?
Did Early Christians Celebrate Easter? If not, when did this happen? Where did Easter come from? What do scholars and the Bible reveal?
Why Easter? Did early Christians observe Easter? What are the origins of Easter? What does Easter have to do with the goddess Ishtar. Where did the word Easter come from? Where do Easter eggs come from? What do rabbits have to do with Easter? Was Jesus resurrected on a Sunday? This is a video.
Should You Observe God's Holy Days or Demonic Holidays? This is a free pdf booklet explaining what the Bible and history shows about God's Holy Days and popular holidays. A related sermon is Which Spring Days should Christians observe?
Is There "An Annual Worship Calendar" In the Bible? This paper provides a biblical and historical critique of several articles, including one by WCG which states that this should be a local decision. What do the Holy Days mean? Also you can click here for the calendar of Holy Days.
Holy Day Calendar This is a listing of the biblical holy days through 2024, with their Roman calendar dates. They are really hard to observe if you do not know when they occur 🙂 In the Spanish/Español/Castellano language: Calendario de los Días Santos. In Mandarin Chinese: 何日是神的圣日? 这里是一份神的圣日日历从2013年至2024年。.
Where is the True Christian Church Today? This free online pdf booklet answers that question and includes 18 proofs, clues, and signs to identify the true vs. false Christian church. Plus 7 proofs, clues, and signs to help identify Laodicean churches. A related sermon is also available: Where is the True Christian Church? Here is a link to the booklet in the Spanish language: ¿Dónde está la verdadera Iglesia cristiana de hoy? Here is a link in the German language: WO IST DIE WAHRE CHRISTLICHE KIRCHE HEUTE? Here is a link in the French language: Où est la vraie Église Chrétienne aujourd'hui? 
Continuing History of the Church of God This pdf booklet is a historical overview of the true Church of God and some of its main opponents from Acts 2 to the 21st century. Related sermon links include Continuing History of the Church of God: c. 31 to c. 300 A.D. and Continuing History of the Church of God: 4th-16th Centuries and Continuing History of the Church of God: 17th-20th Centuries. The booklet is available in Spanish: Continuación de la Historia de la Iglesia de Dios, German: Kontinuierliche Geschichte der Kirche Gottes, French: L'Histoire Continue de l'Église de Dieu and Ekegusii Omogano Bw'ekanisa Ya Nyasae Egendererete.
The History of Early Christianity Are you aware that what most people believe is not what truly happened to the true Christian church? Do you know where the early church was based? Do you know what were the doctrines of the early church? Is your faith really based upon the truth or compromise?