Dear Brethren and Co-Workers in Christ:
Greetings again from the Five Cities' region of California.
It has taken some time to try to partially catch up from the Feast of Tabernacles.  There were people to call, problems to resolve, and donations to process (I have to handle each of them individually and that takes a lot of time).
Anyway, we are grateful for having our largest attendance ever at the Feast of Tabernacles worldwide.
However, because I had to speak at two different sites, my wife and I were not able to spend as much time with everyone as we would have preferred (though I believe we both spoke to all attendees).
New Zealand and Philippines Reports
John Hickey sent in the following report related to the Feast of Tabernacles in New Zealand:
Hi Bob
What a great Feast we all had.  Reading the emails from other Feast sites told us that we weren't the only ones to have a fantastic time for the week and a half that we were away.
God really answered our prayers with the weather He turned on for us – the sun was out, the lake was blue and the mountain snow showed up clean and white.  There were thirteen of us enjoying the beautiful setting of Taupo in the centre of the North Island of New Zealand.
The venue that we had was the conference room at Chantilly's Motel and it was well set up for our services and the helpfulness of the owners was outstanding.  We had great messages too from Dr Thiel and Steve Dupuie in America and we had sermonettes from Mr Johan Kersten and myself.
The rest of the time was taken up with a river cruise, a visit to a geothermal park, a lake cruise and lots of shopping.  This was all rounded up with a very enjoyable barbecue.
On top of all this Sharon Perry was baptized and thereby became a full member of our church.
Best regards
John Hickey
My wife and I were able to attend the first half of the Feast of Tabernacles in New Zealand back in 2013–we were able to spend Pentecost weekend with them there in 2015.
We also received the following report from the Philippines:
Greetings Dr Bob,
We had a wonderful Feast of Tabernacles & Last Great Day here in Cagayan De Oro.The Spiritual Food was very timely and uplifting! Many thanks for all your hard work in producing all the Sermons and Sermonetes.Onward with the Short Work that we all have to do in the Continuing Church of God.
Warm Christian Greetings
Anthony Flavell
We had two small video Feast sites in the Philippine, with the other one being in Silay City.
Photos Missed

In last week's Letter to the Brethren, I promised more photographs related to the Feast in Kenya.
CCOG Pastor Evans Ochieng sent in the following related to those at the Feast of Tabernacles in Ndhiwa, Kenya: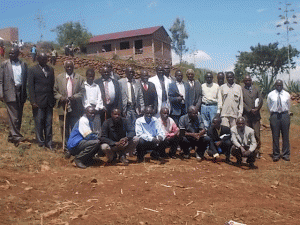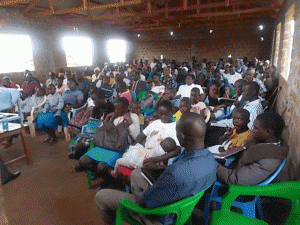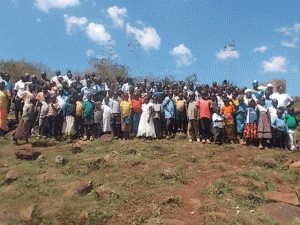 On Tuesday, CCOG Pastor John Owak sent in the following report about the site in Ndhiwa:
Hello Mr. Bob.

Greetings in the name of our Lord Jesus Christ who enabled us to to receives every wonderful gift of the Truth of His wonderful Gospel of His Wonderful Kingdom of which to come soon, its time now after we had attended a wonderful Feast of Tabernacles and we thanked our Almighty Father who made it to be as good and inspired with Inspired massages we received there of the hope of that our Future in God's Kingdom.

The Feast site at Ndhiwa Kenya was very well organized despise Satan's evil plan to disrupt it with the abduction of Pastor Evans Son, Bradox, but as per the prayers of the saints, God opens the door and Satan was defeated last Bradox was found alive and well in condition, Glory be to God for that.

It was my best ever Feast since I started attending Feast for many years within the Church of God, since people were with the same mind, no matter the differences in languages , but the feast was wonderful, we received massages from all speakers, and especially concerning the prophecy of which tells us to know where we are, and the trends of the world as per now, so this and other more massages given there was very inspired.

We were using three difference languages since we were difference tribes, so the workload was great for us whom we ere doing translation for everyone to benefit from the massages which were given there, every one came from the feast with a lot of Joy and no one wants the feast to come to an end, but it was to, so we came out looking forward foro the next year again.

This year we were with elderly men and women, whom the highest in age was in His 93years – and the youngest was 2 Months old, the total attendees was 217-250 on the Sabbath day. We took some photos of which I will send sometimes when I get time to download them, I know Mr. Evans also will send some photos too. next year we will plan to visit other sites so that we can see how do they do the feast in those area when the funds will enabled us to do so.

Since there are many Congregations to be visited, we will do that if funds will permit us so that the brethren can be strengthened in the faith, we need to walk the way Apostles walk after preaching to the brethren they were visiting the to strengthen them again, we pray that God will open the door for His work and strengthen the laborers to continue spreading His wonderful massage before the end time. God will provides the funds for this too.

Finally we give thank to Our Almighty Father who enabled all of these to happened and so for those who provided and supported the Feast allover the world with their Tithes, May God Bless those pockets and we hope even in Africa we will copy and learn from them to support the work of our Almighty with our Tithes too, we plan to teach brethren the important of Giving than receiving, so God will bless them too.

May our Father Continue to support His work allover the world till the time of the wonderful Kingdom comes.

Greetings to all,

Yours in His Services

John.
When I was speaking in Nairobi, Kenya last year, John Owak often translated what I said.  While most of our people in Kenya know some English, it is not the native language for them.
In last week's Letter, I mentioned Sosten Libugwa from Malawi.  He sent in the following report:
Dear Dr Bob.
The Report from Malawi CCOG who represent two Countries Malawi and Mozambique.
Bob, the Feast of Tabernacles in Kenya was very successfully under the leadership Evans who represent Africa.  I have seen in Evan's wisdom and knowledge and also in him there is dynamic leadership and administrator.  We were almost 210 members at the feast of Tabernacle in Ndhiwa but we all cared for and the wife of Evans did the good job by gave us a good welcome to all; she is good and kind.
I have learned a lot in Kenya.  I have also come to know what the Feast of Tabernacle means.  I was ignorant to know the seven feasts before, but with this trip I learn all this seven. And because I learned about them, and I know what it means by next year, we shall have it all in Malawi and brethren from Mozambique will come to attend this feast.  And my prayers is that some from US and Canada or else where must come to attend Feast of Tabernacle in this very peaceful Country.  As I said I look after two countries, please i need your prayers for all the people of this countries to know the truth, because the bible says if you know the truth the truth shall set you free.  We must take this truth and tell others in the World. Thank you very much CCOG for this opportunity that I went to Kenya to learn the truth.  We had also time to pray for Bradox the son to pastor Evans who was attacked by unknown people. I wish even them who did this evil things to know the truth.
Sosten Libungwa
It is great that Sosten Libungwa was able to attend.  We hope that next year we will have a site in Malawi and/or Mozambique.
Here is a photo extracted from a video of Steve Dupuie speaking at the Feast of Tabernacles in Niagara Falls, Ontario, Canada since we did not show him in any photos last week: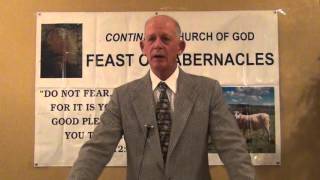 Steve Dupuie in Niagara Falls
Here are some photos taken when I visited the offices of the Church of God (Seventh Day), Denver (CG7) were I met with its former president Robert Coulter: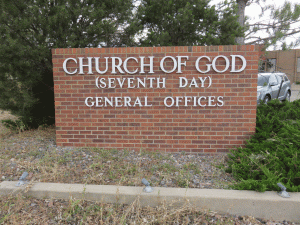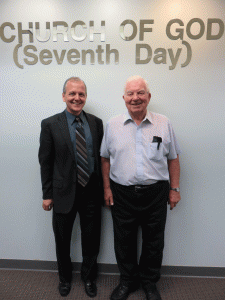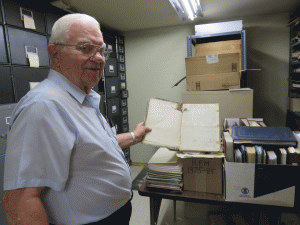 The middle photo shows me and Robert Coulter.  While the last shows him with the original copy of the first edition of the Hope of Israel which has a print date of August 10, 1863.  Aspects of church history in the 19th century was one of the subjects Robert Coulter and I discussed during the meeting.  As mentioned before, my main interests in meeting with CG7 was to improve information on church history, pass on doctrinal information, help prevent misunderstandings in Africa and elsewhere, and to try to reduce the possibility of getting misled by pretenders to the COG located in various parts of the world while we in the Continuing Church of God work to fulfill Matthew 24:14 and Matthew 28:19-20.
Radio
Ended up on radio Monday.  The host (Dr. Deagle) told me that the program had millions of listeners.   Basically, he said not only is the show popular on the Genesis Communications Network, and this program is now number three on that network; he also said that he is also an ABC affiliate and is part of DISH Network in Europe.  He explained that DISH network in Europe has something like 1100 radio channels and covers Europe, the Middle East, Africa, and Asia, including Russia.  There are even listeners in Perth, Australia.
Topics covered included the United Nation's 'New Universal Agenda' along with Pope Francis' promotion of it.  We also discussed the Vatican's interest in the Church of God on Jerusalem's Western Hill and why the Vatican may have recognized the Palestinian State when it did. We also discussed Russia, Syria, Ezekiel 38, and why the 'peace deal' of Daniel 9:27 will be part of the false gospel many will accept in the end times.
The program is a difficult one to be a guest on as the host will often bring up prophetic positions that differ from those that we in CCOG hold, but I try to stir the discussions closer to the Bible.  The reach of this program is high and is something often available to us, and at no cost.
Thus, radio is one form of media that we keep utilizing.
World News Items
The nation of Turkey was hit by terrorists with nearly 100 killed and hundreds wounded (seeSuicide bombers kill scores in Turkey–their hope for reward is flawed).  Terrorists are misguided people who do not have true love and are too willing to serve Satan.
Russia has kept up its air campaign in Syria and seems to be succeeding, for now at least, to help prop up the Assad regime.  Some Protestants are wondering if the fulfillment of Ezekiel 38 is near, but that is not the case as that is not a prophecy for this current age (see Russia's military might making progress in Syria–is this fulfilling Ezekiel 38?).
Israel has been hit by a wave of stabbings from young Palestinians who seem to think this is the only way to get things changed there (see Palestinians involved in stabbing attacks in Jerusalem: another intifada?).  However, the Kingdom of God, not cowardly terrorism is what is really needed.
The Prime Minister of the United Kingdom and the Chancellor of Germany met to try to see if they can take steps that will reduce the possibility of UK voters deciding to leave the European Union (see UK's PM and Germany's Chancellor meet on Brexit).  Despite such efforts, the time will come when the Europeans will take over the UK.
Also in the UK, there is a report that scientists there wish to genetically-modify pig tissues to provide transplanted organs for humans (see Pig-Human GMOs proposed).  Some have claimed that 'men are pigs' and with the current proposal, this could become more literally correct.  That being said, I believe that the whole field of genetic-modification is fraught with dangerous risks, and often other moral issues, that proponents wish to ignore (the loss of monarch butterflies comes to immediate mind: see also Government looking into devastation of bees and butterflies: GMOs and pesticides are factors).  The use of GMOs is likely to be part of a 'perfect storm' that will result in the end of the UK and its allies like the USA.
The US Presidential nomination process remains in the news with items from various candidates (see, for example, SDA Ben Carson on the end times and Donald Trump warns of US stock market bubble) as well as debates making the news (see Democratic candidates for US President advocated unbiblical views). No candidate for US president has the platform of Jesus' kingdom, though some have less anti-biblical views than others.
Suggested Sabbath Service
Here is our suggested format for Sabbath services this week:
2-3 hymns (our songbook, The Bible Hymnal, contains the materials from the 1974 Bible Hymnal from the old WCG with new covers, plus ten additional hymns; there is also someChoral Accompaniment online).
Opening prayer.
Sermonette, which for many who receive this letter via email will be a recorded one titled:The Blessing of Little Children Ceremony.  Other sermonettes are available at the Bible News Prophecy channel.
Announcements (if any; though for many it will be this letter) and one hymn.
Sermon, which for many who receive this letter via email will be a recorded one. The one suggested for this week is: It's not heaven. Other sermons are also available at theContinuingCOG channel.
Final hymn.
Closing prayer.
Note: If you have a slow internet connection, you can watch these by starting the video, then below it (and towards the right) look for an outline of a gear–if you click on that, it will allow the YouTube video to be played with lower video quality, but at least it will not stop often–you can select a quality as low as 144p.
If your internet connection is still too slow (as my home one is) and/or you prefer audio messages to audio-visuals ones, go to the YouTube link for the message, click on SHOW MORE related to the description. You will then see something that says, "Download MP3." Below that is a link to an MP3 file. Most computers (and even some cellular telephones) will allow MP3 files to be downloaded and played. This is an option we have made available (but we are also looking into ways to improve that as well)–and, of course, we have written article options that we list each week. Some people have found that if their internet connections are not fast enough, that they can simply listen to the messages that are found at the new Bible News Prophecy online radio channel.
IN CASE YOU DO NOT RECEIVE A 'LETTER TO THE BRETHREN' FOR ANY WEEK, REMEMBER THAT THERE ARE MANY SERMON MESSAGES ON THE ContinuingCOGchannel AND MANY SERMONETTE MESSAGES ON THE Bible News Prophecy channel.
Concluding Comments
Jesus is not coming this year or next, but do not lose heart.  The Apostle James wrote:
7 Therefore be patient, brethren, until the coming of the Lord. See how the farmer waits for the precious fruit of the earth, waiting patiently for it until it receives the early and latter rain. 8 You also be patient. Establish your hearts, for the coming of the Lord is at hand.

9 Do not grumble against one another, brethren, lest you be condemned. Behold, the Judge is standing at the door! 10 My brethren, take the prophets, who spoke in the name of the Lord, as an example of suffering and patience. 11 Indeed we count them blessed who endure. You have heard of the perseverance of Job and seen the end intended by the Lord — that the Lord is very compassionate and merciful.

12 But above all, my brethren, do not swear, either by heaven or by earth or with any other oath. But let your "Yes" be "Yes," and your "No," "No," lest you fall into judgment. (James 5:7-12)
Brethren and co-workers, be patient, watch your words, and tell the truth.
Sincerely,
Bob Thiel
Pastor and Overseer
Continuing Church of God