Dear Brethren and Co-Workers in Christ:
Today is the USA holiday called Thanksgiving.
While less and less Americans believe in God and are thankful for His blessings, all (in or out of the USA) should thank God.
Not just on this day, of course, but everyday.
Radio Report
Speaking of something to be thankful for, CCOG deacon Ondigo Ochieng sent the following pictures and long report about our radio program in the Kenay/Tanzania area: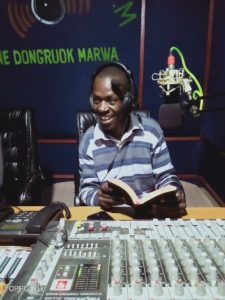 Deacon Ondigo Ochieng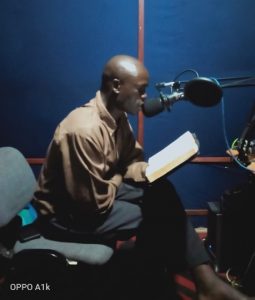 Deacon Grantone Otieno
OCTOBER-NOVEMBER RADIO REPORT

We really thank God for giving us the grand opportunity to fulfill Matthew 24:14 and 28:19-20.

Amid barricades that Satan lay on our paths as we do God's Work, We have seen God's Mighty hand in supporting His Work!

The following is the report for one month radio program:

SUNDAY 24TH,OCTOBER 2021

DISCOURSE:WERE THE PHARISEES CONDEMNED FOR KEEPING THE LAW?

This discourse emerged to answer the questions of some Pentecostals who are really against our messages on radio. They,together with their organization called Kehancha Pentecostal One Accord (KEPOA),raised complains when I taught about three days and three nights. Some were sending negative messages that we are like Pharisees who only peg their beliefs on obeying the ten commandments especially the Sabbath.

The discourse attracted 17 calls and 5 sms. It was so good because many were able to appreciate that they could be able to understand the scope of the Pharisees view on the ten commandments. They realized that most of the people have the attitude of the Pharisees by not keeping God's Royal Law of liberty. I was given an extra 20 minutes to answer questions. I also directed listeners to the CCOG website. I used the article that Dr.Thiel wrote concerning the above discourse.

SUNDAY OCTOBER 31ST, 2021

DISCOURSE:PRAYER:WHAT DOES THE BIBLE TEACH part 1

Prayer being one of the most vital ingredients of true Christianity, I discussed it with the help of the prayer booklet.

It attracted 24 phone calls. Some 7 people called from Tanzania. All calls were very positive and encouraging.Most of the listeners requested a repeat of the discourse.

SUNDAY NOVEMBER 7TH,2021

DISCOURSE:PRAYER:WHAT DOES THE BIBLE TEACH part 2

It attracted 19 phone calls and 4 sms. All were positive and encouraging. Some two guys enquired to know where we can be found. Our neighbours at home (in Migori) also send some sms thanking us for the message.

SUNDAY NOVEMBER 14TH,2021

DISCOURSE:THE SECOND HORSEMAN OF REVELATION 6

The message attracted 18 phone calls.Most of the callers were church leaders who were surprised to know about the second horseman of Revelation 6.

We received 12 sms and most were positive except some who wrote messages complaining that our messages are not giving people hope.

I used the article from the BNP April-June 2021.

RADIO MILAMBO 103.8 FM.

This is a local radio station in Migori which airs out its program in both Kiswahili and Dholuo. Its coverage is not such big but it reaches lots of people within the lower part of Migori and some parts of the border region including Nyatike Sub-County and Suna East DSub-County,i.e Muhuru and Giribe regions.

Deacon Grantone Otieno and I got a one hour opportunity on Friday 19th,2021 to present the Gospel of the Kingdom of God.We started from 6pm to 7pm.It was so very wonderful. We received a lot of positive messages.

We will again be there on Friday 26th,2021 and will again present the same discourse. The one hour program enables us to answer the questions asked and we also had enough time to introduce ourselves and the Continuing Church of God.

We really thank God for the prayers and support from Evangelist Dr.Bob Thiel and the precious brethren who have shown love and concern for God's people to be reached by the truth through radio.

May the Almighty God bless you abundantly in Jesus Mighty Name.
As mentioned before, the above program has been sponsored by a COG congregation in France which has long maintained a cooperative relationship with the CCOG.
As far as problems with Pentecostals go, the late Herbert W. Armstrong faced that relatively early in his ministry. Sadly, many who claim to believe the Bible get offended when many of its teachings are publicized. More opposition to what we in the CCOG teach is expected in the future.
That being said, radio is a door (cf. Revelation 3L7-8) that has been used by the true Christian church since the 1930s. It is a media that still bears fruit and we are grateful for the opportunity to utilize it.
Pentecostal Interest and Youth Camp
CCOG evangelist Evans Ochieng sent the following report:
Pastor Dr Bob,Greetings from Kenya.… I went to meet some brethren from Pentecostal church who wanted to learn more about CCOG. They have been reading from some of our books and magazines. So it was a long conversation and many many questions. I was busy but I came back yesterday night. Even though I couldn't manage to write because I was so tired that I went on bed early. The meeting was very successful and two families have decided to join the CHURCH. They said before the people that they cannot continue following lies. YOUTH CAMP.Since covid 19 is not much serious in kenya now, we are going to have youth camp in Kenya in December. The camp Will be on 24th December 2021 for one week. …Evans
So, despite Pentecostal opposition in one area, there is interest in another.
Regarding Protestants, a Protestant pastor in Kenya emailed me today and asked if his congregation could become part of the CCOG. That request was forwarded to Evans Ochieng.
Regarding camp, hopefully, the camp will be able to be held. Shortly after receiving that email, the news reported that despite the relative low incidence of COVID-19 in Kenya, vaccine requirements are going to be pushed starting December 21st (see Austria, Kenya, and Vigano on a 'New World Order'), which could affect our possible camps.
Please put this in your prayers as we would like to hold the camps.
Iniquity Abounds
We are seeing more and more lawlessness in the West.
Notice some reports related to California:
At least 20 involved in burglary, looting incident at Los Angeles Nordstrom
November 23, 2021
LOS ANGELES, California – At least 20 suspects attempted to break into a Nordstrom store at The Grove shopping center in Los Angeles, California Monday night. The burglary was followed by a high speed police chase as some of the suspects attempted to evade capture, CNN reports.
The incident occurred at the Nordstrom department store at The Grove retail complex in Los Angeles, where a storefront window was smashed in and a sledgehammer was left on the ground, local news station ABC 7 reported. https://www.wbrz.com/news/at-least-20-involved-in-burglary-looting-incident-at-los-angeles-nordstrom/
Monday, November 15
Wednesday
Friday
Saturday
Sunday
Monday
Looting seems to beget more looting. Expect more looting and violence.
Earlier this week, someone plowed into a crowd with his car and killed at least five:
The man accused of plowing an SUV into a Christmas parade in suburban Milwaukee, killing at least five people and injuring 48, was apparently leaving the scene of a domestic dispute that had taken place just minutes earlier, Waukesha's police chief said Monday. …

A joyous scene of marching bands and children dancing in Santa hats and waving pompoms gave way in an instant Sunday to screams and the sight of crumpled bodies as the SUV sped through barricades and struck dancers, musicians and others in the community of 72,000 people.

Members of a "Dancing Grannies" club were among those killed, as was a bank employee. The police chief identified the dead as four women ages 52 to 79 and an 81-year-old man.

Mayor Shawn Reilly described the event as a "Norman Rockwell-type of Christmas parade" that "became a nightmare." …

At least nine patients — most of them children — were listed in critical condition Monday at two hospitals, and seven others were reported in serious condition. https://www.newsmax.com/us/christmas-parade-suv/2021/11/22/id/1045733/
This was terrible. The driver needs repentance.
N0tice also the following from Michael Snyder:
The Future Is Here, and It Will Be Filled With Endless Looting, Rioting and Civil Unrest Our civilization is crumbling right in front of our eyes.
We have become accustomed to soaring murder rates, mass shootings, extreme degeneracy throughout the entire entertainment industry, violent rioting in our streets and severe corruption on all levels of government. To a certain extent, a lot of these things seem "normal" to many of us at this point. But the truth is that what we are experiencing is not even close to "normal". We are literally watching our entire society slowly but surely go down the tubes, and it is heartbreaking to watch.
If you think that I am being overly dramatic, just consider what happened in northern California on Saturday night. A mob of more than 80 thieves wearing ski masks and armed with crowbars suddenly descended upon a Nordstrom store, and they ransacked the entire place in just minutes…
More than 80 people stormed and robbed a Nordstrom in California on Saturday night, according to a police report from the Walnut Creek Police Department. The robbery was over within minutes as thieves armed with crowbars and wearing ski masks streamed out of the Nordstrom into the dozens of cars lining the block.
Needless to say, Nordstrom workers were caught entirely off guard, and several individuals received injuries during the melee…
Way too often, the bad guys are starting to get the upper hand in situations like this. And I think that does not bode well for the troubled times ahead. For years, I have been warning that this sort of civil unrest would be coming in the future.
Now the future is here, and the chaos in our streets is only going to be getting even more intense. On the other side of the globe, rioting of a completely different nature is happening. https://noqreport.com/2021/11/22/the-future-is-here-and-it-will-be-filled-with-endless-looting-rioting-and-civil-unrest/
As many of you are aware, I have been warning for many years (well over a decade) that more civil unrest is coming.
The mainstream media has been fanning the flames for this for many years.
Most realize that the Bible teaches as one of the Ten Commandments teaches:
15 You shall not steal. (Exodus 20:15)
The Bible also teaches the following:
2 You shall not follow a crowd to do evil … (Exodus 23:2)

11 And have no fellowship with the unfruitful works of darkness, but rather expose them. (Ephesians 5:11)
But that is what many looters do.
The Bible shows that God is not pleased with looters:
30 … Two pieces of dyed embroidery for the neck of the looter?'

31 "Thus let all Your enemies perish, O Lord!
But let those who love Him be like the sun
When it comes out in full strength." (Judges 5:30-31)
Despite warnings and commands, the Bible shows that we should expect more violence and crime in these last days:
1 But know this, that in the last days perilous times will come: 2 For men will be lovers of themselves, lovers of money, boasters, proud, blasphemers, disobedient to parents, unthankful, unholy, 3 unloving, unforgiving, slanderers, without self-control, brutal, despisers of good, 4 traitors, headstrong, haughty, lovers of pleasure rather than lovers of God, 5 having a form of godliness but denying its power. And from such people turn away! 6 For of this sort are those who creep into households and make captives of gullible women loaded down with sins, led away by various lusts, 7 always learning and never able to come to the knowledge of the truth. (2 Timothy 3:1-7)

23 'Make a chain,
For the land is filled with crimes of blood,
And the city is full of violence.
24 Therefore I will bring the worst of the Gentiles,
And they will possess their houses;
I will cause the pomp of the strong to cease,
And their holy places shall be defiled. (Ezekiel 7:23-24)
Jesus warned, related to the last days, the following:
12 And because lawlessness will abound, the love of many will grow cold. (Matthew 24:12)
We certainly have been seeing increased lawlessness.
Looting and plowing into people is an example of love growing cold.
It is also consistent with the ride of the second horseman of the Apocalypse (Revelation 6:3-4), which takes peace from the earth.
The USA will not last for too many more years.
Suggested Sabbath Service
Here is a suggested Sabbath service for this week:
Note: If you have a slow internet connection, you can watch these by starting the video, then below it (and towards the right) look for an outline of a gear–if you click on that, it will allow the YouTube video to be played with lower video quality, but at least it will not stop often–you can select a quality as low as 144p. If your internet connection is still too slow (as my home one is) and/or you prefer audio messages to audio-visuals ones, go to the YouTube link for the message, click on SHOW MORE related to the description. You will then see something that says, "Download MP3." Below that is a link to an MP3 file. Most computers (and even some cellular telephones) will allow MP3 files to be downloaded and played. This is an option we have made available (but we are also looking into ways to improve that as well)–and, of course, we have written article options. Some people have found that if their internet connections are not fast enough, that they can simply listen to the messages that are found at the Bible News Prophecy online radio channel.
IN CASE YOU DO NOT RECEIVE A 'LETTER TO THE BRETHREN' FOR ANY WEEK, REMEMBER THAT THERE ARE MANY SERMON MESSAGES ON THE ContinuingCOG channel AND MANY SERMONETTE MESSAGES ON THE Bible News Prophecy channel. There are also some messages at the CCOGAfrica channel.
World News Items
A decision in a court case involving a teenager who shot three people triggered riots and protests in parts of the USA (see Kyle Rittenhouse, Riots, and a Nation Divided). We have also seen increased brazen thefts and looting in the USA (see 'The Future Is Here, and It Will Be Filled With Endless Looting, Rioting and Civil Unrest'). More will be coming in the future.
A Chinese official made another threat towards Australia, while more in the European Union are concluding that they cannot rely on the USA for protection (see ZH: China Deems Australia 'No Longer Peaceful', But Now "Saber Wielding" After Sub Deal; CNN: The EU realizes it can't rely on America for protection). Australians, however, do not seem to realize that they will not be able to rely on the USA either–it may well be that China will end up with all or at least part of Australia once the USA is defeated militarily by the coming European Beast power (cf. Daniel 11:39; see also Australia and New Zealand in Prophecy).
The situation between Iran and Israel seem to be heating up as Iran reported has increased its stockpile of nuclear materials (see 'IAEA report: Iran has further increased stockpile of highly enriched uranium') and Israel keeps insisting it will stop Iran from developing nuclear bombs (e.g., see ).
Concluding Comments
Thanksgiving is an optional national holiday. It is not a biblical holy day, nor is it kept like one.
But Christians should give thanks whether they observe some version of it or not.
One song that comes to mind to me at this time (and is in the old WCG hymnal, as well as CCOG's hymnal with the title Oh Give Thanks and Praise the Eternal!) is based 1 Chronicles 16:8-13 upon which says:
8 Oh, give thanks to the LORD!
Call upon His name;
Make known His deeds among the peoples!
9 Sing to Him, sing psalms to Him;
Talk of all His wondrous works!
10 Glory in His holy name;
Let the hearts of those rejoice who seek the LORD!
11 Seek the LORD and His strength;
Seek His face evermore!
12 Remember His marvelous works which He has done,
His wonders, and the judgments of His mouth,
13 O seed of Israel His servant,
You children of Jacob, His chosen ones!
Those of us who understand God's plan of salvation, should be thankful for being part of those chosen in this age. This is consistent with the following admonition from the Book of Psalms and one from Saint Paul:
4 Sing praise to the LORD, You saints of His, And give thanks at the remembrance of His holy name (Psalm 30:4).

16 Rejoice always, 17 pray without ceasing, 18 in everything give thanks; for this is the will of God in Christ Jesus for you. (1 Thessalonians 5:16-18)
Anyway, the Bible is full of admonitions to give thanks to God. in the NKJV the term "give thanks" is used 40 times and the term "giving thanks" is used 5 times–and nearly all of these verses are discussing giving thanks to God. The term "thanksgiving" is used 24 times. Here are a few of them:
14 Offer to God thanksgiving (Psalms 50:14).

30 I will praise the name of God with a song, And will magnify Him with thanksgiving. (Psalms 69:30)

2 Let us come before His presence with thanksgiving; Let us shout joyfully to Him with psalms. 3 For the Lord is the great God, And the great King above all gods. (Psalms 95:2-3)

4 Enter into His gates with thanksgiving, And into His courts with praise. Be thankful to Him, and bless His name. 5 For the Lord is good; His mercy is everlasting, And His truth endures to all generations. (Psalms 100:4-5)
Notice also the following:
1 It is good to give thanks to the Lord,
And to sing praises to Your name, O Most High;
2 To declare Your lovingkindness in the morning,
And Your faithfulness every night,
3 On an instrument of ten strings,
On the lute,
And on the harp,
With harmonious sound. (Psalm 92:1-3)
Brethren, it is certainly appropriate to thank God for calling us, blessing us physically, and for the opportunity to understand the purpose of life and God's way of life, the sacrifice of Jesus, and for the opportunity for salvation that He has given to us. We can be grateful for the understanding of God's great plan that the Kingdom of God will bring peace and abundant prosperity.
Do you want to do something right now that the Bible says is good?
Well, one of the easiest is to "give thanks to the Lord."
Sincerely,
Bob Thiel
Pastor and Overseer