Dear Brethren and Co-Workers in Christ:
Greetings from the Five Cities region of California.
Pentecost
The Day of Pentecost went well here.
And I thought we would share reports we received from different parts of the world.
From Kenya, evangelist Evans Ochieng sent the following photo and report:
Pastor Dr Bob,Greetings from kenya.It was a wonderful Sabbath today. We had a wonderful meeting  at Got kachola where our brethren from Ndhiwa, Got kachola, Migori and muhuru gathered together to observe the feast of pentecost together. This is the first time to put so many people together for the feast of pentecost.  Evertime during the feast of pentecost people do stay at their places . They only come together for the feast of tabernacle.  But today it was different when we met 198 brethren to be together for pentecost.  It was a great joy. The meal was very good and brethren didn't want to separate. People were so happy. I talked about the first fruits and their rewards. This was a powerful message and people were so happy about it. Our brother Joel also dwelt about the first fruits. The meeting was very good.We also discussed about the feast of tabernacle 2021. Since the area is so good for the feast of tabernacle and it is  a long lake Victoria, people were suggesting that we can have our feast of tabernacle in that place. Our brethren from Got kachola congregation were so happy when they feel that they now in CCOG.  This is a group with 120 people. Joel expanded his sermonate and touched more about CCOG. He said that CONTINUING CHURCH OF GOD is a church which is moving on. And bear fruits.  I told them more about CCOG and the work in CCOG. People confirmed that this is the only church which will finish the work.(Mathew 28:19). I was very happy to have a very organised feast of pentecost today.Evans
It is great that this combined Pentecost gathering was able to take place.
Evans Ochieng also informed me that before Pentecost, he met with 14 people who a few years ago were once part of COGIT that have now come with us.
Deacon Radson sent the following report:
Greetings from Malawi and MozambiqueWe would like to thank God for keeping us safe in this perilous time.Let me report that the feast of Pentecost went well both Malawi and Mozambique.We had the following site in Malawi migowi, mwanza, and sunuzi while in Mozambique's we had Domasi and Nasiyaya  site. Everything went well and I was in Mozambique during this period. Matiya come  to the feast with the brethrenThanks for your prayers towards the work hereBest regardsRadson
Deacon Koang Deng sent the following from Ethiopia: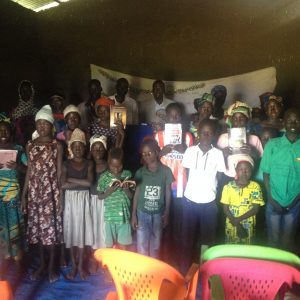 Dear Dr.Bob :This is the a picture we have taken during the day of Pentecost/Feastof weeks celebration.I hope, We all  get a blessing from the most High God Almighty.We are fine here in Gambella.Two people come on that day of Feast fromSouth Sudan to celebrated that a day with them.Thanks,koang deng.
Deacon Ondigo sent the following report from southern Kenya:
Dear Evangelists:We had an awesome Day of Pentecost!Two people,a man and his wife,from SDA visited us that Day.They were so eager to learn the truth about Feasts of God.Our Bible Study in the evening was spirit-filled,we prayed to them, answered lots of their questions and they were glad.They told us they will come again next Sabbath.We were 15 adults and 11 children.May God bless you all the great you are doing.The website is full of eye-opening truth!Best regardsBro.Ondigo
Baptism and Magazine
Elder Aleksandar 'Sasha' Veljic sent the following report from Serbia:Dear Bob,Attached is the Serbian translation (Latin script) of the magazine issue April-June 2021.As far as baptism is concerned, I performed it today. We made a video recordings of it. Nenad Mijatovic (23) of Uzice was baptized and added into the Body of Christ. He has been regularly attending Sabbath and Holy Day services for about two years and even longer he has been studying the Bible and inquiring about the Way. Here is the link:https://drive.google.com/file/d/1CZMPpP4boYs-_u-5jauC8YiOI5iPUerD/view?ts=60a15665With my best regards,Sasha
It is great that another in Eastern Europe has been baptized.
Also, I am pleased that we now will have our magazine in another language.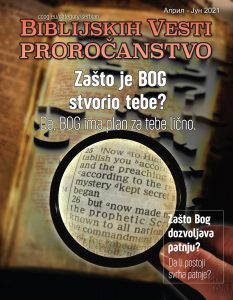 Here is a formatted draft of that which we got done late yesterday: Biblijskih Vesti Proročanstvo 2021
Serbian would be the 16th language that one or more editions of our magazine has been published in.
Philippines, COVID, and Prayer Requests
We received the following report from the Philippines:
Dear Dr. Bob Thiel,

Last March 18, I booked a hotel for 2 families of our prospective members from Cebu province, for the First day of Unleavened Bread services. But they were not able to attend because of the standing COVID-19 restrictions here in Surigao City. I decided to extend the booking for 7 weeks purposely for the Pentecost services venue, hoping that 7 weeks after, a situation would never be the same. But again they failed to come for same reasons. Yet, istead of cancelling our reservations, we went into occupying instead one of the 2 booked rooms for our family. And yes we spent one day holding Pentecost services at the said hotel room.

Lately, we had a phone conversation with Bong Tarona, he told me of the not-too-strict Covid restriction imposed by the city and provincial government of Cebu, compared to Surigao City or Cagayan de Oro. If this situation will remain unchange come FOT 2021, it would be very practical to hold the feast there at the "Queen City of the South"- Cebu. This city is geographically situated at the center of the Philippine archipelago, a very ideal feast site location. In addition, Bong Tarona and Joevelle Baflor expressed interests to look for a feast venue should you approve of this. And besides, these two families (Bong and Joevelle's) could comprise an attendance a little larger than Cagayan de Oro and Surigao City combined.

Yet the hardest part of booking a hotel four months ahead in this time of pandemic is how and what kind of situation this COVID-19 will bring us on that day of the feast.

Yes, all this still remains to be seen yet.

But I really need to update the Church of our situation here whenever necessary.

Best regards,

Joe Lumpay
Government restrictions blamed on COVID have continued to cause problems around the world. Specifically, related to the CCOG, this has affected us not only in the Philippines, but also in Australia, New Zealand, UK, Ireland, Kenya, Malawi, Mozambique, Puerto Rico, and Canada in fairly significant ways. Please pray that God will open doors that have been at least partially closed/restricted the past year or so.
Speaking of prayer and Canada, our main host there, Herb Haddon, along with his wife Gisele, can use our prayers. Herb is no longer able to walk or drive and is experiencing tremors and many other difficulties. The situation is quite serious.
Suggested Sabbath Day Services
Here is a suggested Sabbath day service for our scattered brethren and other interested people:
Note: If you have a slow internet connection, you can watch these by starting the video, then below it (and towards the right) look for an outline of a gear–if you click on that, it will allow the YouTube video to be played with lower video quality, but at least it will not stop often–you can select a quality as low as 144p. If your internet connection is still too slow (as my home one is) and/or you prefer audio messages to audio-visuals ones, go to the YouTube link for the message, click on SHOW MORE related to the description. You will then see something that says, "Download MP3." Below that is a link to an MP3 file. Most computers (and even some cellular telephones) will allow MP3 files to be downloaded and played. This is an option we have made available (but we are also looking into ways to improve that as well)–and, of course, we have written article options. Some people have found that if their internet connections are not fast enough, that they can simply listen to the messages that are found at the Bible News Prophecy online radio channel.
IN CASE YOU DO NOT RECEIVE A 'LETTER TO THE BRETHREN' FOR ANY WEEK, REMEMBER THAT THERE ARE MANY SERMON MESSAGES ON THE ContinuingCOG channel AND MANY SERMONETTE MESSAGES ON THE Bible News Prophecy channel. There are also some messages at the CCOGAfrica channel. There are also messages in the Spanish language at the CDLIDDSermones channel.
World News Items
The fighting between the Palestinians and the Israelis has continued (see 'Israel strike in Gaza destroys building with AP, other media' and 'Israel's Iron Dome missile shield' and Rockets from Lebanon now involved, while Turkey calls Pope for international cooperation against Israel). Do not forget that the Bible says to, "Pray for the peace of Jerusalem" (Psalms 122:6), while it also warns that it will experience "great damage" (cf. Isaiah 22:6-8). Such "great damage" may be a precursor for the coming 'peace deal' of Daniel 9:27.
A Spanish politician was banned temporarily from Twitter after he posted that a male cannot naturally get pregnant (see ZH: Spanish Politician Banned From Twitter For "Hate Speech" After Saying "A Man Cannot Get Pregnant"). Despite the obvious truth of that, those who despise the truth to push an anti-biblical agenda want to silence dissent. More banning and censorship is coming (cf. Amos 8:11-12).
As far as anti-biblical agendas go, the Evangelical Lutheran Church in America ordained a transgender person as a bishop, while a leading Southern Baptist Convention pastor ordained three women (see Transgender and female clergy is unbiblical)–all of those 'ordinations' went against scripture. More on biblical roles for women can be found in the article: Women and the New Testament Church.
Concluding Comments
The Apostle James was inspired to write:
19 So then, my beloved brethren, let every man be swift to hear, slow to speak, slow to wrath; 20 for the wrath of man does not produce the righteousness of God.

21 Therefore lay aside all filthiness and overflow of wickedness, and receive with meekness the implanted word, which is able to save your souls.

22 But be doers of the word, and not hearers only, deceiving yourselves. 23 For if anyone is a hearer of the word and not a doer, he is like a man observing his natural face in a mirror; 24 for he observes himself, goes away, and immediately forgets what kind of man he was. 25 But he who looks into the perfect law of liberty and continues in it, and is not a forgetful hearer but a doer of the work, this one will be blessed in what he does.

26 If anyone among you thinks he is religious, and does not bridle his tongue but deceives his own heart, this one's religion is useless. 27 Pure and undefiled religion before God and the Father is this: to visit orphans and widows in their trouble, and to keep oneself unspotted from the world. (James 1:19-27)
Brethren, be careful about your words, be a doer of God's word, and keep yourself unspotted from this corrupt world.
Sincerely,
Bob Thiel
Pastor and Overseer