Dear Brethren and Co-Workers in Christ:
Greetings from the Five Cities region of California.
Again, since a longer than usual sermonette is recommended, there will be a shorter than usual sermon.
Malawi Visit
Evangelist Evans Ochieng sent the following detailed report and photos:
Pastor Dr Bob,
Greetings from Malawi.
My programme with Malawi and Mozambique of visiting all congregations both in Malawi and Mozambique has failed due heavy rainfall in both countries. The rain is falling heavily and the two countries is nothing but flooded in most areas. Roads are very bad except tarmac roads only. So going to Mozambique is a big problem. Even the brethren who managed to attend the Sabbath services from Mozambique were stopped by the flood that they couldn't mannage to go back. They are waiting till tomorrow to see if the water can be down so that they can go on boats. Since I entered in Malawi, it's raining from morning to morning. The landing in Malawi wasn't safe because of bad weather but the pilot was steady and at long last we landed safe. I kept Sabbath in migowi with leaders and members from nearby congregations. The meeting was very good. After the meeting I met all leaders from Malawi and Mozambique. We didn't finalise because I had a lot to teach and share with leaders. So today we had services again and discussion and ORDINATION ceremony.
I was ordaning three deacons and molozwa in the ministerial work.
Here are three deacons who were ordained TODAY.
James Rabson
John Machemba
Louis Wahera
1- James Rabson – Deacon and in charge of Mozambique. Congregations under him are
1- Nagaga with 42 members
2- Domasi with 33 members
3- maulo with 53 members
4- Nasiyaya with 84 members
5- Miseu4 with 32 members
6- Nakhombe with 25 members

2- John Machemba- Deacon and in charge of
1- Mwanza with 68 members
2- Tulonkhondo with 54 members
3- Salima with 26 members
4- Liwonde with 32 members
5- Chileka with 64 members

3 Louis Wahera Deacon and in charge of
1- Sunuzi with 83 members
2- Njenjette with 78 members
3- Taulo with 11members
4- Kachingwe with35 members
5- Migowi with 20 members
6- Chiringa with 24 members
7- Mulanje with 29 members
And pastor molozwa will be in charge of Mozambique and Malawi.
I appointed John Nkuhuleme from Mozambique to be church treasurer for both Malawi and Mozambique.
MOSES JIPANGWE was appointed church secretary for Malawi and Mozambique.
I also talked with them about tithing and offerings.
HOSTS
CHIRINGA—— JOHN NKHULEME — MALAWI

LIWONDE—- ROJASI SAMBNDELE— MALAWI

CHILEKA—- JOHN MUHUNYA— MALAWI

MULANJE—- PAUL JEKETE—- MALAWI

SUNUZI— LUIS WAHERA—- MALAWI

NJENJETE— LUKA LIKHUVA— MALAWI

TAULO— RAPHAEL FARAMENGA— MALAWI

SALIMA— YOHANE CHIOMBA— MALAWI

TULONKHONDO— ANDREW KALIWO— MALAWI

MLAULI — SANDWE BANDA— MALAWI

KHACHINGWE— PAUL KHACHA– MALAWI

MIGOWI— MOSES JIPANGWE— MALAWI

NAKHOMBE— JUSTIN MPINJI– MOZAMBIQUE

DOMASI— MAXWEL MACHESO— MOZAMBIQUE

MISEWU 4— FRANK CHIKOMETSA— MOZAMBIQUE

NAGAGA— JAMES RABSON— MOZAMBIQUE

NASIYAYA– WYSON JACKSON– MOZAMBIQUE

MAULO– CHARLES MPWESA— MOZAMBIQUE

Since most of halls were damaged in both Malawi and Mozambique, assistant is needed for them to get iron sheets for the halls in both countries.
There are some congregations which are keeping Sabbath in the schools, but since those schools are falling under some denominations, sometimes brethren are getting it rough. So they need their own halls where they can keep Sabbath.
Evans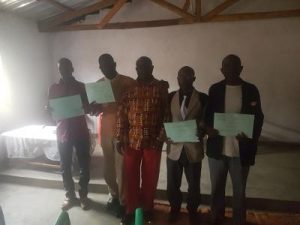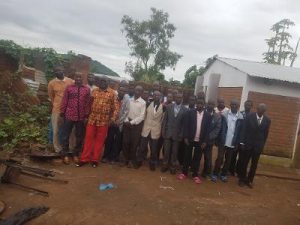 We just sent some funds for iron sheets so the members there can build meeting halls.
Newly ordained pastor Radson Mulozowa sent the following reports:
Greetings from Malawi
Let me report that the coming of pastor Evans has.contributed much for the proper foundation of the church both Malawi and Mozambique
During his he has ordained me to be a pastor
Brother wahela, machemba and James rabson has been ordained as Deacons in the church.

Best regards
Radson
Greetings from Malawi and Mozambique

Let me report that we are unable to travel to Mozambique because of floods and the situation is very worse since the rain is still coming and brethren house crops have been washed away.We have planned visit Mozambique in June when it dries up because we can't manage.Even leaders from Mozambique when they were going back it was a bad trip, some have found that their houses have fallen Let us pray for Mozambique brethren

Best regards

Radson
Please continue to pray for those God is calling around the world and particularly in Africa.
Attend the Feast of Tabernacles
In 2022, Feast of Tabernacles' services are scheduled to begin the evening of October 9th and continue until the Last Great Day which is October 17th.
Now it is time to plan for it, no matter where you live.
In the USA we are planning to observe it in Branson, Missouri. This week we signed a contract to meet at the Radisson Hotel Branson, 120 South Wildwood Street, Branson, MO, 65616.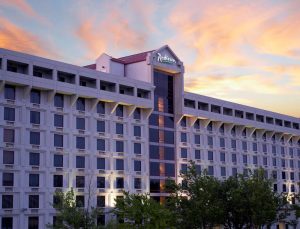 You do not need to stay at that hotel in order to attend the Feast of Tabernacles here. However, many will find staying at the Radisson Hotel Branson convenient. The nightly Double-bedded hotel room rate is $129.95 plus tax and, according to our contact there "includes a full buffet breakfast for every individual staying in each sleeping room every morning." You can telephone 1 (417) 335-5767, and mention the Continuing Church of God Feast of Tabernacles to get that rate (the current, undiscounted rate, for the same room is $159.95 per night, so CCOG attendees save $30.00 per night, plus pay less tax).
You can also make reservations there online:
www.radissonhotelsamericas.com/en-us/hotels/radisson-branson

Input Arrival and Departure Dates (between October 9, 2022 to October 17, 2022)

Input Occupancy

Select Promotional Code under Special Rates

Promotional Code: CCGF

Select Room Type and Follow Procedures to Reserve the Room
To stay additional nights, telephone the hotel as opposed to using their online system.
According to Tripadvisor, Branson has hundreds of restaurants and 141 hotels. There are also camping facilities in Branson within driving distance of the Radisson.
While Branson does have a small airport, those who fly there will most likely fly into the Springfield, MO airport and then drive down.
Here is information related to the site in New Zealand:
I am pleased to announce the 2022 NZ Feast site will be at Mangawhai ( pronounced Mangafy)

I have had confirmation of the booking of the accommodation where we will host services and have the opportunity for fellowship together indoors, or outside overlooking the estuary.

The Service location is close to the local Holiday park which has a wide range of accommodations. Mangawhai Heads Holiday Park | Beachside Northland Accommodation

There are also many lovely holiday homes (baches as we call them in NZ) through agents such as https://www.bookabach.co.nz/ or https://www.bachcare.co.nz . Prices are quite reasonable in this area and there are currently a lot of properties available. As FOT will be during the school holidays this year, I expect things to book up in the coming weeks more quickly than perhaps at other times.

Mangawhai has a safe estuary with golden beaches for swimming, fishing and water sports as well as a surf beach around the corner. There are many nature walks along the headland, glow worms at Waipu caves, freshwater fishing and walks at nearby Tomarata Lake, as well as a local museum, play parks for children, chocolatery, cafes and restaurants.

For further details contact Sharon at akasharpez@gmail.com
Mangawhai is about 1 1/2 hours north of Auckland.
Information on our sites around the world is found in the following article: Feast of Tabernacles' Sites for 2022.
Prayer Request Update
Jo Anne Buchanan sent me an email Tuesday about her husband George 'Doc" Buchanan who we requested prayers for last week:
Oh, Dr Thiel, he is so much better today!  I'm actually feeling hopeful for the 1st time since the accident.  An orthopedic Dr. made a house call yesterday … for his pain relief and his brain injury.  He examined him and said his shoulder is back in place with better range of motion.  He still has massive bruising on the left arm, shoulder and neck.  His pain is mostly from his broken ribs and wrenched back.   That takes at least a month to heal. The biggest problem is his brain injury.  I didn't get a chance to see the CT so I don't know what area of the brain was affected.  From what I know of head injuries, he had a big goose egg on the back of the head where the corresponding bleeding in the brain occurred. Then because the brain is suspended in the skull in fluid, it can bounce and hit the front of the brain as a result of the hit on the back of his head.  With his existing brain problem, that could accelerate and compound it.  We will have to see how much he gets back.  As we know, God is still in control.  I still crave your prayers for his complete recovery!

Kindest regards,

Jo Anne
Please continue to pray for him.
Suggested Sabbath Service
Here is a suggested Sabbath service for this week:
Note: If you have a slow internet connection, you can watch these by starting the video, then below it (and towards the right) look for an outline of a gear–if you click on that, it will allow the YouTube video to be played with lower video quality, but at least it will not stop often–you can select a quality as low as 144p. If your internet connection is still too slow (as my home one is) and/or you prefer audio messages to audio-visuals ones, go to the YouTube link for the message, click on SHOW MORE related to the description. You will then see something that says, "Download MP3." Below that is a link to an MP3 file. Most computers (and even some cellular telephones) will allow MP3 files to be downloaded and played. This is an option we have made available (but we are also looking into ways to improve that as well)–and, of course, we have written article options. Some people have found that if their internet connections are not fast enough, that they can simply listen to the messages that are found at the Bible News Prophecy online radio channel.
IN CASE YOU DO NOT RECEIVE A 'LETTER TO THE BRETHREN' FOR ANY WEEK, REMEMBER THAT THERE ARE MANY SERMON MESSAGES ON THE ContinuingCOG channel AND MANY SERMONETTE MESSAGES ON THE Bible News Prophecy channel. There are also some messages at the CCOGAfrica channel.
World News Items
Part of the British royal family is in Jamaica, and many there apparently are not pleased. Similar to what Barbados did last November, it has been reported that Jamaica wants to remove it from being under the British monarchy (see'Jamaica to remove ties to monarchy as soon as William and Kate leave, sources say'). Consistent with various biblical prophecies (e.g. Deuteronomy 28:58-63), the British have losing influence and lands.
This week, US President Joe Biden declared that the USA would lead a "new world order" (see Joe Biden claims that the USA will lead a 'new world order'–the Bible teaches otherwise). While a new world order is likely to be in place within a decade from now, the USA will not lead it, but instead will have been crushed by the leader of it (cf. Daniel 11:39). Joe Biden is currently in Europe trying to lead the charge for more sanctions against Russia. One consequence of sanction is that Russia now wants to be paid in Rubles for oil from Europe (see 'Americans want Biden to be tougher on Russia,' but … 'Will Biden Sanction Half The World To Isolate Russia?,' and Oil for Rubles)–this is not good for the USA dollar.
Between drought conditions (see MS: Severe Drought And "Dust Bowl Conditions" Threaten To Create A Disastrous Winter Wheat Harvest In The U.S.) and complications associated with sanctions, Ukraine, and Russia (see ZH: Russia Warns EU Oil Embargo Would "Hit Everyone" As Zelensky Urges 'Halt All Trade With Occupiers'), inflation for food and other items is expected by more and more pundits. Food price inflation is associated with the third horseman of the Apocalypse (Revelation 6:5-6).
In an effort to pray for peace as well as to fulfill something that the Fatima apparition claimed to want a century ago, Pope Francis has called for himself and his other bishops to consecrate Russia and Ukraine to the "immaculate heart of Mary" tomorrow (see CNA: Pope Francis invites Catholic bishops worldwide to join him in consecrating Russia, Ukraine). He also wants all Greco-Roman Catholics to pray for this. While this is NOT the way to peace, it may be that people might later point to this event as leading to some type of peace and prosperity. The Bible warns about signs and lying wonders in the end times (2 Thessalonians 2:9-12) and Marian apparition matters are expected to be part of that (cf. Isaiah 47; Zephaniah 3:4-5).
Concluding Comments
The Book of Micah prophesies the following:
2 Many nations shall come and say,
"Come, and let us go up to the mountain of the Lord,
To the house of the God of Jacob;
He will teach us His ways,
And we shall walk in His paths."
For out of Zion the law shall go forth,
And the word of the Lord from Jerusalem.
3 He shall judge between many peoples,
And rebuke strong nations afar off;
They shall beat their swords into plowshares,
And their spears into pruning hooks;
Nation shall not lift up sword against nation,
Neither shall they learn war anymore.

4 But everyone shall sit under his vine and under his fig tree,
And no one shall make them afraid; (Micah 4:2-4)
Brethren, in this time of wars and rumors of war, be not troubled for the end is not yet (Matthew 24:4-8).
And the good news is that no one will make people afraid in the future Kingdom of God.
Sincerely,
Bob Thiel
Pastor and Overseer