Dear Brethren and Co-Workers in Christ:
Greetings again from the Five Cities region of California.
We have been working a lot on literature and a soon coming animation.
Plus, we just started a new sermon series on God's plan to offer salvation to all.
In the sermon series, you will sometimes see me make reference to a new book titled Universal OFFER of Salvation, Apokatastasis: Can God save the lost in an age to come? Hundreds of scriptures reveal God's plan of salvation.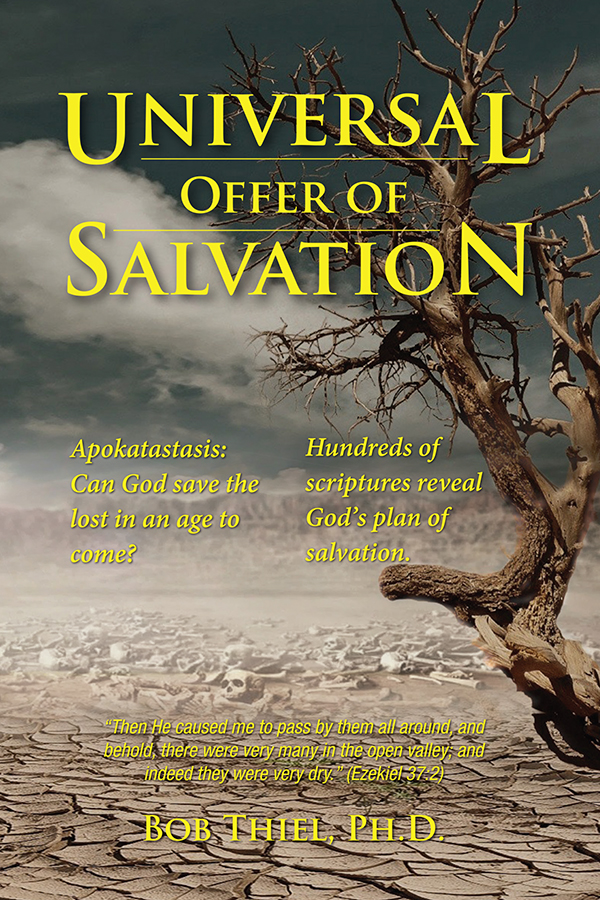 While a version of that book is up online, it is not ready to be printed and mailed. There are scriptures and other information I keep adding to it, but hope to send it out later this year. Similarly, I am also working on a book related to the Mystery of God's Plan–but that one is not expected to be sent out until next year.
By writing, editing, and giving sermons from 'draft' books, this, in my experience, helps them be more complete and helps us better fulfill Matthew 28:19-20, than to print them and then do sermons from them.
Anyway yes, we do expect to send the books to our supporters, but not until a little after the related sermons.
Mexico
Two weeks ago, I mentioned that we hoped to make a couple of announcements related to Mexico.
Last week we made one about having a Feast of Tabernacles site there.
This week, we have another.
We are starting to have some test messages at our CDLIDDsermones channel.
 CDLIDDsermones
We plan on getting some sermon messages online in the Spanish language.
We hope that despite regional differences in speaking that this will help scattered people around the world with interest in supporting the Philadelphian work of Matthew 24:14 & 28:19-20 who speak the Spanish language.
Zimbabwe
Deacon Radson Mulozowa just went on a trip to Zimbabwe (a country once known as Rhodesia). His report arrived this morning:
Dear Dr Bob

Greetings in the Name of Jesus. Thanks for your Prayers towards my trip to Zimbabwe.  The trip was very successful  though  I met with struggles with Mozambique  soldiers  who  detained  me because I did not have  money  in my passport. I tried to explain to them about my visit purpose but they refused.

I thank God because a certain woman assisted me with cash to give them and they released me the Same day.

I continued the trip and I arrived at Roadport depot around 10pm .I met brethren who requested  me to visit them.

From the depot we went to Russel Hotel where I slept. On Sabbath we kept Sabbath together and it was good and the attendance was 10 brethern.

TOPICS I SHARED DURING MY VISIT.

TRINITY
GODS ANNUAL FESTIVALS
MILLENIUM
WHAT ARE WE IN BIBLE PROPHECY
ORIGIN OF CHRISMAS
GOD"S HOLYDAYS OR PAGANS HOLIDAYS.

Pastor let me thank God that though these brethren invited me there are hard times in Zimbabwe which needs our prayers

FUEL SHORTAGE

POLITICAL CONFLICTS

HUNGER AND THE ECONOMY IS BAD

But they love to know the truth about the kingdom of God

I have invited them to come to the Feast of Tabernacle this coming October 2019. …

As I reported later that from Zimbabwe I will go to Zambia it wont be possible now until I solicit funds for the trip since I need to travel to Mozambique.

This week I wll be with Migowi congregation while next week I will be meeting  all the 4 congregations  in Zomba District at one place.

Looking  forward  to  hear  from you.

Best  Regards,

Deacon Radson
The physical situation in Zimbabwe is very bad. But I am pleased that Radson Mulozowa was able to go there and invite believers there to go to the Feast of Tabernacles.
World News Items
A three-day conference between the Catholics of Rome and some Islamic leaders in Jordan  is ending today. The stated intent to have dialogue and not hate is a good one, however it seems to be another step towards bringing Islam and Catholicism closer together (see Another step towards Chrislam?). A 'one-world religion' is coming and we expect that, for a time, followers Islam will support it (cf. Revelation 13; Daniel 11:27, 40-43).
Over in Hong Kong, protesters of a proposed extradition law gained some government concessions, but still want more (see Hong Kong protesters can claim a partial victory, but . . .). Ultimately, we will see Hong Kong more controlled by China, despite the protests over there.
The USA and Iran continue to trade barbs against each other since the supertanker attacks last week (see Tanker attacks: Trump blames Iran, Iran denies, & EU doesn't trust either and wants to bypass the US dollar (will it?). We learned today that Iran just shot down a US spy-drone (see ABC: Iran says it's 'completely ready for war' after US military confirms it shot down American drone   )–the USA is not pleased. Prior to today's drone incident, the USA has increased its military presence in the region and we may well see conflict. If so, it could be that this will lead to Iran later deciding to cause great damage to Jerusalem (cf. Isaiah 22:9)–and then perhaps could help trigger the peace deal of Daniel 9:27.
The world will not continue as it has been!
Suggested Sabbath Service
Here is a suggested Sabbath service for this week for our scattered brethren:
Note: If you have a slow internet connection, you can watch these by starting the video, then below it (and towards the right) look for an outline of a gear–if you click on that, it will allow the YouTube video to be played with lower video quality, but at least it will not stop often–you can select a quality as low as 144p. If your internet connection is still too slow and/or you prefer audio messages to audio-visuals ones, go to the YouTube link for the message, click on SHOW MORE related to the description. You will then see something that says, "Download MP3." Below that is a link to an MP3 file. Most computers (and even some cellular telephones) will allow MP3 files to be downloaded and played. This is an option we have made available (but we are also looking into ways to improve that as well)–and, of course, we have written article options. Some people have found that if their internet connections are not fast enough, that they can simply listen to the messages that are found at the Bible News Prophecy online radio channel.
IN CASE YOU DO NOT RECEIVE A 'LETTER TO THE BRETHREN' FOR ANY WEEK, REMEMBER THAT THERE ARE MANY SERMON MESSAGES ON THE ContinuingCOGchannel AND MANY SERMONETTE MESSAGES ON THE Bible News Prophecy channel. There are also some messages at the CCOGAfrica channel.
Concluding Comments
Joshua said the following:
14 "Now therefore, fear the Lord, serve Him in sincerity and in truth, and put away the gods which your fathers served on the other side of the River and in Egypt. Serve the Lord! 15 And if it seems evil to you to serve the Lord, choose for yourselves this day whom you will serve, whether the gods which your fathers served that were on the other side of the River, or the gods of the Amorites, in whose land you dwell. But as for me and my house, we will serve the Lord." (Joshua 24:14-15).
You may say to yourself, we do not have to worry about those ancient false gods. Yet, now brethren, we are in a world that often promotes evil as good and good as evil. Their 'gods' are distorted public opinion which continues to sway further from the Bible.
No matter the anti-biblical ones say, remember "let God be true but every man a liar" (Romans 3:4). Like Joshua, serve God.
Sincerely,
Bob Thiel
Pastor and Overseer