Dear Brethren and Co-Workers in Christ:
Greetings from Grover Beach, California.
Herbert W. Armstrong Accusations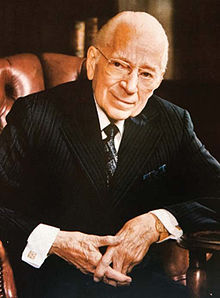 Herbert W. Armstrong
For decades, various ones have 'convicted' the late Pastor General of the old Worldwide Church of God, Herbert W. Armstrong, of various false and unprovable charges.
Back in the February 28, 2003 edition of The Journal: News of the Churches of God, I had an article published titled: Consider candid responses to 15 accusations about Herbert W. Armstrong. Later, I posted an updated article online titled: 17 Accusations and Truthful Responses About Herbert W. Armstrong.
Yesterday, someone sent me a pdf file of an article in PCG's Royal Vision magazine that went into the most egregious accusation.
I was mentioned in it. Not in a negative light, but as one who investigated some of the accusation matters.
Of course, despite research into the truth about this, some people do not care about the truth.
Many have not truly wanted to "prove all things" or "hold fast" to what is good.
In the last chapter of the last book of the Bible, the Apostle John was inspired to write:
14 Blessed are those who do His commandments, that they may have the right to the tree of life, and may enter through the gates into the city. 15 But outside are dogs and sorcerers and sexually immoral and murderers and idolaters, and whoever loves and practices a lie. (Revelation 22:14-15)
Of course, no human being is perfect, but sadly, there are many corrupt and bitter people who prefer to believe, love, and push lies about this, as well as other leaders in the COGs.
Related to the Royal Vision article, I also made a post yesterday: Charges Against Herbert W. Armstrong – DISPROVED!
Regarding online doctrinal misrepresentations of teachings by Herbert W. Armstrong, we also put together an article (see What is Armstrongism?) and a short video (watch : What is Armstrongism? Are Some Dismissive of Original Christianity?).
Anyway, since we in the CCOG represent the best continuation of the Philadelphia portion of the Church of God that Jesus used Herbert W. Armstrong to initially raise up, sometimes it makes sense to respond to some accusations (cf. Proverbs 26:4-5).
Finally, CCOG.AFRICA
Back in 2013, we heard that the extension ".africa" was going to be available.
We later were given the opportunity to reserve the URL "ccog.africa," so we did.
However, there were years and years of delay.
Then, when there was a dot africa extension, there were disputes between two entities that had different rules. Even though we paid to reserve "ccog.africa," we could not have it.
So, about three years ago, we bought "CCOGAfrica.org," and have used that since.
Recently, we were able to acquire "CCOG.Africa," so we did.
We now have that and are in the process of switching from CCOGAfrica.org to CCOG.Africa.
So, we have the following CCOG websites:
CCOG.ORG Continuing Church of God our original church website which has CCOG news, literature, and other information.
CCOG.AFRICA This is a website targeted towards those in Africa.
CCOG.ASIA This is a website targeted towards Asia. It has materials in multiple Asian languages.
CCOG.IN This is a website targeted towards those of Indian heritage.
CCOG.EU This is a website targeted towards Europe. It has materials in multiple European languages.
CCOG.NZ This is a website targeted towards New Zealand and others with a British-descended background.
CCOGCANADA.CA This is a website targeted towards those in Canada.
We also have websites that do not use the initials CCOG, such as the following:
CDLIDD.ES La Continuación de la Iglesia de Dios. This is the Spanish language website for the Continuing Church of God.
CG7.ORG This is a website for those interested in the Sabbath and churches that observe the seventh day Sabbath.
PNIND.PH Patuloy na Iglesya ng Diyos. This is the Philippines website Continuing Church of God. It has information in English and Tagalog.
Glad we finally have CCOG.Africa.
Kenya Matters
Pastor William Kirui sent the following:
Dear pastor Bob,
Greetings  from pastor William kirui,coordinator North rift valley region,but l live at Motosiet,south rift region,kenya.
We are okay here at the North rift. Our churches are going on well despite the pandemic disease, covid-19. …
Despite all these challenges that befallen us and the world,we cannot hesitate to doing the will of God and worshipping Him according to His commandments.
I am trying the much I can to reach the brethren at the North rift.The distance  is very far and the fare for transport is very challenging,though pastor Evans ochieng assisted me sometimes to reach there …

Well, I am very grateful to hear from you pastor Bob. …
And because we are more concern with the brethren we lack behind as pastors without any thing.
Due to heavy rain we are now preparing to plant our farms.
By God's mighty hand l hope we shall sail through all these challenges.
Any well wisher can assist.
Attach is the picture of my family members digging the farm with hands.
Thanks.
Pastor William kirui-regional coordinator.
Pastor Tiongik Sawek sent the following report and photos:
Receive greetings in the name of Jesus Christ. Last Sunday we visited our brother Pastor William Kirui, North Rifth leader. We went together with the Chilani Women group. The Group had taken with them foods and the little money had acquired from selling their eggs, may God bless the Chilani Women group for their generosity.

We went there majorly for thanksgiving and prayers since the family had experienced challenges as their children were sick before. The family were happy for the visit and made lots of thanks. their children have recovered and are now happy.

In Mathew 25:31-45 and James 2:12-17 where the word of God told of visiting the sick and those experiencing challenges. Pray for the family and may God bless you.

Attached with this are the photographs of the family, Chilani women group and their daughter whom she has now recovered.

Regards,

Pastor Sawek.
It is nice to hear that the chicken project is yielding fruit (in this case eggs).
We hope to later add more chicken projects in Kenya, Malawi, and Mozambique if the other ones are successful and funds allow.
World News Items
We continue to see protests and violence across the USA and sometimes elsewhere (see 'Federal Officers, Protesters Clash in Violent Weekend Across US'). The USA is also facing economic unrest (see 'We Are About To Find Out What An Economy Looks Like When You Throw Tens Of Millions Into Unemployment Overnight'). The USA is a house divided and ultimately will not stand (Matthew 12:25). Today, its President Donald Trump tweeted that perhaps the November election be postponed (see https://www.bbc.com/news/world-us-canada-53597975). That would also seem to be divisive. The USA is also divided on how much more debt to incur to deal with the effects of government policies related to COVID-19 (see 'US Q2 GDP Crashes By A Record 32.9%, Worse Than Great Depression' ' More than 11 million people in Latin America are "marching towards the brink of starvation," U.N. food chief warns').
Over in the Middle East, 17 nations have made deals to be affiliated with China's Belt & Road Initiative. Algeria has began to buy certain armaments from China (see 'First Arab country acquires new Chinese missile system' Arming the King of the South?). A power from the Middle East and North Africa is prophesied to rise up and be involved in war (Daniel 11:40-43). Algeria's purchase plans align, a little, with that.
In other Middle East matters of possible prophetic concern, the Temple Institute continues to act like it may have the final "red heifer" it wants to purify a temple that does not exist (see Temple Institute: Mayor Of Pittsburgh Visits Temple Institute's Red Heifer Candidate!). Furthermore, in Israel, Jews are finally allowed to get some water when visiting the area known as the Temple Mount (see 'Jews Allowed Access to Running Water on Temple Mt Bringing them Closer to Temple Service'). Both of these matters, however, may be small steps towards the resumption of daily animal sacrifices that the Temple Institute and Sanhedrin want to do. The Bible shows that daily animal sacrifices will be stopped (Daniel 9:27, 11:31), which means that they first must start.
Suggested Sabbath Service
Here is a suggested Sabbath service for this week:
2-3 hymns (our songbook, The Bible Hymnal, contains the materials from the 1974 Bible Hymnal from the old WCG with new covers, plus ten additional hymns; there is also some Choral Accompaniment online).
Opening prayer.
Sermonette, which for most who receive this letter via email will be a recorded one. The one suggested for this week is: Christians and Self-Defense. Other sermonettes are available at the Bible News Prophecy channel.
Announcements (if any; though for many it will be this letter) and one hymn.
Sermon, which for most who receive this letter via email will be a recorded one. The one suggested for this week is: Counting Down to the Great Tribulation. Other sermons are also available at the ContinuingCOG channel.
Final hymn.
Closing prayer.
Note: If you have a slow internet connection, you can watch these by starting the video, then below it (and towards the right) look for an outline of a gear–if you click on that, it will allow the YouTube video to be played with lower video quality, but at least it will not stop often–you can select a quality as low as 144p. If your internet connection is still too slow (as my home one is) and/or you prefer audio messages to audio-visuals ones, go to the YouTube link for the message, click on SHOW MORE related to the description. You will then see something that says, "Download MP3." Below that is a link to an MP3 file. Most computers (and even some cellular telephones) will allow MP3 files to be downloaded and played. This is an option we have made available (but we are also looking into ways to improve that as well)–and, of course, we have written article options. Some people have found that if their internet connections are not fast enough, that they can simply listen to the messages that are found at the Bible News Prophecy online radio channel.
IN CASE YOU DO NOT RECEIVE A 'LETTER TO THE BRETHREN' FOR ANY WEEK, REMEMBER THAT THERE ARE MANY SERMON MESSAGES ON THE ContinuingCOG channel AND MANY SERMONETTE MESSAGES ON THE Bible News Prophecy channel. There are also some messages at the CCOGAfrica channel.
Concluding Comments
The Apostle Paul wrote:
9 Let love be without hypocrisy. Abhor what is evil. Cling to what is good. 10 Be kindly affectionate to one another with brotherly love, in honor giving preference to one another; 11 not lagging in diligence, fervent in spirit, serving the Lord; 12 rejoicing in hope, patient in tribulation, continuing steadfastly in prayer; 13 distributing to the needs of the saints, given to hospitality.

14 Bless those who persecute you; bless and do not curse. 15 Rejoice with those who rejoice, and weep with those who weep. 16 Be of the same mind toward one another. Do not set your mind on high things, but associate with the humble. Do not be wise in your own opinion.

17 Repay no one evil for evil. Have regard for good things in the sight of all men. 18 If it is possible, as much as depends on you, live peaceably with all men. 19 Beloved, do not avenge yourselves, but rather give place to wrath; for it is written, "Vengeance is Mine, I will repay," says the Lord. 20 Therefore

"If your enemy is hungry, feed him;
If he is thirsty, give him a drink;
For in so doing you will heap coals of fire on his head."

21 Do not be overcome by evil, but overcome evil with good. (Romans 12:9-21)
Brethren, we need to live as true Christians, despite the fact that the world is dominated by those who are not.
You are in my prayers.
Sincerely,
Bob Thiel
Pastor and Overseer