Dear Brethren and Co-Workers in Christ:
Greetings from Grover Beach, California.
Despite tests and trials, we hope and pray you have had a spiritually positive week.
YouTube Issues and Subscribers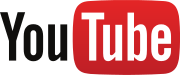 Speaking of tests and trials, YouTube has been making it more difficult for people to find, download, and watch our videos.Bill Wedekind reports:Starting a few weeks ago, we began experiencing a type of censorship on both the ContinuingCOG (sermons) and BNP (sermonettes) YouTube channels.
The speed of both uploading and downloading on these two channels has been throttled back to about 3% of its previous available speed. Uploads and downloads that previously took about 30 seconds are now taking 16-20 minutes each. When testing with other youtube channels, we see no speed degradation. It seems that we have been singled out for some special attention. Initially, we thought that this was limited to just the uploading and downloading of videos. If that were the case, it would have little impact on our use of YouTube. However, it seems that this throttling affects the entire channel including the bandwidth required for viewers to watch videos.
What does this mean? Well, it would seem that given the bandwidth limitation, perhaps only 1 or 2 people can view videos on our channels simultaneously without speed / quality issues. Once 3 or more people are watching simultaneously, they would begin to experience speed or quality issues. A typical listener experiencing video quality issues might just stop watching and move on.
There is no reason for this channel behavior other than we are being quietly censored. This is especially pernicious in that this implementation has the effect of limiting viewers of our content while doing so in a way intended to go unnoticed. As such, it is another form of shadow banning.
Bill told me he could not believe it at first, but the more he looked into this and did some tests, the more convinced he was that YouTube has intentionally been making it more difficult for people to watch us.
Because of my distrust of YouTube and 'big tech,' we are also on other platforms (like BitChute, COGTube, Vimeo, and Brighteon) and we are also on COGAnimations at Bitchute.
However, YouTube is normally our most popular platform.
But I have been convinced that what YouTube has been doing has prevented our videos going 'viral' in 2020.
Yet, despite actual issues with YouTube, we continue to get new subscribers to our videos. As of January 6, 2021, we now have 2614 subscribers on the ContinuingCOG channel–this is up from 2,380 on April 30th. This is the channel that has our sermons, offertory messages, and some of our less prophetically-oriented sermonettes.
We also have 5,493 subscribers to our Bible News Prophecy channel. This is up only slightly from 5,480 on April 30th. This is our main sermonette channel. But this is the lowest rate of new subscribers we have gotten in a period of this length–and that seems directly related to what YouTube has been doing. Our Bible News Prophecy channel tends to have a broader audience than the sermon channel. Therefore, YouTube shadow banning actions would reduce that broader audience from being able to see it. While YouTube practices also affect our sermon channel, that program tends to have a more concentrated audience, thus YouTube's negative practices would not affect it quite as much.
According to YouTube, subscribers watch more often than non-subscribers and our number of subscribers to these channels has continued to rise. Hence, our audience continues to expand–but YouTube looks to have taken steps to slow the expansion.
We are also on other YouTube channels such as CDLIDDSermones (39 subscribers, up from 21 on April 30th), CCOG Animations (100 subscribers, up from 83 on April 30th), and CCOGAfrica (111 subscribers, up from 89 on April 30th).
Perhaps it should also be pointed out that YouTube is owned by Google and Google itself looks to also be engaging in "shadow banning" items at COGwriter.com as its positions on COVID, vaccines, the LGBTQ+ agenda, have inclined it to attempt to suppress results that have views it does not share. Shadow banning is basically when a site like Google stops results that should be on the first few search result pages, and instead pushes them to later pages that few people will go to.
Wikipedia defines shadow banning as follows:
Shadow banning, also called stealth banning, ghost banning or comment ghosting, is the act of blocking or partially blocking a user or their content from an online community so that it will not be readily apparent to the user that they have been banned. (Shadow Banning. Wikipedia, viewed 01/06/21)
And yes, YouTube and Google (and probably other sites) have been doing this for years. But it has worsened in this past year.
Dailymotion
The best way to fight most fires is with water.
It has been said that the Church of God moves forward on its knees.
So, I prayed about the situation with YouTube.
Shortly after Bill Wedekind sent his report, we decided to add another platform.

So we now have the BibleNewsProphecy videos on dailymotion.
Dailymotion describes itself as "the home for videos that matter."
Wikipedia reports:
Dailymotion is a French video-sharing technology platform primarily owned by Vivendi. North American launch partners included BBC News, Vice Media, Bloomberg, and Hearst Digital Media. Dailymotion is available worldwide in 183 languages and 43 localised versions featuring local home pages and local content. (Dailymotion. Wikipedia, viewed 01/06/21)
As the church that best represents the Philadelphian remnant, we go through doors that Jesus opens (Revelation 3:7-8), while realizing that some doors can also close (Revelation 3:7).
Or, to use an American expression, we try to turn lemons (representing a sour event) into lemonade (representing a sweet result).
The various platforms we are on are all part of our efforts as we work to fulfill Matthew 24:14, Romans 11:23-25, Romans 9:28, Ezekiel warnings, and Matthew 28:19-20.
Despite the fact that places like YouTube are not heeding warnings in the word of God (cf. (Isaiah 30:8-14), we continue to utilize many methods to reach those that we can.
Bible News Prophecy Magazine
Because of delays and Amazon issues, we did not receive any of the January-March 2021 editions of the Bible News Prophecy magazine until Monday–and even then only about 1/3 of the copies we ordered. So, some of the English version has been placed in the mail–the rest is expected soon. Non-African subscribers should get theirs in the mail hopefully later this month (we also print the English edition in Kenya and that is distributed from there to Tanzania, Malawi, and sometimes Mozambique).
That being said, we still do not have the Spanish edition, but it is on order with Amazon Kindle Direct and is expected to be mailed out once it arrives.
More Youth Camps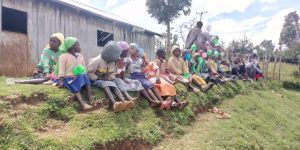 Stanley Tiongik reported that Mau, Kenya youth camp went well and that the congregation there is hoping to be visited soon by CCOG evangelist Evans Ochieng.
Deacon Ondigo Ochieng (not related to Evans Ochieng) sent in the following report and photo: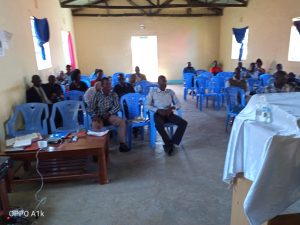 Dear Evangelist Thiel:

I am very sorry that I took time to give a report on the Youth Camp that was help on the border town of Kehancha. I was not feeling well and thank God am now recovering.God enabled us to have the first ever Youth Camp in Kehancha town.It was the best Youth Camp all over Kenya and God used Evangelist Evans Ochieng to fix it during the Pagan festive season of Christmas and Boxing Day.The Main theme of this Youth in Kehancha was based on 1 John 2:15-17 "DO NOT LOVE THE WORLD OR THE THINGS IN THE WORLD." The Sub Theme was "EMPOWERING YOUTHS OF THE 21 CENTURY."Wonderful songs,memory verses and talent show were given rooms.The Youths aged between 13-30 years attended the Youth Camp.We had some other five guys from Isebania border.Isaac Omondi,Joshua Ogedho and I were able to teach youths on different aspects of life.The origin of pagan Holidays like Christmas was discussed alongside Halloween.We begun from 23rd evening to the evening of 26th and on 27th morning,youths departed to their various homes having enjoyed the teachings and the presence of the Lord.We are very grateful for the great support we got from Evangelist Evans.We love the way you and Evans wants to reach people through involving all people including youths.Due to my faulty phone,I was not able to take good photos.May the Almighty Father bless you abundantly.
We sponsored 8 youth camps in Kenya last month. Glad this one went well and that deacon Ochieng is recovering from his illness.
Suggested Sabbath Service
Here is a suggested Sabbath service for this week:
2-3 hymns (our songbook, The Bible Hymnal, contains the materials from the 1974 Bible Hymnal from the old WCG with new covers, plus ten additional hymns; there is also some Choral Accompaniment online).
Opening prayer.
Sermonette, which for most who receive this letter via email will be a recorded one. The one suggested for this week is: Original Order of the Books of the Bible. Other sermonettes are available at the Bible News Prophecy channel.
Announcements (if any; though for many it will be this letter) and one hymn.
Sermon, which for most who receive this letter via email will be a recorded one. The one suggested for this week is: What was the Original Language of the New Testament? Other sermons are also available at the ContinuingCOG channel.
Final hymn.
Closing prayer.
Note: If you have a slow internet connection, you can watch these by starting the video, then below it (and towards the right) look for an outline of a gear–if you click on that, it will allow the YouTube video to be played with lower video quality, but at least it will not stop often–you can select a quality as low as 144p. If your internet connection is still too slow (as my home one is) and/or you prefer audio messages to audio-visuals ones, go to the YouTube link for the message, click on SHOW MORE related to the description. You will then see something that says, "Download MP3." Below that is a link to an MP3 file. Most computers (and even some cellular telephones) will allow MP3 files to be downloaded and played. This is an option we have made available (but we are also looking into ways to improve that as well)–and, of course, we have written article options. Some people have found that if their internet connections are not fast enough, that they can simply listen to the messages that are found at the Bible News Prophecy online radio channel.
IN CASE YOU DO NOT RECEIVE A 'LETTER TO THE BRETHREN' FOR ANY WEEK, REMEMBER THAT THERE ARE MANY SERMON MESSAGES ON THE ContinuingCOG channel AND MANY SERMONETTE MESSAGES ON THE Bible News Prophecy channel. There are also some messages at the CCOGAfrica channel.
World News Items
In the USA, we continue to see political and other division. Joe Biden, although a professing Roman Catholic who regularly attends mass, has even divided American Roman Catholics. Although Pope Francis has praised various policies of Joe Biden, many oppose him. It may be of interest to note that Roman Catholic Archbishop Carlo Maria Viganò, a former papal ambassador to the United States, declared in an interview published Monday … "It would be an irreparable disaster if Joe Biden, who is heavily suspected of being complicit with the Chinese dictatorship, would be designated as president of the United States," … "I think of his intention to condemn us all to wear masks, as he has candidly admitted. I think of the fact that, incontestably, he is only a puppet in the hands of the elite, who are ready to remove him as soon they decide to replace him with Kamala Harris, … It is clear that [the pope] considers Trump as his principal adversary, the obstacle that needs to be removed so that the Great Reset can be put in motion," (see Roman Catholics divided about Joe Biden; 19 reasons Biden-Harris Administration would be apocalyptic). A Roman Catholic archbishop calling Joe Biden "antichristic" is about as bad as any label he could have given him.
Also in the USA, its Congress was opened with a prayer to a Hindu deity, and the Congressman who did that, ended his prayer with "a-woman" (see I365: US Congress opens with 'Blasphemous' Prayer to Hindu Idol Brahma). Furthermore, on Monday, the US House of Representatives adopted rules that are intended to eliminate gender designations. So, no longer can bills have words like father, mother, sister, brother, etc. This perverted distortion of reality is additional proof that the USA has been moving in the wrong direction.
Furthermore, at the USA Capitol, on Wednesday protesters stormed in and were met with tear gas as the Congress was moved out of harm's way; in Hong Kong, many who had been governmental protestors were arrested (see US Capitol stormed; Hong Kong arrests protestors). Expect more unrest and troubles (cf. Mark 13:8).
The US protestors goal allegedly was to get Congress to make a path for Donald Trump to remain in office. That did not happen as Congress "certified" Joe Biden as the next President of the United States (see Congress 'certifies' Biden victory, Donald Trump somewhat acquiesces, and PCG questions election results). While I do believe that the USA will last the next full presidential term, based on calculations related to the 6000 year plan, lasting two full presidential terms does not look likely (see also Does God Have a 6,000 Year Plan? What Year Does the 6,000 Years End?). The handwriting is basically on the wall for the end of the USA–but there are still some specific signs we need to look for (cf. Matthew 24; see also When Will the Great Tribulation Begin?).
Over in Europe, we are see more movement towards the adoption of digital payments. It is now even a "top priority" for the European Union (see COVID-19 666: "European Commission President Ursula von der Leyen has declared digitization and cashless payment a top priority"). We warned about this movement towards 666 and the fulfillment of Revelation 13:16-18 last year in a video that Vimeo censored, but our other platforms allowed (watch COVID-19 Leading to 666?). World events are showing that biblical prophecies are going to be fulfilled.
Concluding Comments
The prophet Isaiah was inspired to write:
8 Now go, write it before them on a tablet,
And note it on a scroll,
That it may be for time to come,
Forever and ever:
9 That this is a rebellious people,
Lying children,
Children who will not hear the law of the Lord;
10 Who say to the seers, "Do not see,"
And to the prophets, "Do not prophesy to us right things;
Speak to us smooth things, prophesy deceits.
11 Get out of the way,
Turn aside from the path,
Cause the Holy One of Israel
To cease from before us."

12 Therefore thus says the Holy One of Israel:

"Because you despise this word,
And trust in oppression and perversity,
And rely on them,
13 Therefore this iniquity shall be to you
Like a breach ready to fall,
A bulge in a high wall,
Whose breaking comes suddenly, in an instant.
14 And He shall break it like the breaking of the potter's vessel,
Which is broken in pieces;
He shall not spare.
So there shall not be found among its fragments
A shard to take fire from the hearth,
Or to take water from the cistern." (Isaiah 30:8-14)
Brethren, what 'big tech' and many governments are doing is despising the word of God and trusting in perversity.
This will not end well for them.
Brethren, try not to let the hatred that the world has for the word of God slow you down from supporting His work.
Sincerely,
Bob Thiel
Pastor and Overseer