Dear Brethren and Co-Workers in Christ:
Greetings from the Five Cities Region of California.
We are still looking at festival site locations in the USA. We received another proposal yesterday and it will take us a little time to finalize a decision. Please pray that God's will will be done on that.
For Canada, we are looking at having it in Ontario where the Feast of Tabernacles was held in 2021.
Statement of Beliefs
We now have a version of the Statement of Beliefs of the Continuing Church of God in a printed booklet.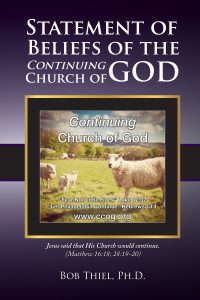 Here is a link: Statement of Beliefs of the Continuing Church of God.
Of course, unlike the online version, the booklet does not have clickable links to articles and literature with more information on various doctrines that we hold. But it does refer to other literature for those who want to know more and our scriptural beliefs.
We sent out printed copies to our USA supporters a few days ago and also have been sending them out internationally.
Reorganization
For some time, evangelist Evans Ochieng and I have discussed reorganizing in Kenya as he has a lot of responsibilities overseeing dozens of congregations in at least six nations.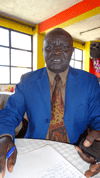 Evans Ochieng
(Photo by Bob Thiel)
Tuesday, I received a report from evangelist Ochieng about a meeting held last Friday in Kenya:
Pastor Dr Bob,

Greetings from Kenya.

We had a good meeting on Friday with Granton Otieno, Kennedy Odhiambo from Oyugis, David Cheryot from Rift valley, Ezekiel Oanda from Kisii, Tiongik Sawek and Joel Owuoti from Got Kachola. The meeting went well. Since the work in Kenya has expanded highly I recommend to have these people in regions to support the work and to lessen the the work load in Kenya.

Therefore we divided rift valley into two. North Rift valley and South Rift valley. Tiongik Sawek is in charge of South Rift valley and David Cheryot for North Rift valley.

Ezekiel Oanda for Kisii and Granton Otieno, Kennedy Odhiambo and Joel Owuoti for Luo region. We divided Luo into three regions. We also discussed to have accountant who will be in the office. Meaning by the end of February, you will start getting all monthly reports every month. It will give me easy time to supervise Africa.

These pastors will get some money for travelling and maintaining. So the funds you are sending to me I'll divide to them for travelling and keep up.

The meeting was very good and fruitful. We discussed a lot of things concerning the work in Kenya and how CCOG can maintain the standard of work and preaching the gospel.

Pray for me and the work in Africa. Soon I will travel to Malawi and Mozambique to do the same work.

Evans
As mentioned, we knew we needed a little more of a formal structure, so we will try this. Please pray that all our leaders, in and out of Africa, have wisdom, practice love, and work to fulfill Matthew 24:14, Romans 11:25, Matthew 28:19-20, and other pertinent scriptures.
Suggested Sabbath Service
Here is a suggested Sabbath service for this week:
Note: If you have a slow internet connection, you can watch these by starting the video, then below it (and towards the right) look for an outline of a gear–if you click on that, it will allow the YouTube video to be played with lower video quality, but at least it will not stop often–you can select a quality as low as 144p. If your internet connection is still too slow (as my home one is) and/or you prefer audio messages to audio-visuals ones, go to the YouTube link for the message, click on SHOW MORE related to the description. You will then see something that says, "Download MP3." Below that is a link to an MP3 file. Most computers (and even some cellular telephones) will allow MP3 files to be downloaded and played. This is an option we have made available (but we are also looking into ways to improve that as well)–and, of course, we have written article options. Some people have found that if their internet connections are not fast enough, that they can simply listen to the messages that are found at the Bible News Prophecy online radio channel.
IN CASE YOU DO NOT RECEIVE A 'LETTER TO THE BRETHREN' FOR ANY WEEK, REMEMBER THAT THERE ARE MANY SERMON MESSAGES ON THE ContinuingCOG channel AND MANY SERMONETTE MESSAGES ON THE Bible News Prophecy channel. There are also some messages at the CCOGAfrica channel.
World News Items
The situation involving Russia and Ukraine remains in the news (see Tensions rising as USA & UK order some out of Ukraine, but the EU does not). While one Jewish source says this current is related to Gog and Magog of Ezekiel 38 (seeI365: As Russia prepares invasion: Israel may rescue up to 75,000 Ukrainian Jews from 'Gog-Magog' war), it is not. More on the timing of Ezekiel 38 can be found in the article:Ezekiel 38: For Russia & Iran in Our Day?
COVID matters remain in the news (see BI: New Omicron offshoot BA.2 is over 1.5 times more contagious than the original, early data from Denmark suggests). Some have been protesting governmental restrictions (e.g. COVID protests across Europe: A prelude to the rise of the Beast?) and some have been pointing out errors in the official narrative supposed experts have been espousing (see JR: Big Pharma's Siege of America). That being said, the time for the ride of the fourth horseman of the Apocalypse will come (Revelation 6:7-8). Because of errors associated with handling COVID, many may ignore more legitimate calls for protective measures for the more deadly pestilences that are prophesied to come (Revelation 6:7-8).
Speaking of the four horsemen, there are indications related to the ride of the third horseman of food scarcity and food inflation (see MS: A Farming Insider Has Warned Me That The Coming Food Shortages Are Going To Be FAR WORSE Than We Are Being Told). As far as food shortages go, a member in Canada sent the following photograph in a grocery store she was in last Friday: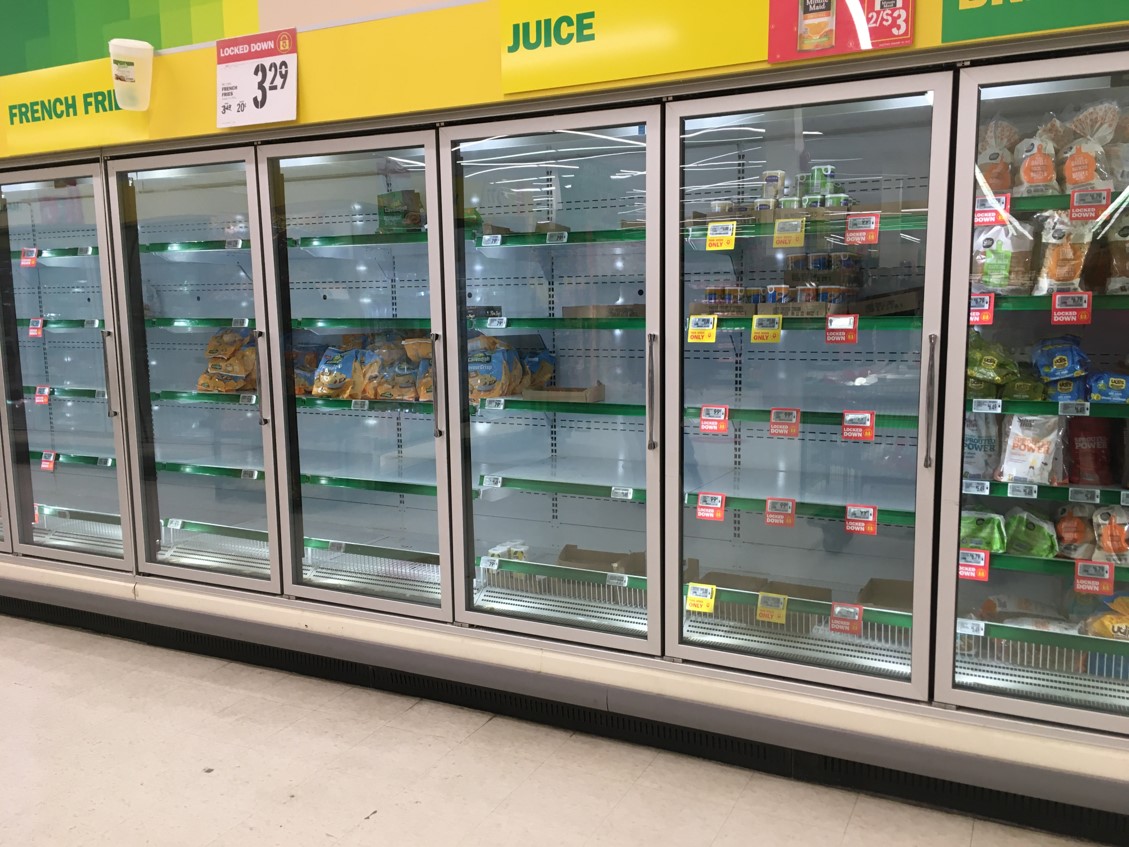 Grocery store in Ontario, Canada
Yes, shortages can happen in Western nations. Jesus foretold a time of famines (Matthew 24:4-8) and did not suggest that places like the USA and Canada would be exempted.
Concluding Comments
Jesus taught:
43 "You have heard that it was said, 'You shall love your neighbor and hate your enemy.' 44 But I say to you, love your enemies, bless those who curse you, do good to those who hate you, and pray for those who spitefully use you and persecute you, 45 that you may be sons of your Father in heaven; for He makes His sun rise on the evil and on the good, and sends rain on the just and on the unjust. 46 For if you love those who love you, what reward have you? Do not even the tax collectors do the same? 47 And if you greet your brethren only, what do you do more than others? Do not even the tax collectors do so? 48 Therefore you shall be perfect, just as your Father in heaven is perfect. (Matthew 5:43-48)
Brethren, remember we are to love and strive for perfection, even though some spitefully use and persecute us.
Sincerely,
Bob Thiel
Pastor and Overseer