Dear Brethren and Co-Workers in Christ:
Greetings from Grover Beach, California.
Another full week working on supporting Matthew 24:14 and 28:19-20, while also working to prepare for the short-work of Romans 9:28.
Spring Holy Days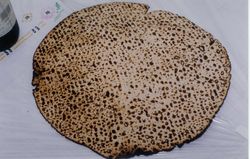 Unleavened Bread
The Spring Holy Days begin next month.
Passover is to be observed after sunset on March 26th. The Night to Be Observed is after sunset on March 27th. And the Days of Unleavened Bread run from sunset March 27th through sunset April 3rd.
Because of COVID-19 restrictions in 2020, we had to make arrangements for people in several nations to observe Passover in their homes as opposed to meeting with their congregations. So, one reason to mention this now is to tell leaders of congregations in Ethiopia, Ghana, India, Kenya, Malawi, Mozambique, South Sudan, and Zambia to begin the planning process now.
For everyone else, since the 2021 Spring Holy Days come earlier this year than in many years, it made sense to give a 'heads up.'
Spanish Dubbing and Videos
We have been working on getting more sermon messages to have voice-overs in the Spanish language.
We are also working on getting more of other videos in the Spanish language.
Our hope is that not only will we be better able to reach people whose native language is Spanish, but that we will ultimately be able to have Spanish video groups and congregations.
We are also looking at aspects of our written materials in Spanish.
One thing we are currently considering is having a Spanish language Feast of Tabernacles' site in 2021.
We plan to report more on that later in the year.
Suggested Sabbath Service
Here is a suggested Sabbath service for this week:
2-3 hymns (our songbook, The Bible Hymnal, contains the materials from the 1974 Bible Hymnal from the old WCG with new covers, plus ten additional hymns; there is also some Choral Accompaniment online).
Opening prayer.
Sermonette, which for most who receive this letter via email will be a recorded one. The one suggested for this week is: Temple Institute and God's ultimate goal. Other sermonettes are available at the Bible News Prophecy channel.
Announcements (if any; though for many it will be this letter) and one hymn.
Sermon, which for most who receive this letter via email will be a recorded one. The one suggested for this week is: You Can Develop Love. Other sermons are also available at the ContinuingCOG channel.
Final hymn.
Closing prayer.
Note: If you have a slow internet connection, you can watch these by starting the video, then below it (and towards the right) look for an outline of a gear–if you click on that, it will allow the YouTube video to be played with lower video quality, but at least it will not stop often–you can select a quality as low as 144p. If your internet connection is still too slow (as my home one is) and/or you prefer audio messages to audio-visuals ones, go to the YouTube link for the message, click on SHOW MORE related to the description. You will then see something that says, "Download MP3." Below that is a link to an MP3 file. Most computers (and even some cellular telephones) will allow MP3 files to be downloaded and played. This is an option we have made available (but we are also looking into ways to improve that as well)–and, of course, we have written article options. Some people have found that if their internet connections are not fast enough, that they can simply listen to the messages that are found at the Bible News Prophecy online radio channel.
IN CASE YOU DO NOT RECEIVE A 'LETTER TO THE BRETHREN' FOR ANY WEEK, REMEMBER THAT THERE ARE MANY SERMON MESSAGES ON THE ContinuingCOG channel AND MANY SERMONETTE MESSAGES ON THE Bible News Prophecy channel. There are also some messages at the CCOGAfrica channel.
World News Items
The Vatican continues to push its interfaith and ecumenical agenda with Pope Francis its biggest public voice (see 'Pope Calls for Unity of All Religions'). More and more world political and religious leaders are supportive of this and negative towards those who do not embrace that agenda. The resistance by true Christians of this agenda may be a part of the cause for the persecution Jesus foretold in John 16:2b and Luke 21:12-19.
Iran may be weeks away from having a functional nuclear weapon. This has concerned the USA and Israel (see I365: Iran may be "Weeks" away from developing Nuclear Bomb', Sec of State Blinken Admits and Israel's ex-Intel Chief calls for Preemptive Strike against Iran). It is expected we will have a regional conflict in the Middle East before we see the 'peace deal' of Daniel 9:27. Iran (along with its ally Syria) is prophesied to cause damage to Israel's capital of Jerusalem (cf. Isaiah 22:6-9)–and we may be getting very close to the fulfillment of that.
Speaking of Israel, it has an election scheduled for March 23, 2021. It is possible that several pro-animal sacrifice politicians may get a place in the Israeli parliament known as the Knesset (see I365: Polls show Pro-3rd Temple Politicians becoming Lawmakers).
Whether it happens then or not, this type of thing is something I have long expected. Notice something I wrote back in 2008:
Because Israel has a parliamentary system of governance and is normally governed by a coalition of parties, I believe that at some point in time a coalition party that insists on animal sacrifices will become part of the top governance and the sacrifices will then begin–though they may last only a very short period of time–but long enough for the King of the North to stop them per Daniel 11:31. (Thiel B. Animal Sacrifice Planned for April 6? COGwriter, April 3, 2008).
This type of situation with the Israeli parliament may develop soon related to Israel's next election.
It should be pointed out that I do not believe that even if "pro-third temple" politicians get a place in the Knesset next month that sacrifices will immediately resume.
But I do believe that the time will come when Israel will allow those sacrifices and having "pro-sacrifice" politicians, which the "pro-third temple" politicians are, will be a factor in allowing that to happen.
Since the Bible teaches that animal sacrifices will stop (Daniel 9:27, 11:31, 12:11), it is obvious that they first must resume.
Consistent with sacrifices done without a temple back in Ezra 3:6, someone at the Temple Institute told me personally that they DID NOT NEED a massive Jewish temple in order to resume animal sacrifices. They basically only need Levites and an altar, and they have those. The 'reconstituted' Sanhedrin also told me they would do sacrifices without a temple in an email when I asked them about it years ago.
Getting permission to resume animal sacrifices is not impossible–particularly if the Knesset gets a block of politicians who want them.
Although it may well take a war, peace deal, and/or political gridlock for that to happen, it will come to pass as the Bible teaches.
We are getting closer to the end.
Concluding Comments
Solomon wrote:
8 The end of a thing is better than its beginning; The patient in spirit is better than the proud in spirit. (Ecclesiastes 7:8)
Brethren, the end of our calling is to be better than the beginning. Be patient and develop more of the love of God.
And then you will be glorified later with Jesus (Romans 8:17).
Sincerely,
Bob Thiel
Pastor and Overseer