Dear Brethren and Co-Workers in Christ:
Greetings from Grover Beach, California.
Kabolecho, Kenya
Evangelist Evans Ochieng sent the following encouraging report:
Pastor Dr Bob,Greetings from Kenya.I went rift valley to meet our brethren from Kabolecho where we supported to build a hall. The meeting was successful and bears more fruits. I met 102 people and our hosts from Mao, Motosiet, Daktech, Koromuok Bomet, Chilani and Kaplicho. I was accompanied by Lucas Ogada and my daughter Tabitha Akoth who is joining university next year. Also I had a driver Chromely Onyango. I carried so many different books and magazines with me to rift valley. Recently is when I took more books to rift valley before I traveled to Malawi. Toady I carried these books:- WHERE IS THE TRUE CHRISTIAN CHURCH TODAY, FAITH FOR THOSE GOD HAS CALLED AND CHOSEN, DATING, CRISTIAN AMBASSADORS FOR THE KINGDOM OF GOD, IS GOD'S EXISTENCE LOGICAL, SHOULD YOU OBSERVE GOD'S HOLY DAYS OR DEMONIC HOLIDAYS and so many different magazines. The meeting was very enjoyable. People were happy and thankful for what the church has done for them. Now we have already build six meeting halls in rift valley, and ten in Nyanza. The hall in Kabolecho is not completed so I promised them that we are going to finish it. I told pastor Sawek that we are going to buy motorcycle to help him move in rift valley. After the meeting I met the two people who are going to help us in translation of our books and magazines into Kalenjine language so that they can clearly understood what we are teaching. Most of church members in rift valley are not good in English and Swahili. That's the reason why I asked those who can do the translation. Our brothers David Rono and David Langat are going to help us in translation of our books and magazines into Kalenjine language.After the meeting I met some of our hosts from Mao and Koromuok Bomet to arrange my visit in Those two places. Also I met our hosts from Kewet, Andrew Rono whose two children were affected and one died after drinking a milk which was poisoned. At the same time his house was also burnt to ashes and remain with nothing. So I promised him that we shall give him some assistance. I also talked with them about chicken projects. We came to conclusion that all of them will start the chicken projects to help them.Next Sabbath I will visit Eberege congregation in Kisii. The meeting services in Kabolecho was fantastic. I really appreciated.EvansPs below is the picture of today's service in Kabolecho.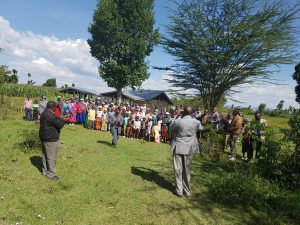 Pastor Sawek sent a similar report:
Receive greetings in Jesus christ. Finally Yesterday we managed to held a long awaited sabbath at Kabolecho area. The Kabolecho continued to give a lot of thanks for the support and visit by the Continuing Church of God.
There were representatives from various locals witnessed. including Takitech, Chilani, Motosiet, Ndamama, Lakwenyi, Cheramgoi Bomet- kiramwok, Mau-kewet.We had prayer talk from a visitor who had accompanied Evangiest Ochieng known as Luke Okada from Ndiwa together with the daughter of Evangelist Ochieng.Kabolecho is a fast growing church, it is yet to be finished. The church walls are covered with a mat, the floor is bare soil.Oftenly the sabbath schools are continuing in the church and members of the church were requesting for the support in completion of church construction, so as to ease the comfort of children and brethrens.Evangelist Ochieng agreed and emphasised everyone to support towards the completion of the construction. Haggai 1:4-8 also emphasises on the same.He also mentioned taking projects such as chicken farming to all the locals in the area, as most of the people are living in a low standard for instance,the people are tracking by foot for long distances. And the projects if initiated will benefit them.During the meeting also there were two grandmothers from Motoset who had come for prayers, they were nursing injuries from their bodies, one of them mentioned also to be having an ill relative currently in the hospital having a sore in his leg. Also the grandfather from Chilani who had eye problem, including a mother who has a daughter ailing mentally and having eight children Lets pray for them. We pray for all of them, presiding by the pastor from Kiromwok local.Evangelist promised also to visit Mau and Kiromwok next year.The case of publishing the books into Kalenjin version were supported by the Evangelist. The meeting also requested for the seminar for their leaders and their wifes and it is yet to be planned together by the Evangelist and Pastor Sawek on when and where to be performed. The brethrens were glad as the Evangelist promised a gift to Pastor Sawek soon.Lastly, The chilani women group were also requesting for the support in construction of chicken house or yard including fencing the compound. It was agreed to be supported soon.Attached with are the photographs from Kabolecho church.May God bless you.Regards,Pastror Sawek.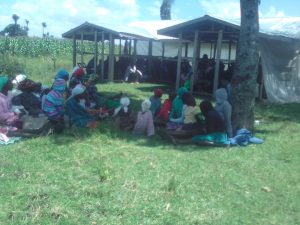 It is great that it went well.
Youth Camps
We have had youth camps in Kenya the past several years.
This year, we had to suspend them for last week because of COVID restrictions.
However, we have found that we can hold them next week.
Currently the plan is for those 14 and older to be able to attend the eight expected locations:
Evans Ochieng, Bradox Ochieng and Grantone Otieno will be at Ndhiwa, Ezekiel Oanda and Kennedy Odhiambo will be at Kisii, Tiongik Sawek and Simon will be at Chilani, David Langat and Rono will be at Daktech, Stanley will be at Mao, Henry Kosgey and Cheryot will be at Bomet, Nimrod Ondigo will be at Kihancha and David Cheryot and Charles will be at Njoro.
We expect to give reports after the camps. Please pray for their safety and effectiveness.
Year-End Income Tax Matters
We are getting close to the end of the calendar year. Those who live in the United States, to have their contributions eligible for tax deduction for calendar year 2019, need to send electronic or regular mail donations no later than December 31, 2020. For those who physically mail donations, they must be postmarked by December 31, 2020 to be eligible for deductibility for 2020.
All contributions received via US mail for residents of the United States are to be processed for the tax year based upon the postmarked date on the envelopes.
For contributions received via PayPal, we use the date that PayPal gives us.
The PayPal donation link for the USA is at: https://www.ccog.org/donations/
In Canada the rules may be slightly different for mailed and other contributions, so if you want the tax deduction for calendar year 2020, they likely also need to be made before the end of the calendar year to the CCOG in Canada.
(In New Zealand, they use a March 31st date.)
Suggested Sabbath Service
Here is a suggested Sabbath service for this week:
2-3 hymns (our songbook, The Bible Hymnal, contains the materials from the 1974 Bible Hymnal from the old WCG with new covers, plus ten additional hymns; there is also some Choral Accompaniment online).
Opening prayer.
Sermonette, which for most who receive this letter via email will be a recorded one. The one suggested for this week is: 2021: The Great Tribulation or the Great Reset? Other sermonettes are available at the Bible News Prophecy channel.
Announcements (if any; though for many it will be this letter) and one hymn.
Sermon, which for most who receive this letter via email will be a recorded one. The one suggested for this week is: Let's Talk About Christmas. Other sermons are also available at the ContinuingCOG channel.
Final hymn.
Closing prayer.
Note: If you have a slow internet connection, you can watch these by starting the video, then below it (and towards the right) look for an outline of a gear–if you click on that, it will allow the YouTube video to be played with lower video quality, but at least it will not stop often–you can select a quality as low as 144p. If your internet connection is still too slow (as my home one is) and/or you prefer audio messages to audio-visuals ones, go to the YouTube link for the message, click on SHOW MORE related to the description. You will then see something that says, "Download MP3." Below that is a link to an MP3 file. Most computers (and even some cellular telephones) will allow MP3 files to be downloaded and played. This is an option we have made available (but we are also looking into ways to improve that as well)–and, of course, we have written article options. Some people have found that if their internet connections are not fast enough, that they can simply listen to the messages that are found at the Bible News Prophecy online radio channel.
IN CASE YOU DO NOT RECEIVE A 'LETTER TO THE BRETHREN' FOR ANY WEEK, REMEMBER THAT THERE ARE MANY SERMON MESSAGES ON THE ContinuingCOG channel AND MANY SERMONETTE MESSAGES ON THE Bible News Prophecy channel. There are also some messages at the CCOGAfrica channel.
World News Items
In the USA there were some election protests last Sunday (see 'Trump Defiant as US Electors Prepare to Finalize Biden Victory' 'Civil War Fantasies'?), and the next day the Electoral College made Joe Biden president elect (see Electoral College officially makes Joe Biden President-elect). Some in the USA feel that fraud was involved and that violence may break out later. The Bible prophesies, "There shall be terror within" (Deuteronomy 32:25).
An LGBTQ activist believes older children should be put on hormone-blockers in order to be able to decide what gender they want to be (see 'LGBT Activist Calls For All Children To Be Put On Puberty Blockers'). The biblical (cf. Matthew 19:4) and scientific reality is that we are made male or female and basically all the cells of our bodies reflect that, irrespective of hormones, surgeries, or other attempts to confuse that fact.
On COVID-related matters, it has been found that the more religious in American society fared better mentally than others during this time of COVID and restrictions (see COVID Steps? 'New Mental Health Survey Shows Conservatives Were Right: Church Is Essential'). Although this is NOT a surprise, many irreligious government officials chose to try to close indoor, and sometimes outdoor, church services while allowing liquor stores to stay open–supposedly for mental health.
Concluding Comments
Jesus taught:
62 … "No one, having put his hand to the plow, and looking back, is fit for the kingdom of God." (Luke 9:62)

22 "Therefore I say to you, do not worry about your life, what you will eat; nor about the body, what you will put on. … 29 "And do not seek what you should eat or what you should drink, nor have an anxious mind. 30 For all these things the nations of the world seek after, and your Father knows that you need these things. 31 But seek the kingdom of God, and all these things shall be added to you.

32 "Do not fear, little flock, for it is your Father's good pleasure to give you the kingdom. (Luke 12:22,29-32)
Brethren, this world has its distraction, trials, and difficulties. But we are not to give up. Since it is God the Father's good pleasure to give us the kingdom, that should motivate us to continue.
Sincerely,
Bob Thiel
Pastor and Overseer