Dear Brethren and Co-Workers in Christ:
Greetings again from Grover Beach, California.
We have been working on literature, like the next issue of the Bible News Prophecy magazine, as well as literature in languages other than English.
In some disconcerting news, the shipping costs and the printing time from CreateSpace for the magazine have increased and thus is costing us more money than usual. Whether this is permanent or just related to the Christmas holiday season is not clear at this time.
But at this moment, CreateSpace still offers us the most cost-effective way to produce, not only our English language magazine, but most of our non-African literature.
Feast of Tabernacles' Slideshow
Some have wondered about Steve Dupuie's project (with technical assistance from Bill Wedekind) to put together a video slideshow related to the Feast of Tabernacles in 2017.
As many of you know, Steve Dupuie has been collecting photographs and working on that slideshow. It is now up and available at the ContinuingCOG channel. Here is a link: Continuing Church of God Feast of Tabernacles 2017 Slide Show.
This may be something to watch on a Friday night (or any other time for that matter).
Since this is not the first time that Steve Dupuie has done something like this, it is likely that he will do so in 2018. So, if there were few or no photographs of where you went in the 2017 slideshow, you may wish to take some photographs at the Feast of Tabernacles in 2018 and then get them to him :).
Bible News Prophecy video
We received the following email for the sermonette video that is recommended for this week:
Dear Evangelist Bob.

Many thanks for the sermon that you gave concerning Jerusalem,Prophecy and Donald Trump!

It has helped answer some of our questions.It was so wonderful to know much about it and it has helped some of us here with roots from COG7.Glory to God for using you to reveal this.May He reveal more to you so that you may enlighten the world.

Please there are many who are eagerly waiting to read the Kiswahili booklet about the Kingdom of God. May the Lord almighty enable you and Evans to produce it soon.

Best regards

Ondigo
This video (watch Jerusalem, Donald Trump, and Prophecy) is already becoming somewhat popular. Ondigo Ochieng (who is not related to Evans Ochieng) is a deacon with us in Kenya. The booklet he is referring to is getting formatted (it should have been out by now, but some miscommunications delayed it).
Muhuru Bay and Kenya Youth Camps

Evangelist Evans Ochieng sent the following:
Pastor Dr Bob,

Greetings from Kenya.

Thank you for your prayers for the seminar that we had at Muhuru Bay.

I got a very successful seminar which was every productive more than how I was expecting it.

I met very humbled brethren who were really in need of the truth and truth alone. I was very happy pastor and I am still giving many thanks to those who prayed for the seminar.

I met ten people who had been keeping Sabbath themselves for a long time after they had differed from the pastor who came from USA … I have never meet this pastor.

I was accompanied by Granton Otieno from Migori, Charles Otieno from Ndhiwa , Charles Osutwa from Mbani, Frederick Omondi from Ndhiwa congregation , And Andrew Otwande from Ndhiwa congregation.

After having a successful and wonderful meeting I travelled to Njoro Nakuru where I took some magazines to David Cherriot. We left Granton to go and keep Sabbath with them today. I tried to call him but I couldn't reach him. His phone is off. So I am still waiting for his report how they met. I was very happy with that group. God has opened the doors in Kenya and Malawi/Mozambique. I am getting positive work.

Pray for this good group.

We are planning for the youth camp that will start on Wednesday 13th December 2o17.

Here are the photos of those we met at Muhuru Bay plus those who accompanied me.

Evans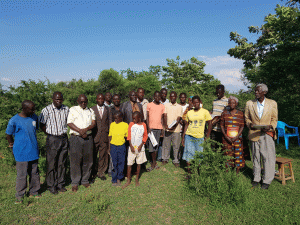 It us great that people are responding. Somewhat like in the New Testament days, "God … opened the door of faith to the Gentiles" (Acts 14:27)–a door we continue to try to go through and teach (Matthew 24:14; 28:19-20).
Pastor Tiongik Sawek sent the following:
Hallo  brethren.  I greet you in the name of Jesus Christ. Sorry for the fire. Here in rift valley the gospel is going on well. This season is the session of holiday so our children are at home. We have a youth camp in Transmara  which will be starting on 13/12/2017 to 17/12/2017. We did last year and it was effective.  The bible say teach the children still when they young. All congregations in rift valley  Bomet, Njoro , Mau , are going there Transmara. The meeting will be bigger than the previous year  if the succeed in getting transport. We contacted pst Ochieng who said the CCOG will support us. Thank  you and pray for us.

pst Sawek
The youth camps began yesterday and we hope to have reports later this month.
The fire he is referring to has to do with the situation in California. The air was so dirty around here that they closed a school that was 80 miles north of the fire. We are about 100 miles north of the fire and mainly have seen filthy air–on Sunday, the air was incredibly filthy.
I expect to give a sermonette this Sabbath (which, if it happens correctly, should be recommended for December 23rd) related to fires and prophecy.
Improper PayPal Donations
Oddly, we have received numerous donations via PayPal in the past few weeks from people we are unfamiliar with (they are NOT CCOG members). Most of these 'donations' are from scammers who we suspect have used someone else's credit card and have been sending us between $1.00 up to $100.00 (with $1.00 being the most common amount) to test if the stolen credit card number is valid.
We in Continuing Church of God never see the credit card number, but simply the amount donated (which is the case for all PayPal donations).
Anyway, I did telephone PayPal to alert them to what is happening a couple of weeks ago, but it is still happening. Eventually, they will probably fix it.
Now, this does NOT affect those of you who donate to us via PayPal. Your funds still are arriving. Plus, PayPal has assured me that we of the Continuing Church of God are in good standing, and  a representative has thanked me for alerting them to what has been happening.
World News Items
Much has been happening on the world scene.
Donald Trump's announcement related to recognizing Jerusalem as Israel's capital continues to have repercussions around the world. Some believe that God is using Donald Trump like He used Cyrus, and that Donald Trump's pronouncement is leading to having a 'third' Jewish temple in Jerusalem (see Donald Trump reportedly a 'Cyrus' preparing the way for a new Jewish temple). Donald Trump's proclamation has upset many around the world. Some see this negatively affecting the peace process in the Middle East (see Palestine's Abbas wants UN not USA, Turkey's Erdogan says recognize Palestinian Jerusalem). Despite comments and claims, there will come a peace deal in the region as is prophesied in Daniel 9:27.  And that deal is prophesied to be confirmed for a seven-year period by a European, not American, leader.
Speaking of Europe, it formally entered a new phase of its military development. 25 European Union member states have submitted plans to work together on a first set of 17 collaborative defence projects under something called the Permanent Structured Cooperation (PESCO; see PESCO: The making of a European Defence Union and Newsweek: Putin is Preparing for World War III-Is Trump?). Part of the purpose of PESCO is for Europe to have a military that is independent of the USA. It is widely believed that Germany will dominate PESCO (see also 'PESCO helps to ensure a more secure Europe for its citizens'). German SPD leader Martin Schulz has called for Europe to reorganize and become the United States of Europe by 2023 (see German call for a 'United States of Europe' in five years) or 2025 (other sources).
The Bible shows that Europe will reorganize (Revelation 17:12-13), the world will marvel at the coming military success of Europe (Revelation 13:3-4), and that Europe will end up with a "great army" (Daniel 11:25). The Bible also shows that the Europeans will take over the USA (Daniel 11:39; see also USA in Prophecy: The Strongest Fortresses) and then a North African/Middle Eastern confederation (Daniel 11:40-43). This will cause the world to marvel. Steps for this are occurring now! PESCO is one such step in that direction.
Perhaps it should be mentioned that some think that Switzerland is the most prepared nation for the disasters that will come in the future (see 'Switzerland Is Well-Prepared For Civilizational Collapse' or is it?).  Even if there is some truth to that from a physical perspective, biblically, Switzerland will NOT be the 'place of safety' (Revelation 12:14-17) during the Great Tribulation and Day of the Lord (see also There is a Place of Safety for the Philadelphians. Why it May Be Near Petra).
Suggested Sabbath Service
Here is a suggested Sabbath service for this week:
2-3 hymns (our songbook, The Bible Hymnal, contains the materials from the 1974 Bible Hymnal from the old WCG with new covers, plus ten additional hymns; there is also some Choral Accompaniment online).
Opening prayer.
Sermonette, which for most who receive this letter via email will be a recorded one: Jerusalem, Donald Trump, and Prophecy. Other sermonettes are available at the Bible News Prophecy channel.
Announcements (if any; though for many it will be this letter) and one hymn.
Sermon, which for most who receive this letter via email will be a recorded one. The one suggested for this week is: USA in Prophecy: Samaria. Other sermons are also available at the ContinuingCOG channel.
Final hymn.
Closing prayer.
Note: If you have a slow internet connection, you can watch these by starting the video, then below it (and towards the right) look for an outline of a gear–if you click on that, it will allow the YouTube video to be played with lower video quality, but at least it will not stop often–you can select a quality as low as 144p. If your internet connection is still too slow (as my home one is) and/or you prefer audio messages to audio-visuals ones, go to the YouTube link for the message, click on SHOW MORE related to the description. You will then see something that says, "Download MP3." Below that is a link to an MP3 file. Most computers (and even some cellular telephones) will allow MP3 files to be downloaded and played. This is an option we have made available (but we are also looking into ways to improve that as well)–and, of course, we have written article options. Some people have found that if their internet connections are not fast enough, that they can simply listen to the messages that are found at the new Bible News Prophecy online radio channel. IN CASE YOU DO NOT RECEIVE A 'LETTER TO THE BRETHREN' FOR ANY WEEK, REMEMBER THAT THERE ARE MANY SERMON MESSAGES ON THE ContinuingCOG channel AND MANY SERMONETTE MESSAGES ON THE BibleNewsProphecy channel. There are also some messages at the CCOGAfrica channel.
Concluding Comments
Jesus spoke the following to the Apostle John:
7 "And to the angel of the church in Philadelphia write,

'These things says He who is holy, He who is true, "He who has the key of David, He who opens and no one shuts, and shuts and no one opens":  8 "I know your works. See, I have set before you an open door, and no one can shut it; for you have a little strength, have kept My word, and have not denied My name.  9 Indeed I will make those of the synagogue of Satan, who say they are Jews and are not, but lie — indeed I will make them come and worship before your feet, and to know that I have loved you.  10 Because you have kept My command to persevere, I also will keep you from the hour of trial which shall come upon the whole world, to test those who dwell on the earth.  11 Behold, I am coming quickly! Hold fast what you have, that no one may take your crown.  12 He who overcomes, I will make him a pillar in the temple of My God, and he shall go out no more. I will write on him the name of My God and the name of the city of My God, the New Jerusalem, which comes down out of heaven from My God. And I will write on him My new name. (Revelation 3:7-12)
Brethren, we have to go through the open doors to proclaim the gospel, be faithful, hold fast to the truth, and have a love of the brethren. God wants us to overcome and endure, but will reward us for doing so.
Sincerely,
Bob Thiel
Pastor and Overseer