Dear Brethren and Co-Workers in Christ:
Greetings.
We hope and pray you are doing well, building character, and growing in grace and knowledge of our Lord and Savior, Jesus the Christ.
The recommended sermonette for this Sabbath, You Want to Follow God? Then Prove the Truth!, is mainly intended towards people who are not sure about aspects of the truth as well as to help them be able to "prove all things; hold fast that which is good" (1 Thessalonians 5:21, KJV).
While I often hold up various CCOG books and booklets in the video messages, hopefully all can see the logic of having much of the literature that we have put together.
We want people to:
Prove all things; hold fast that which is good. (1 Thessalonians 5:21, KJV)
Know with certainty that God exists (Is God's Existence Logical?).
Know with certainty that Jesus is the Messiah (Proof Jesus is the Messiah).
Know with certainty that the Bible is true (Who Gave the World the Bible? The Canon: Why do we have the books we now do in the Bible? Is the Bible complete?).
Know if God is calling them in this age (Is God Calling You?).
Have information on how to live as Christian (Christians: Ambassadors for the Kingdom of God, Biblical instructions on living as a Christian).
Understand the Gospel of the Kingdom of God (The Gospel of the Kingdom of God).
Understand what God's purpose is for them (The MYSTERY of GOD's PLAN: Why Did God Create Anything? Why Did God Make You?).
Understand what early Christians believed (Continuing History of the Church of God).
Understand why the true church is not a Greco-Roman-Protestant one (Continuing History of the Church of God) and (Hope of Salvation: How the Continuing Church of God Differs from Protestantism).
Understand why the Church of God is the Christian church (Where is the True Christian Church Today?).
Understand why the Continuing Church of God best represents the Philadelphian continuation during this predominantly Laodicean era (Where is the True Christian Church Today? and Does the CCOG have the confirmed signs of Acts 2:17-18?).
While we intend to add more to our literature (as well as our online articles), the books, booklets, and articles that we currently have should help those who really have the great love of the truth.
Trials, tribulations, and persecutions are coming and people need to realize that the proper Christian faith is built upon an unmovable Rock. We believe our literature helps lead people to be better able to do that.
Gospel of the Kingdom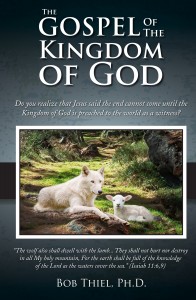 Jesus said:
14 And this gospel of the kingdom will be preached in all the world as a witness to all the nations, and then the end will come. (Matthew 24:14)
This is something that the church is to be working on accomplishing (cf. Matthew 28:19-20).
One way we have been working on this is by having multiple websites, like mentioned in a recent Letter to the Brethren (see Letter to the Brethren: July 23, 2020).
But more than that, we need to make information on the Gospel of the Kingdom of God available in multiple languages.
So, we have been adding more languages. This year we also updated the booklet in 96 languages. We have the gospel booklet available in over 100 languages
We are also working with Pastor Samuel Ofosu Gyeabour to get it version printed and translated in Asante Twi, a language used in Ghana.
Having as many translations of our booklet The Gospel of the Kingdom of God available is a key to being able to fulfill Matthew 24:14.
We continue to work on that.
World News Items
Pope Francis apparently decided that 'Mary' needed three new titles (see Mike Genrdon: Pope Francis gives MORE titles to his version of 'Mary'). Pope Francis has added new ADDITIONAL Marian holidays in the past couple of years. Roman Catholic writings suggest that their version of 'Mary' will help with their ecumenical and interfaith plans in the future. Such things are warned against in the Bible (cf. Isaiah 47; Revelation 17 & 18).
There was a mass explosion in Lebanon that killed scores and injured thousands (see 'Powerful Explosion Rocks Beirut, Killing at Least 60, Injuring Thousands'). While US President Trump pointed to it possibly being the result of terrorism or a military attack, it looks like it may have been an accident as the result of poor storage practices for an unstable material (or someone made terroristic use of it). Those affected are in my prayers.
After the US announced that it planned to pull nearly 12,000 military troops out of Germany, German Defense Minister Annagret Kramp-Karrenbauer suggested that Germany's military arm called the Bundeswehr would try to fill in the gaps (see 'Germany's Bundeswehr to help German states after US pullout'). The coming European King of the North is prophesied to have "a great army" (Daniel 11:25) and certain US policies and statements are pushing parts of Europe to have such a military.
Shortly after US federal officials left Portland, some protesters there decided to burn Bibles (see ZH: Portland's 'Peaceful' Protesters Burn Bibles, American Flags And Pig's Head After Feds Withdraw). More severe persecution than limited Bible burning is coming (see Persecutions by Church and State), but what happened in Portland hopefully is showing people that there is more disdain for the word of God in the USA.
Elsewhere in the US, its Congress is proposing some type of wealth equality requirement for the Federal Reserve (see Bloomberg: Democrats Propose Requiring Fed to Reduce Inequality in U.S.; COGwriter: Massive inflation is coming). Should such become law and major efforts are made to do this, expect massive inflation to hit the US with terrible consequences for it.
Suggested Sabbath Service
Here is a suggested Sabbath service for this week:
Note: If you have a slow internet connection, you can watch these by starting the video, then below it (and towards the right) look for an outline of a gear–if you click on that, it will allow the YouTube video to be played with lower video quality, but at least it will not stop often–you can select a quality as low as 144p. If your internet connection is still too slow (as my home one is) and/or you prefer audio messages to audio-visuals ones, go to the YouTube link for the message, click on SHOW MORE related to the description. You will then see something that says, "Download MP3." Below that is a link to an MP3 file. Most computers (and even some cellular telephones) will allow MP3 files to be downloaded and played. This is an option we have made available (but we are also looking into ways to improve that as well)–and, of course, we have written article options. Some people have found that if their internet connections are not fast enough, that they can simply listen to the messages that are found at the Bible News Prophecy online radio channel.
IN CASE YOU DO NOT RECEIVE A 'LETTER TO THE BRETHREN' FOR ANY WEEK, REMEMBER THAT THERE ARE MANY SERMON MESSAGES ON THE ContinuingCOG channel AND MANY SERMONETTE MESSAGES ON THE Bible News Prophecy channel. There are also some messages at the CCOGAfrica channel.
Concluding Comments
The Apostle Paul wrote:
14 knowing that He who raised up the Lord Jesus will also raise us up with Jesus, and will present us with you. 15 For all things are for your sakes, that grace, having spread through the many, may cause thanksgiving to abound to the glory of God.

16 Therefore we do not lose heart. Even though our outward man is perishing, yet the inward man is being renewed day by day. 17 For our light affliction, which is but for a moment, is working for us a far more exceeding and eternal weight of glory, 18 while we do not look at the things which are seen, but at the things which are not seen. For the things which are seen are temporary, but the things which are not seen are eternal. (2 Corinthians 4:14-18)
Brethren, yes, even if our physical lives are deteriorating, we should have hope.
The coming reward is eternal.
Sincerely,
Bob Thiel
Pastor and Overseer