Posted on August 18, 2022 by CCOG
Dear Brethren and Co-Workers in Christ:
Greetings from Grover Beach, California.
Leadership Report from Malawi and Mozambique
Deacon Radson Mulozowa reported the following:
Greetings from Malawi and Mozambique brethrenWe are all fine by the grace of God  and the work of God is growing wellWe had a leader meeting and the aim of the meeting was to empower the church leaders so that they can work effectively . we also discussed about the coming ordained feast of Tabernacle both Malawi and Mozambique The  meeting well We had the following Host leaders

Deacon Wahela

Deacon Rabson

Brother Nkhuleme

Brother Likhuva

Brother Farmenga

Brother Khacha

Brother Macheso

Brother Jekete

Brother John

Brother Jackson

Brother Chitwanga

Brother Thupilonse

Brother  Chikometsa

Some leaders from Mwanza zone could not attend the meeting because of distance but am planning to visit them soon in their regionAll the church leaders told me to send the words of thanks for the provisional of cement towards church building . They continue saying that may God bless you for the supportAbout the feast  feast the agreed for the location of the feast site as follows

Mwanza

Mozambique

Migowi

Deacon machemba and Rabson will go to MozambiqueBrother sambandele and khuleme will take care of MwanzaDeacon Wahela, chiphangwi will be at Migowi.… the prices has gone up  brethren are failing to buy food for the familyPray for us so that God will provide a way for us as prices of food are going up dailyPastor let me report that we are seeing spiritual growth since the time you left

Best regards

Radson
It was great that the meeting went well.
We are looking to see how to assist with the food cost problems in many areas.
Make Your Prayers Count!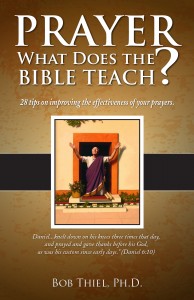 The old WCG published the following article by Clayton Steep in the August 1985 edition of the Good News magazine:
Make Your Prayers Count!

Could you be overlooking some of the most basic principles regarding answered prayer?

A major blunder. That's exactly what Henry had just made.

"I simply don't understand why God didn't give me the wisdom to make the right decision," Henry sighed, shaking his head.

Actually, Henry had made a double mistake. Double, because if we were to inquire of him, "Did you specifically ask God for the wisdom you needed?" Henry's reply would be something like: "Er, well, no — not specifically. But," he would hastily add, "God knew I needed it. He knows all things."

True, God knows all things. He is fully aware of our needs. As Jesus stated, "Your Father knows the things you have need of before you ask Him" (Matthew 6:8).

But does that, therefore, render prayer unnecessary?

Not at all! The Bible clearly points out that one of the reasons we sometimes do not receive the blessings we could enjoy is simply that we do not ask God for them (James 4:2).

"Ask, and it will be given to you," Jesus declared (Matthew 7:7). To illustrate, He gave the example of a child asking his father for some food. "If you then, being evil," Jesus continued, "know how to give good gifts to your children, how much more will your Father who is in heaven give good things…"

How? With no conditions? Always automatically? As a matter only of due course? Just because He knows we need them? Whether or not we ask? No! Read it: "… to those who ask Him!" (verse 11).

Henry should have read James 1:5 more closely. This verse doesn't say that if you need wisdom, God will automatically supply it because you are a Christian and He knows you need it. Rather, "If any of you lacks wisdom, let him ask of God, who gives to all liberally and without reproach, and it will be given to him."

God is filled with mercy and compassion. He knows what we need. He stands ready to give liberally. But He wants us to ask anyway.

Why? The fact that God tells us to is certainly good enough reason all by itself. But let's see if we can understand why God tells us to.

A vital factor

Prayer is not an isolated and optional religious exercise. It is a vital factor, significant in determining our eternal destiny!

The supreme purpose that God is working out here on earth is the expansion of His Kingdom – His Family. He wants to make out of human beings immortal members of His ruling Family.

These must be individuals who, by their own free choice, come to fully support God's way of doing things, who want to think as God thinks, perceive as God perceives, react as God reacts. They must want with all their hearts to be involved in whatever God is doing.

Such an attitude is essential in order to maintain, throughout eternity, harmony and peace in the God Family.

God has made us temporarily human. This existence is a testing ground so our Creator can try us and know what is in our hearts, whether or not He can trust us to live by His rules and laws (Deuteronomy 8:2). He must be sure. He is looking at us, closely examining our actions and reactions.

God takes note of what we say when we are talking to Him. Of course He knows our hearts and intents. And the Holy Spirit helps where we cannot adequately express ourselves (Romans 8:26-27). Still, as Jesus showed, the actual words we use are also important, and they ought to be meaningful, rather than vain repetitions (Matthew 6:7).

One of the obstacles to effective prayer is not often identified: It is the fact that we live in the age of devalued language. Words have never been so cheap, so frequently meaningless. All around us language is misused in advertising, politics, entertainment and casual conversation.

Because we have been disillusioned more than once by broken promises, exaggerations, shading of the truth, even outright lies, we have come to automatically doubt that words mean what their face value would indicate.

This is one reason some have difficulty believing God's promises. It also could be one of the reasons some prayers are not as effective as they should be.

Remember that God really didn't have to ask Adam and Eve the series of questions about what they had done (Genesis 3:9-13). He already knew the answer. He didn't have to ask Cain where Abel was (Genesis 4:9). He didn't have to come down to earth to verify how evil Sodom was (Genesis 18:20-21). He didn't have to allow Jacob to contend with him all night (Genesis 32:22-30). But He wanted to — and wants to — hear from humans themselves what they have to say, and see their reactions.

Prayer changes things

The great Creator God is working out His plan. He keeps it on course, intervening when necessary in human affairs to do so. But do you realize that He allows humans with whom He is dealing to determine many of the details of how His plan develops?

Twice, Moses directly influenced, by prayer, the course of history. Because of the rebellion of the children of Israel, God on two separate occasions proposed rejecting them all and bringing forth through Moses a new nation to inherit the promises made to Abraham (Exodus 32:9-14, Numbers 14:11-20). Had Moses not fervently prayed to God to change His mind, the implication is that God would have done exactly what He had proposed.

Either way it would not have impeded the ultimate fulfillment of God's plan. But Moses' prayers did determine the course that fulfillment took.

Prayer does make a difference. It changes things.

"The harvest truly is great, but the laborers are few; therefore pray the Lord of the harvest to send out laborers into His harvest," Jesus urged (Luke 10:2). Whether or not or in what numbers laborers are sent out to do God's work must therefore depend at least partly on prayers or the lack of them.

Make no mistake about it: God will accomplish His work of preaching the message preparing the world for the Second Coming of Jesus Christ — even if He has to cause the very rocks of the earth to cry the message out loud (Luke 19:40). Let us not take for granted the privilege we have of taking part in what God is doing! He doesn't need us. But He gives us the opportunity to participate. Are you participating?

Listen to the apostle Paul: "Therefore I exhort first of all that supplications, prayers, intercessions, and giving of thanks be made for all men, for kings and all who are in authority, that we may lead a quiet and peaceable life in all godliness and reverence" (I Timothy 2:1-2). Whether or not or to what degree God's work has peaceful conditions in which to function also depends therefore, at least in part, on how diligently we pray.

If we don't ask, there is no promise we shall receive.

Do you pray every day for the work of God and for the human instruments carrying it out? You should.

Do you pray every day for God's blessings on others as well as on your own endeavors? You should. Do you pray every day for protection and help as you function and move about in this evil and dangerous world? You should.

"Be anxious for nothing," Paul wrote, "but in everything by prayer and supplication, with thanksgiving, let your requests be made known [even though God is already aware] to God" (Philippians 4:6). This means bringing God into every — yes, every — facet of your daily existence.

Believe and obey

Jesus said, "And all things, whatever you ask in prayer, believing, you will receive" (Matthew 21:22). So in addition to simply asking, we must believe. There is a definite and close relationship between the degree of one's sincerity and surrender to God and the degree to which one is able to believe and pray in faith.

If you are, for example, lusting for something when you know better, if your mind is entertaining thoughts you know you should not have, you automatically cannot at the same time be asking God in unswerving faith to grant you a request. It just doesn't work that way.

Here's how the apostle John expressed it: "Beloved, if our heart does not condemn us, we have confidence toward God" (I John 3:21). And our hearts won't condemn us if we are doing what is right.

"And whatever we ask we receive from Him, because we keep His commandments and do those things that are pleasing in His sight" (verse 22).

What does it mean to be always in an attitude of prayer? It doesn't mean you are talking to God every second. Even Jesus didn't do that. But He was always in the right attitude — His conscience was undefiled before God — so He could talk directly to His heavenly Father on the spur of the moment. His thoughts were on those things that are above.

Being able to pray at any moment and total surrender to God go hand in hand. On one occasion when Jesus suddenly began to pray, He said: "Father, I thank You that You have heard Me. And I know that You always hear Me" (John 11:41-42).

How did Jesus know that? Why did God always hear Him? For the simple reason that Jesus always did those things that pleased His Father (John 8:29).

Wanting to pray or be in an attitude of prayer in "all things" is actually a valuable incentive to be obedient in all things.

Prayers of intercession

Our prayer life not only reveals to God how deeply we want Him to be involved in our lives and how deeply we want to be involved in what He is doing, but prayer also shows how interested we are in other people.

In all members of God's Family, God wants to see a spontaneous and universal expression of outgoing concern for the welfare of others. That's the only way to guarantee peace and harmony. It is the way of giving. Love for one's neighbor is the very essence of God's law (Leviticus 19:18).

One of the greatest gifts you can give to others, when you are close to God, is to pray for them. God loves it when people pray for each other. Certainly God will hear the prayers of an individual praying for his own needs. But the Bible leaves no doubt that God particularly enjoys hearing and answering the prayers of one person for the needs of another.

The apostle Paul wouldn't have petitioned the saints to "pray for us" (Hebrews 13:18) if it didn't make any difference whether they did.

If you want a specific request from God, have you ever thought to pray that the identical request be granted to someone else who needs it? In so doing, you get your mind off yourself and on the welfare of others. This is well pleasing to God.

In Jesus' sample prayer outline (commonly, though mistakenly, called the "Lord's Prayer") the words I, me or my do not appear once (Matthew 6:9-13). All the way through the words used are we, us and our, demonstrating an unselfish concern.

God wants to hear prayers of intercession (Isaiah 59:15-16). It was through the prayers of Abraham that Abimelech was forgiven (Genesis 20:17-18). Job's friends were forgiven through Job's prayers (Job 42:7-10). John wrote about praying for one another to be forgiven (I John 5:16). The Bible records numerous instances of people praying for one another.

For whom have you interceded recently?

In Jesus' early childhood, there was an elderly woman named Anna, "who did not depart from the temple, but served God [the word God is in italics to show it was added by translators] with fastings and prayers night and day" (Luke 2:37).

You can be sure that most of that prayer and fasting was not to seek Anna's own needs and desires.

There were probably many people in the area who, over the years, went to Anna when they had a problem, because God heard and answered her prayers and everyone knew it.

King Solomon recorded a vital principle in life that reflects on this subject: "Two are better than one, because they have a good reward for their labor. For if they fall, one will lift up his companion. But woe to him who is alone when he falls, for he has no one to help him up. Again, if two lie down together, they will keep warm; but how can one be warm alone? Though one may be overpowered by another, two can withstand him. And a threefold cord is not quickly broken" (Ecclesiastes 4:9-12).

You who are sick or afflicted, is someone praying with you for healing? The instruction from James is to "pray for one another, that you may be healed" (James 5:16).

It makes a difference!

Don't lose heart

One of Jesus' parables was given to show us we ought to be persistent in prayer, that we "always ought to pray and not lose heart" (Luke 18:1-8).

Have you ever "lost heart" because you, along with others, have been asked to pray for someone, for example, who is terminally ill, and the person dies anyway? Have you immediately assumed something was wrong with your prayers, with your exercise of faith?

Maybe there was. On the other hand, that may not always be so. Maybe your prayers were what they should be. Maybe you did not waver in faith. But maybe enough others did not pray effectively. Did you ever think of that?

In any case, do not lose heart. Keep at it. Try again.

Being able to pray effectively does not come overnight. It has to be worked at. But it is eternally worth the effort, for through prayer you get to know God. And, just as importantly, He gets to know you.
Prayer is not just about asking God to give us things or to think God should be pleased because we address Him.
If done properly, prayer helps us show love of others and to better align with the mind of God.
More on prayer can be found in our free online booklet: Prayer: What Does the Bible Teach?
Suggested Sabbath Service
Here is a suggested service for the weekly Sabbath:
Note: If you have a slow internet connection, you can watch these by starting the video, then below it (and towards the right) look for an outline of a gear–if you click on that, it will allow the YouTube video to be played with lower video quality, but at least it will not stop often–you can select a quality as low as 144p. If your internet connection is still too slow (as my home one is) and/or you prefer audio messages to audio-visuals ones, go to the YouTube link for the message, click on SHOW MORE related to the description. You will then see something that says, "Download MP3." Below that is a link to an MP3 file. Most computers (and even some cellular telephones) will allow MP3 files to be downloaded and played. This is an option we have made available (but we are also looking into ways to improve that as well)–and, of course, we have written article options. Some people have found that if their internet connections are not fast enough, that they can simply listen to the messages that are found at the Bible News Prophecy online radio channel. Note: If there are ever commercials before, during or after, they ARE NOT from us nor do we receive money from them–but sometimes platforms put them up.
IN CASE YOU DO NOT RECEIVE A 'LETTER TO THE BRETHREN' FOR ANY WEEK, REMEMBER THAT THERE ARE MANY SERMON MESSAGES ON THE ContinuingCOG channel AND MANY SERMONETTE MESSAGES ON THE Bible News Prophecy channel. There are also some messages at the CCOGAfrica channel. There are also messages in the Spanish language at the CDLIDDSermones channel.
World News Items
Food price inflation is hitting many hard in various parts of the world (see High inflation, Reasons for food price inflation, the Inflation Reduction Act, and prophecy and 'Largest Price Increase EVER For Cereal, Fruits, Veggies, And Soups Has Already Occurred And Prices Are Still Rising…').
On what could perhaps be categorized as '666 news,' the World Economic Forum is proposing ways to totally monitor and control content on the internet (see 'Artificial Intelligence: A Secular Look At The Digital Antichrist' & 'World Economic Forum Calls For Merging of Human and AI Intel to Censor 'Hate Speech' & 'Misinformation'' and Additional report suggests WEF has a plan to try to eliminate all ideas it opposes). Additionally, we are seeing the rise of support of a political party in Germany the AfD, that is characterized as "antidemocratic" and apparently is looking for a type of German strong man to rise up (see FWM: German media ignore the growing AfD elephant in the room).
While some secular sources see that American civilization is going to collapse, they do not realize that Europe will help its destruction, and then be replaced by the return of Jesus who will usher in the millennial kingdom of God (see 'We Are Not the First Civilization to Collapse, But We Will Probably Be the Last'). Do not lose sight of that.
Concluding Comments
Mark wrote the following:
30 Then the apostles gathered to Jesus and told Him all things, both what they had done and what they had taught. 31 And He said to them, "Come aside by yourselves to a deserted place and rest a while." For there were many coming and going, and they did not even have time to eat. 32 So they departed to a deserted place in the boat by themselves.

33 But the multitudes saw them departing, and many knew Him and ran there on foot from all the cities. They arrived before them and came together to Him. 34 And Jesus, when He came out, saw a great multitude and was moved with compassion for them, because they were like sheep not having a shepherd. So He began to teach them many things. 35 When the day was now far spent, His disciples came to Him and said, "This is a deserted place, and already the hour is late. 36 Send them away, that they may go into the surrounding country and villages and buy themselves bread; for they have nothing to eat."

37 But He answered and said to them, "You give them something to eat."

And they said to Him, "Shall we go and buy two hundred denarii worth of bread and give them something to eat?"

38 But He said to them, "How many loaves do you have? Go and see."

And when they found out they said, "Five, and two fish."

39 Then He commanded them to make them all sit down in groups on the green grass. 40 So they sat down in ranks, in hundreds and in fifties. 41 And when He had taken the five loaves and the two fish, He looked up to heaven, blessed and broke the loaves, and gave them to His disciples to set before them; and the two fish He divided among them all. 42 So they all ate and were filled. 43 And they took up twelve baskets full of fragments and of the fish. 44 Now those who had eaten the loaves were about five thousand men. (Mark 6:30-44)
Brethren, even the apostles had trouble thinking that Jesus could so what He could do.
They didn't have the written New Testament, and did not know how things were going to end.
We do.
Let's not put too much emphasis on what seems humanly possible.
We have an awesome and miracle-capable God.
Sincerely,
Bob Thiel
Pastor and Overseer