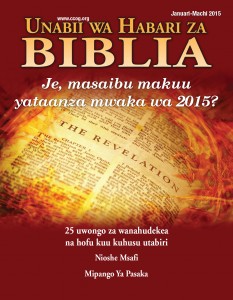 Here is a pdf link to the Kiswahili edition of BNP magazine:  BNP Januari-Machi 2015 HABARI ZA UNABII WA BIBLIA
Katika toleo hili:
3 Je, masaibu makuu yataanza mwaka wa 2015? Wingi katika dunia ya utabiri wa Ukristo wanashikilia katika utabiri na mambo ya uongo. Kwani Biblia yanafunza nini? Nini yanatakikana katika utaratibu huu?
7 25 uwongo za wanahudekea na hofu kuu kuhusu utabiri
10 Somo Muma
17 Nioshe Msafi
19 Mipango Ya Pasaka
Jarida la Nyuma: Tovuti na Radio Hili linaonyesha ni wapi watu wanaweza kuupata ujumbe kutoka Kanisa la Continuing Church of God.
Here is a pdf link to the Kiswahili edition of BNP magazine:  BNP Januari-Machi 2015 HABARI ZA UNABII WA BIBLIA