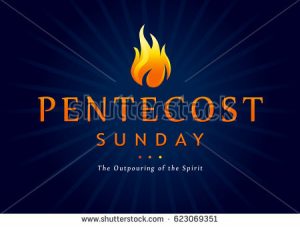 The Continuing Church of God is pleased to announce this sermon from its ContinuingCOGchannel:
Most who profess Christ realize that the Holy Spirit was given in Acts 2 on the Day of Pentecost. Many of them realize that was the start of the New Testament church. Yet, relatively few realize that Pentecost pictures the first harvest, the firstfruits of God's plan of salvation. Few understand how Pentecost fits in with God's master plan. If you are being called now, do you know what you are being called for? What are the prophesied roles for God's saints? Who will be at the wedding supper? Do the Jews teach anything about this day? What should God's people be doing now?
Here is a link to our sermon: God's Pentecost Plan and Your Part in It.
Some items of possibly related interest may include:
Pentecost: Is it more than Acts 2? Many "Christians" somewhat observe Pentecost. Do they know what it means? It is also called the Feast of Harvest, the Feast of Weeks, and the day of firstfruits. What about "speaking in tongues" and led by the Holy Spirit? (Here is a related link in Spanish/español: Pentecostés: ¿Es más que Hechos 2? plus one by Herbert Armstrong HWA sobre Pentecostés). Here is a YouTube sermon titled Pentecost: What it Teaches and When it is.
Pentecost is Part of God's Plan. This combines a couple of articles from the 1980s, plus additional scriptures and modern comments about Pentecost. Here are links to two related sermons: God's Pentecost Plan and Your Part in It and Pentecost Plan.
Predestination: Did God really call You? Why? Predestination? Is your ultimate fate decided for you in advance? Here is a link to a related video sermon: Predestination: What it is and what it is not. Another related video is Predestination and Pentecost.
Is God Calling You? This is a draft booklet discussing calling, election, and selection. If God is calling you, how will you respond?
Pentecost Quiz This is a Pentecost quiz based upon the Old and New Testaments in the Bible.
Should You Keep God's Holy Days or Demonic Holidays? This is a free pdf booklet explaining what the Bible and history shows about God's Holy Days and popular holidays.
Is There "An Annual Worship Calendar" In the Bible? This paper provides a biblical and historical critique of several articles, including one by WCG which states that this should be a local decision. What do the Holy Days mean? Also you can click here for the calendar of Holy Days.
Holy Day Calendar This is a listing of the biblical holy days through 2024, with their Roman calendar dates. They are really hard to observe if you do not know when they occur 🙂 In the Spanish/Español/Castellano language: Calendario de los Días Santos. In Mandarin Chinese: 何日是神的圣日? 这里是一份神的圣日日历从2013年至2024年。. Where is the True Christian Church Today? This free online pdf booklet answers that question and includes 18 proofs, clues, and signs to identify the true vs. false Christian church. Plus 7 proofs, clues, and signs to help identify Laodicean churches. A related sermon is also available: Where is the True Christian Church? Here is a link to the booklet in the Spanish language: ¿Dónde está la verdadera Iglesia cristiana de hoy?
Continuing History of the Church of God This pdf booklet is a historical overview of the true Church of God and some of its main opponents from c. 31 A.D. to 2014. Two related sermon links would include Continuing History of the Church of God: c. 31 to c. 300 A.D. and Continuing History of the Church of God: 4th-16th Centuries. In Spanish: Marque aquí para ver el pdf folleto: Continuación de la Historia de la Iglesia de Dios.
The History of Early Christianity Are you aware that what most people believe is not what truly happened to the true Christian church? Do you know where the early church was based? Do you know what were the doctrines of the early church? Is your faith really based upon the truth or compromise?