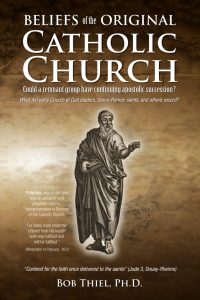 Is there an 'Apostolic Succession List' for the Continuing Church of God?
Yes.
See: Laying on of Hands Succession and List.
The Continuing Church of God also shows it in the following sermon from its ContinuingCOG channel:
1:18:52
What is apostolic succession? Is it in line with the teachings of Jesus? Is spiritual succession more important than claims of physical succession? Does any church have both? Is it possible that one city was to be the continual headquarters for Christians for nearly 2,000 years? What about the See of Ephesus or the See of Smyrna? What about the seven churches of Revelation 1-3? What time periods are covered by the Ephesus, Smyrna, Pergamos, Thyatira, Sardis, Philadelphia, and Laodicean eras of the Church of God? As there were over a dozen apostles in the New Testament, could there be more than one accurate succession list? What are some of the names did the Greco-Romans gave to people who opposed them, whether or not truly part of the Church of God? Who were the early successors in Jerusalem? Who were some of the successors in Asia Minor and Antioch? Have those with Church of God doctrines claimed apostolic succession throughout the centuries? Does the Continuing Church of God claim it has spiritual as well as 'laying on of hands' apostolic succession?
Here is a link to the sermon: Church in the Wilderness Apostolic Succession List.
Some items of possibly related interest may include:
Beliefs of the Original Catholic Church. Did the original "catholic church" have doctrines held by the Continuing Church of God? Did Church of God leaders uses the term "catholic church" to ever describe the church they were part of? Here are links to related sermons: Original Catholic Church of God? , Original Catholic Doctrine: Creed, Liturgy, Baptism, Passover, and What Type of Catholic was Polycarp of Smyrna?, Tradition, Holy Days, Salvation, Dress, & Celibacy, and Early Heresies and Heretics, and Doctrines: 3 Days, Abortion, Ecumenism, Meats, Tithes, Crosses, Destiny, and more, and Saturday or Sunday?, The Godhead, Apostolic Laying on of Hands Succession, and Church in the Wilderness Apostolic Succession List.
Apostolic Succession What really happened? Did structure and beliefs change? Are many of the widely-held current understandings of this even possible? Did you know that Catholic scholars really do not believe that several of the claimed "apostolic sees" of the Orthodox have apostolic succession–despite the fact that the current pontiff himself seems to wish to ignore this view? Is there actually a true church that has ties to any of the apostles that is not part of the Catholic or Orthodox churches? Read this article if you truly are interested in the truth on this matter! Here is a link to a sermon: Claims of Apostolic Succession. Here is a related articlein the Spanish language La sucesión apostólica. ¿Ocurrió en Roma, Alejandría, Constantinopla, Antioquía, Jerusalén o Asia Menor?
Laying on of Hands Succession and List Does the Church of God have laying on of hands succession? Does the Continuing Church of God have a list of leaders from the time of the apostles? Here is a link to a related sermon: Apostolic Laying on of Hands Succession.
Proof Jesus is the Messiah This free book has over 200 Hebrew prophecies were fulfilled by Jesus. Plus, His arrival was consistent with specific prophecies and even Jewish interpretations of prophecy. Here are links to seven related sermons: Proof Jesus is the Messiah, Prophecies of Jesus' birth, timing, and death, Jesus' prophesied divinity, 200+ OT prophecies Jesus filled; Plus prophecies He made, Why Don't Jews Accept Jesus?, Daniel 9, Jews, and Jesus, and Facts and Atheists' Delusions About Jesus. Plus the links to two sermonettes: Luke's census: Any historical evidence? and
Hope of Salvation: How the Continuing Church of God Differs from Protestantism The CCOG is NOT Protestant. This free online book explains how the real Church of God differs from mainstream/traditional Protestants. Several sermons related to the free book are also available: Protestant, Baptist, and CCOG History; The First Protestant, God's Command, Grace, & Character; The New Testament, Martin Luther, and the Canon; Eucharist, Passover, and Easter; Views of Jews, Lost Tribes, Warfare, & Baptism; Scripture vs. Tradition, Sabbath vs. Sunday; Church Services, Sunday, Heaven, and God's Plan; Seventh Day Baptists/Adventists/Messianics: Protestant or COG?; Millennial Kingdom of God and God's Plan of Salvation; Crosses, Trees, Tithes, and Unclean Meats; The Godhead and the Trinity; Fleeing or Rapture?; and Ecumenism, Rome, and CCOG Differences.
The MYSTERY of GOD's PLAN Why Did God Create Anything? Why did God make you? This free online book helps answers some of the biggest questions that human have, including the biblical meaning of life. Here is a link to three related sermons: Mysteries of God's Plan, Mysteries of Truth, Sin, Rest, Suffering, and God's Plan, and The Mystery of YOU.
Universal OFFER of Salvation, Apokatastasis: Can God save the lost in an age to come? Hundreds of scriptures reveal God's plan of salvation Will all get a fair chance at salvation? This free book is packed with scriptures showing that God does intend to offer salvation to all who ever lived–the elect in this age, and the rest in the age to come. Here is a link to a related sermon series: Universal Offer of Salvation 1: Apocatastasis, Universal Offer of Salvation 2: Jesus Desires All to be Saved, Mysteries of the Great White Throne Judgment (Universal Offer of Salvation part 3), Is God Fair, Will God Pardon the Ignorant?, Can God Save Your Relatives?, Babies, Limbo, Purgatory and God's Plan, and 'By the Mouth of All His Holy Prophets'.
Is God Calling You? This booklet discusses topics including calling, election, and selection. If God is calling you, how will you respond? Here is a link to a related sermon: Could God be Calling You?
Christians: Ambassadors for the Kingdom of God, Biblical instructions on living as a Christian This is a scripture-filled booklet for those wishing to live as a real Christian. A related sermon is also available: Christians are Ambassadors for the Kingdom of God.
The Ten Commandments: The Decalogue, Christianity, and the Beast This is a free pdf book explaining the what the Ten Commandments are, where they came from, how they develop love, how early professors of Christ viewed them, and how various ones, including the Beast of Revelation, will oppose them. A related sermon is titled: The Ten Commandments and the Beast of Revelation.
The Gospel of the Kingdom of God This free online pdf booklet has answers many questions people have about the Gospel of the Kingdom of God and explains why it is the solution to the issues the world is facing. Here are links to three related sermons: The World's False Gospel, The Gospel of the Kingdom: From the New and Old Testaments, and The Kingdom of God is the Solution.
Where is the True Christian Church Today? This free online pdf booklet answers that question and includes 18 proofs, clues, and signs to identify the true vs. false Christian church. Plus 7 proofs, clues, and signs to help identify Laodicean churches. A related sermon is also available: Where is the True Christian Church? Here is a link to the booklet in the Spanish language: ¿Dónde está la verdadera Iglesia cristiana de hoy? Here is a link in the German language: WO IST DIE WAHRE CHRISTLICHE KIRCHE HEUTE? Here is a link in the French language: Où est la vraie Église Chrétienne aujourd'hui?
Continuing History of the Church of God This pdf booklet is a historical overview of the true Church of God and some of its main opponents from Acts 2 to the 21st century. Related sermon links include Continuing History of the Church of God: c. 31 to c. 300 A.D. and Continuing History of the Church of God: 4th-16th Centuries and Continuing History of the Church of God: 17th-20th Centuries. The booklet is available in Spanish: Continuación de la Historia de la Iglesia de Dios, German: Kontinuierliche Geschichte der Kirche Gottes, and Ekegusii Omogano Bw'ekanisa Ya Nyasae Egendererete.
CCOG.ORG Continuing Church of God The group striving to be most faithful amongst all real Christian groups to the word of God. There are links to literature is about 100 different languages there.Congregations of the Continuing Church of God This is a listing of congregations and groups of the Continuing Church of God around the world.
Continuing Church of God Facebook page This has news and prophetic information.
Continuing Church of God, Africa, Facebook page This has news and prophetic information.
Continuing Church of God, Canada, Facebook page This has news and prophetic information.
Continuing Church of God, Europe, Facebook page This has news and prophetic information.
CCOG.ASIA We in the Continuing Church of God also have the url www.ccog.asia which has a focus on Asia and has various articles in Mandarin Chinese as well as some in English, plus some items in other Asian languages. 我们在继续神的教会也提供此网址 www.ccog.asia, 关注于亚洲并且有各种各样的中英文文章,其中一些用菲律宾语翻译的文章也正在进行中,准备添加到这个网站中。 Here is a link to our Statement of Beliefs in Mandarin Chinese 继续神的教会的信仰声明.
CCOG.IN This is a website targeted towards those of Indian heritage. It has a link to an edited Hindi translation of The Mystery of the Ages and is expected to have more non-English language materials in the future.
CCOG.EU This is a website targeted toward Europe. It has materials in more than one language (currently it has English, Dutch, and Serbian, with links also to Spanish) and it is intended to have additional language materials added.
CCOG.NZ This is a website targeted towards New Zealand and others with a British-descended background.
CCOGAFRICA.ORG This is a website targeted towards those in Africa.
CCOGCANADA.CA This is a website targeted towards those in Canada.
CDLIDD.ES La Continuación de la Iglesia de Dios. This is the Spanish language website for the Continuing Church of God.
CG7.ORG This is a website for those interested in the Sabbath and churches that observe the seventh day Sabbath.
PNIND.PH Patuloy na Iglesya ng Diyos. This is the Philippines website Continuing Church of God. It has information in English and Tagalog.
CCOG Animations YouTube channel. The Continuing Church of God has some animations to teach aspects of Christian beliefs. Also available at BitChute COGAnimations https://www.bitchute.com/channel/coganimations/
Bible News Prophecy channel. Dr. Thiel has produced hundreds of videos for the BibleNewsProphecy channel. You can find them at them on YouTube at BibleNewsProphecy https://www.youtube.com/user/BibleNewsProphecy, plus also on Vimeo at Bible News Prophecy https://vimeo.com/channels/biblenewsprophecy as well as on Brighteon Bible News Prophecy https://www.brighteon.com/channel/ccogbnp and Bitchute Prophecy https://www.bitchute.com/channel/prophecy/
CCOGAfrica channel. This has messages from African pastors in African languages such as Kalenjin, Kiswahili, Embu, and Dholuo. Also available at BitChute COGAfrica https://www.bitchute.com/channel/cogafrica/
CDLIDDSermones channel. This contains messages in the Spanish language
BibleNewsProphecy Podcast. This has audio-visual podcasts of the Bible News Prophecy channgel. It plays on i-Phones, i-Pads, and Windows devices that can play i-Tunes.
Bible News Prophecy online radio. This is an audio version of the Bible News Prophecy videos. It is also available as a mobile app.
ContinuingCOG channel. Dr. Thiel has produced scores of YouTube video sermons for this channel. Note: Since these are sermon-length, they can take a little longer to load than other YouTube videos. Also available at BitChute COGTube https://www.bitchute.com/channel/cogtube/
Statement of Beliefs of the Continuing Church of God "Contend earnestly for the faith once for all delivered to the saints" (Jude 3, NKJV), "Let brotherly love (Philadelphia) continue" (Hebrews 13:1) " & continuing stedfastly in the teaching of the apostles" (Acts 2:42 YLT). So, what does that really mean in terms of specific beliefs–the Statement gives answers? Here is a related link in Spanish/español: Declaración de las Doctrinas de la Continuación de la Iglesia de Dios. Here is a related link in Tagalog: Paglalahad ng Mga Paniniwala ng Patuloy na Iglesya ng Diyos. Here is a related link in Mandarin Chinese ~ç~íy^v"eYOv"OáNðXðf. Here is a related link in Kiswahili: KATIKA LUGHA YA KISWAHILI. Here is a related link in Dutch: Verklaring van geloofspunten van de Continuing Church of God. Here is a related link in Deutsche (German): Glaubenserklärung der Continuing Church of God. Here is a related link in Italiano: Dichiarazione del Credo della Continuing Church of God. Here is related link in the French language: Déclaration des croyances de L'Église Continue de Dieu. Here is a related link in the Chichewa language: ZIKHULUPIRIRO ZA MPINGO WA CONTINUING CHURCH OF GOD. Here is a link in Romanian: Declarația de credințe a continuării Bisericii lui Dumnezeu. Here is a link in Portuguese: Declaração de Crenças da Continuação da Igreja de Deus. Here is a link in Russian: Утверждение верований о продолжении Церкви Божьей. Here is a link to a related English-language sermon: Beliefs of the Continuing Church of God