Dear Brethren and Co-Workers in Christ:
Greetings from the Five Cities Region of California.
I have seen a lot of decorations around here related to the observance of Halloween. The recommended sermon for this Sabbath, Halloween, Protestants, and Scripture, has to do with how many who profess Christianity try to justify the observance of Halloween.
That said, yesterday, we received another 27 translations of our English booklet, The Gospel of the Kingdom of God, as we continue to work towards Matthew 24:14 and help set the stage for the fulfillment of Revelation 7:9.
2024 Feast Plans for Canada
Spent a fair amount of time discussing many matters with Herb and Gisele Haddon of New Brunswick Canada. One of the topics we discussed was the location of the Feast of Tabernacles in Canada in 2023 and what to do about 2024.
At this instant, we are leaning towards having a live video site in New Brunswick as well as possibly one or more video sites in other areas of Canada.
This would involve Skyping services that we intend to have in the USA for the Feast next year into Canada.
As far as the USA goes, we have not yet contacted potential locations for the Feast of Tabernacles site for the USA for 2024–we are considering locations in New Mexico, Texas, and Louisiana. We plan on beginning that process in 2-3 months.
Google Campaign

Last week, I asked you to pray about the proclamation door related to our Google campaigns. Well, finally the ad campaign has once again been able to resume after a several month suspension. Thank you for your prayers.
We still think that continuing this is an effective use of funds as we as part of the work we are doing to reach the world to assist in fulfilling Matthew 24:14, Matthew 28:19-20, and Romans 11:25 as it has resulted in over a half-billion computer impressions/witnesses.
We also have a small campaign with Microsoft that targets and reaches Sabbath keepers–this has not been stopped and we continue to reach thousands that way.
Rift Valley Visits
Last week, I mentioned that we were going to have evangelistic meetings in person in the Rift Valley of Kenya and asked for your prayers.
Related to part of this, CCOG pastor Tiongik Sawek sent the following report and photos:
Receive alot of greetings. I believe you are doing well. Here at Rift Valley Kenya, we are very happy and we thank God for the good journey mercies where we had visited Sagamian-Nkaroni-Mau region. We were received well by the Pastor Stanley Kibet and the local Leader of the Area Elder Andrew Rono. The brethrens were glad and felt blessed.
The team of the day and teachings were conducted by Evangelist Ochieng who took around 2hours and later the brethrens gave their views. Indeed the congregations were blessed and commended well .
We also managed to meet one of the Brother by name Rono who had been sick due to eyes problems, he used to attend medication after he had been operated on, however recently he also encountered a fire incident leading to destruction of his house including the property . Brother Rono is going through a hard time and especially visiting medication and having his children in school. So far some good samaritan from Mau region have helped them to build him a house, …
Attached herein are some of the photos taken; Iasiah Kipkorir was assigned as the church leader at Sagamian-Nkaroni as shown in the photograph above.
Lets pray for these events.
Regards,
Pst. Sawek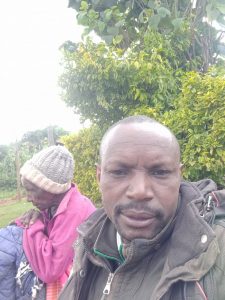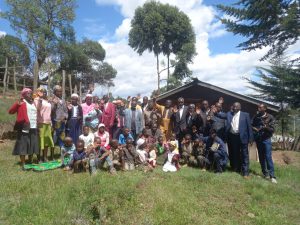 Pastor Sawek also mentioned the names of some widows in his area that the CCOG, thru Evans Ochieng, is supporting financially. Evangelist Ochieng also sent the following photo and report: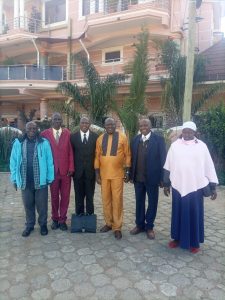 Pastor Dr Bob,
Greetings from Kenya.We had a wonderful trip in Mau. The journey was very successful and enjoyable. I met pastor Rono who for a long time had been eagerly waiting to meet me. It was a warm welcome and he had been reading our books. He and his family and his congregation joined CCOG. Rono said something very special that the way CCOG is handling the work is quite unique. They have a proper channel and well planned organization which he had never met before. I met also a long church member of seventh day church of God Mr John Towet from Narok. When he heard that I'm going to Mau. He said that he couldn't wait. Instead he came to Mau to meet me. He is the one who wanted to come to Nairobi during your visit in Kenya. He fully joined CCOG. He was very very happy. I met also brethren from imeregi congregation in Bomet. Also Limo our host in Bomet town also accompanied us with two members to Mau. Stanley also came from upper Mau.           FEAST OF TABERNACLESSince last year Rono who was eagerly wanted to keep the feast of Tabernacles 2023, decided to attend the feast of Tabernacles in Upper Mau with Stanley and he was very happy to enjoy the feast of Tabernacles. But the distance from his place to upper Mau is very far almost 86 kilometers far. Next year he asked me if they can keep the feast in their area. So I told him that we are praying about it. They also asked for more books. I told him that I'm going to send more books to them because we have printed enough in Kenya. Rono had been having eye problem for a long time. So in December the hospital told him that they will do for him an operation. So he needs help at that time.His House was also cought fire some months back. Till today he has not been stable financially and physically. Spiritually he is fine. I told him that we shall see how to assist him.        WIDOWSI met also Three widows who were having a problem. Their children were chased away from school due to lack of school fees.and one woman whose husband left her long time ago and has not yet come back home. So after the meeting I gave them some assistance to help them. These women are Sharon Sirma , Florence Langat, Gladys Chepkwony. They were very happy and thanked GOD.After that Rono took us to his home for lunch.Since we were supposed go to Narok to meet John Towet and he had already come to the meeting and we kept Sabbath together. We cancelled our trip to Narok.I'm getting many reports after we had left that The members Plus the erea people were really appreciated the program of CCOG.I also received a call from Molo that they wanted me to visit them.I told David Cheriot that we are arranging to go there.This afternoon I recieved a call from Nyakach that one of the members who left the church has come back after spending more years out.
Evans
Pastor Stanley Kibet sent the following report and photos:
Receive greetings in Jesus Christ here from Mau Region- Sagemian Nkaroni. We had visitors who had promised to visit us for a quite long time. We held a blessed meeting, the visitors were led by Pastor Sawek, Elder Cheruiyot and Evangelist Ochieng. Indeed the meeting went on successfully, it was wonderful indeed and full of blessings. The brethrens later agreed with the visitors after a lengthy meeting and discussion.
we also proposed two members Isaiah Kipkorir and Vincent Sitienei as the leaders till the former leader get well, as he was unwell due to his eyes problem.
Pastor Sawek will also inform you about the same.
I have attached some photos.
May God bless you.
Regards,
Stanley Kibet
Mau Region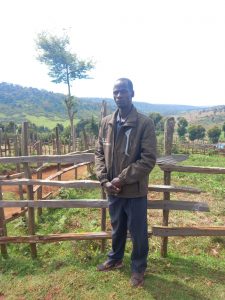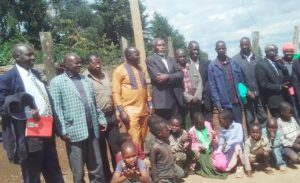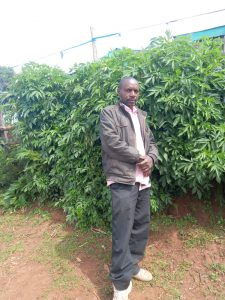 We continue to have growth in Kenya.
Change in the Congo
As mentioned a few weeks ago, there were issues involving the Feast of Tabernacles' site in the Democratic Republic of the Congo. The man who was to handle certain festival and other matters did not handle them properly, so he has been replaced. Our leader for now in the Congo is CCOG member Rwanika Sebulikoko Martin. So, despite another trial, we are rebuilding in the Congo.
As the Apostle Paul said, "We must through many tribulations enter the kingdom of God" (Acts 14:22).
We have had several trials over the past year, but as the Apostle Paul also wrote, we continue to "press toward the goal for the prize of the upward call of God in Christ Jesus" (Philippians 3:14).
Suggested Sabbath Day Services
Here is a suggested Sabbath day service for our scattered brethren and other interested people:
Note: If you have a slow internet connection, you can watch these by starting the video, then below it (and towards the right) look for an outline of a gear–if you click on that, it will allow the YouTube video to be played with lower video quality, but at least it will not stop often–you can select a quality as low as 144p. If your internet connection is still too slow (as my home one is) and/or you prefer audio messages to audio-visuals ones, go to the YouTube link for the message, click on SHOW MORE related to the description. You will then see something that says, "Download MP3." Below that is a link to an MP3 file. Most computers (and even some cellular telephones) will allow MP3 files to be downloaded and played. This is an option we have made available (but we are also looking into ways to improve that as well)–and, of course, we have written article options. Some people have found that if their internet connections are not fast enough, that they can simply listen to the messages that are found at the Bible News Prophecy online radio channel.
IN CASE YOU DO NOT RECEIVE A 'LETTER TO THE BRETHREN' FOR ANY WEEK, REMEMBER THAT THERE ARE MANY SERMON MESSAGES ON THE ContinuingCOG channel AND MANY SERMONETTE MESSAGES ON THE Bible News Prophecy channel. There are also some messages at the CCOGAfrica channel. There are also messages in the Spanish language at the CDLIDDSermones channel.
World News Items
The death toll is rising in the Hamas-Israel war (see Death toll rising in Israel-Hamas war–Protestant brings up five points relating to the end times). Israel has also made threats against Iran (see DM: Israel vows to cut off 'the head of the snake' and launch a military attack against Iran if Hezbollah joins the war with Hamas). With the Hamas-Israel war raging, Iran is upset and the USA has been upset with groups that Iran has helped fund and train (see Iran blasts USA actions as criminal; MS: The Final Countdown: Has An Apocalyptic Confrontation Between The U.S. And Iran Become Inevitable?). We may soon see a regional conflict, such as one prophesied in Isaiah 22:6-9.
In the USA, we continue to have mass shootings, including one last night in Maine (see CBS: At least 16 killed in Maine mass shootings as police hunt for gunman). The USA, according to Gun Violence Archive, has averaged over 13 mass shootings per week in 2023. Surely "the city is full of violence" (Ezekiel 7:23) as there is "violence in the land" (Jeremiah 51:46).
In other news, in its last election, Switzerland has signaled less tolerance for migrants–many in Europe has similar concerns, particularly about Islamic migrants (see 'Switzerland's Right-Wing Surge: SVP's Electoral Triumph Reflects Concerns Over Immigration' EC: Bordering on Insanity). Europe ultimately will take strong action against Islam.
On the financial side, the BRICS nations have been taking more steps to try to bypass the use of the USA dollar (see 'BRICS Pay' moving ahead and Chinese move pushing away from the 'Petrodollar'). The USA has been "weaponizing" its dollar and more and more nations are looking for ways to bypass it. The more it is bypassed, the more this will hurt the prosperity of the USA.
Concluding Comments
Although we are seeing prophesied wars and rumors of wars (Matthew 24:6-8), the time will come when they will end. God inspired the prophet Micah to write the following:
1 Now it shall come to pass in the latter days
That the mountain of the Lord's house
Shall be established on the top of the mountains,
And shall be exalted above the hills;
And peoples shall flow to it.
2 Many nations shall come and say,
"Come, and let us go up to the mountain of the Lord,
To the house of the God of Jacob;
He will teach us His ways,
And we shall walk in His paths."
For out of Zion the law shall go forth,
And the word of the Lord from Jerusalem.
3 He shall judge between many peoples,
And rebuke strong nations afar off;
They shall beat their swords into plowshares,
And their spears into pruning hooks;
Nation shall not lift up sword against nation,
Neither shall they learn war anymore. (Micah 4:1-3)
Yes, brethren, the kingdom of God is real. Pray, as Jesus instructed (Matthew 6:10), for it to come.
Sincerely,
Bob Thiel
Pastor and Overseer