Dear Brethren and Co-Workers in Christ:
Greetings from Grover Beach, California again.
We flew back Sunday from Wisconsin Dells.
We hope that you had a spiritually uplifting Feast of Tabernacles and Last Great Day.
On Monday, we received another 29 translations of our English language booklet The Gospel of the Kingdom of God – the number of languages we have our Gospel booklet in continues to grow as we take steps aligning with prophecies such as shown in Matthew 24:14 and Revelation 7:9.
Feast of Tabernacles Reports
The Continuing Church of God had Feast of Tabernacles sites in the USA, Canada, Latin America, India, Africa, New Zealand, and the Philippines.
From the Rift Valley of Kenya, Pastor Tiongik Sawek sent the following: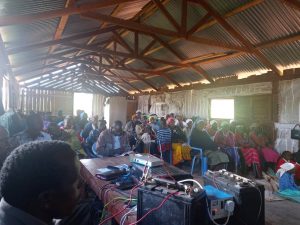 Receive greetings in Jesus Christ here from Rift Valley Kenya. We were blessed abundantly during the Feast of Tabernacles. I also receive reports from various regions concerning the Feast of Tabernacles where it went through successfully. In the Chilani area we managed to receive new visitors from the Maasai Region, … the event was full of blessings, the brethrens received the teachings and the questions received were answered correctly.
Also the Mau region got to have their Feast of Tabernacles well. I managed to get a few photos here.
May God bless you.
Regards,
Pst. Sawek
Ezekiel Obamso Oanda also told me that the Feast went well in Kisii and sent the following photo: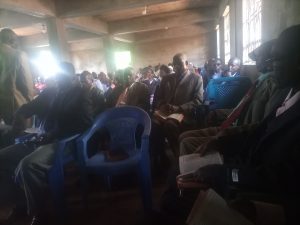 From Malawi, Pastor Radson Mulozowa sent the following report:
Greetings from Malawi and MozambiqueWe had a wonderful feast both Malawi and Mozambique and it was very successfulBrethren eat well and we enjoyedThis year we had more brethren coming to the feast compared to last yearThanks for the support.May God bless youRadson
Also, we received reports from a former CCOG leader in Malawi who still considers his group as part of the CCOG–but we have not accepted them back at this time–the same also basically happened with another group in Kenya.
We received the following report from deacon Koang Deng from Ethiopia:
Dear Elders:The Feasts celebration end peacefully yesterday.Members of Ethiopia and South Sudan greet you and all saints for the grace of our God Almighty who calling us in this end time.The number of the people participated in this Fall Holy Days are 60 including children.May the peace of our loving God and our Savior Jesus Christ be with you forever Amen.Koang Deng,Gambella, Ethiopia
Evangelist Evans Ochieng sent the following report and photo: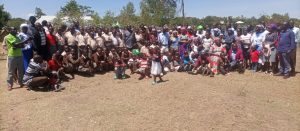 Photo from site in Got Kachola
Pastor Dr Bob,Greetings from Kenya.The feast in Kenya was very good and successful. I've received good massages from all the sites in Kenya today. I was waiting to hear from all the sites. Most of them are saying that the feast was very happy. Same to Got Kachola. The feast was very enjoyable. The number was very high. We had 350 people including children. And at the feast, we baptist 10 people.Here are the names:-1- Millicent Awuor Oduogo2- Joseph Omollo3- Elvis Otieno Omollo4- Joice Lavuna5- Mary Akinyi Jack6- Victor Ochieng Otieno7- Nicholas Ochieng Okongo8- Dorothy Odhiambo Ochieng9- Linet Charles10- Eunice Achieng moiI also received message from kisii that the feast went well. Also some people came from hope of Israel worldwide church of God and join our congregation in kisii lead by Ezekiel Oanda.The number in kisii was higher. The number was 420. The number in Daktech was 65, The number in Mau was 85, the number number in chilani was 205, the number in Bomet was 108, the number in Tanzania was 20 meaning the church is growing in Tanzania. The number in Njoro was 400 and the number in Molo was 75. This is how I recieved the massages from all sites in Kenya …We are happy that the feast was well done even the rain didn't fall that could bring problems at the feast.Evans
Richie White sent the following from New Zealand:Feast 2023 report from New Zealand. Kia Ora to all the brethren around the world. We Kiwi's gathered together for our FOT 23 in the coal mining town of Westport, in the province of Buller located on the rugged and beautiful coastline of the West Coast of the South Island . The week was punctuated with all full seasons which is typical for this time of year. Shirley and Fai flew down from Auckland and via Christchurch flew across the magnificent snow covered Southern Alps to the coast. This was a first for both of them to see the Alps from the air. Our venue for services was the lounge of a renovated Art Deco home in Westport. With the luxury of a woodfire we kept warm on the cold days and with the fibre broadband we had excellent internet connection to listen to all the FOT messages. We appreciated the sermons and messages from Louis, James, Brad, and Dr Thiel. And not to forget 'Behind the Work 2023 using Radio' with Steve interviewing the brethren involved in the use of radio to reach the world. The FOT is a time that we here in NZ are able to come together and take the time to not only listen but also discuss the messages and fellowship together. Between the services we spent time eating at the best of cafes and restaurants that Westport offers including eating our famous locally made wild venison and goat meat pies. And to help increase the hunger we walked a number of our developing cycle walkways plus the variety of beaches throughout the days. … On that I would like to say, on behalf of the Kiwi brethren we pray for the Almighty to protect and guide you all over this coming year to the feast of 2024. Ritchie White
Here is a report from the Philippines: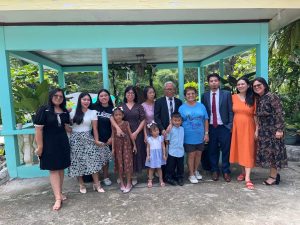 Dear Dr. Thiel,
Warm greetings again from the far east!Happy to inform everyone in the church that the Continuing Church of God – Philippines, celebrated the Feast of Tabernacles '23 with so much joy feasting in a very fitting venue conducive for this Holy Day celebration that went successfully well.Aside from our respective rooms each for every family plus a function room, we booked exclusively (8-day period) a small hot spa building with an ever-flowing water sourced from a hotspring nearby which enable us to soak ourselves at anytime of day we wanted. The said building has one bedroom, a restroom and a dining table which is our dining place, and yes, a hot swimming pool at our side. Aside from the three cold large swimming pools, the resort actually has a total of three hot pools, one of which is a covered (this one we booked) for exclusive use.A group of 12 closely knit together in an 8-day- long togetherness and fellowshipping had created in us a virtually real family relationship. Not a single meal we're not together. When we parted ways, SMS and chats flowed along nostalgic heart-warming messages like, "WE WERE TREATED LIKE A MOTHER TAKING CARE OF HER CHILDREN FROM START TO END". Yes, we did experienced a truly "BEST FEAST EVER". An event worth looking forward for the next year. Saying bye, bye to each other wasn't as easy when we send them off for Cebu at the Surigao port. Tears, tears and tears especially when the youngest child cried the hardest when she doesn't want to go home to Cebu to miss us.We enjoyed touring around other resorts just nearby and distant during other non-Sabbath days.More excited to learn that there are other beautiful attractions due for completion and operation by next year.Warmest regards,CCOG Philippines
Generally, the Feast of Tabernacles went well at most sites, though there were health and other challenges in Canada as well as other issues with DRC and Rwanda.
Suggested Sabbath Day Services
Here is a suggested Sabbath day service for our scattered brethren and other interested people:
Note: If you have a slow internet connection, you can watch these by starting the video, then below it (and towards the right) look for an outline of a gear–if you click on that, it will allow the YouTube video to be played with lower video quality, but at least it will not stop often–you can select a quality as low as 144p. If your internet connection is still too slow (as my home one is) and/or you prefer audio messages to audio-visuals ones, go to the YouTube link for the message, click on SHOW MORE related to the description. You will then see something that says, "Download MP3." Below that is a link to an MP3 file. Most computers (and even some cellular telephones) will allow MP3 files to be downloaded and played. This is an option we have made available (but we are also looking into ways to improve that as well)–and, of course, we have written article options. Some people have found that if their internet connections are not fast enough, that they can simply listen to the messages that are found at the Bible News Prophecy online radio channel.
IN CASE YOU DO NOT RECEIVE A 'LETTER TO THE BRETHREN' FOR ANY WEEK, REMEMBER THAT THERE ARE MANY SERMON MESSAGES ON THE ContinuingCOG channel AND MANY SERMONETTE MESSAGES ON THE Bible News Prophecy channel. There are also some messages at the CCOGAfrica channel. There are also messages in the Spanish language at the CDLIDDSermones channel.
World News Items
The big news this week was Hamas' massive attack against Israel (see Hamas attacks and Netanyahu says, 'We are at war' and JP: Israel at War: Over 600 Israelis murdered in Hamas massacre). Various Protestant writers have erroneously suggested that this could be a war of the Apocalypse (see MS: Is This One Of The Wars Of The Apocalypse? COGwriter: Could it point to the 6,000 years ending in 2031?) or possibly be related to Ezekiel 38 for our day (see Hamas-Israeli war, plus Greg Laurie connects to Gog and Magog). Both views are in biblical error.
Thousands have died and we may see this turning into a much bigger conflict (see also MS: After Israel Sends Troops Into Gaza, Watch for Hezbollah, Iran, Syria and the U.S. to All Get Involved in the Great Middle East War). Some are also concerned by an increased threat of terrorism. Additionally, a Hamas leader has called for Muslims "everywhere" to rise up on Friday, October 13th (see Might the Hamas-Israel war increase the risk of terrorism in the USA?).
Today, Israel, itself, attacked two Syrian airports (see Israel attacked two Syrian airports–will Damascus be turned into a ruinous heap?).
If this Hamas-Israel war becomes a larger regional conflict, and particularly if Iran and Syria become much more involved in causing "great damage" to Jerusalem (cf. Isaiah 22:6-9), then this could be the prelude to the "peace deal' of Daniel 9:27 and then the countdown to the start of the Great Tribulation (Matthew 24:21-22). It could also point to the year of the return of Jesus–which if the deal of Daniel 9:27 were to be confirmed in 2024, that would point to Jesus establishing the millennial kingdom of God in 2031.
As Jesus said in Mark 13:37, we will continue to "watch."
Concluding Comments
The Fall festivals that God ordained for 2023 are over.
Probably all of us who obeyed and traveled to keep the Feast are back home now.
Back to our jobs, school, and/or our more usual routines.
Notice some of what Jesus prayed to the Father about:
33 These things I have spoken to you, that in Me you may have peace. In the world you will have tribulation; but be of good cheer, I have overcome the world. (John 16:33)

6 I have manifested Your name to the men whom You have given Me out of the world. They were Yours, You gave them to Me, and they have kept Your word. 7 Now they have known that all things which You have given Me are from You. 8 For I have given to them the words which You have given Me; and they have received them, and have known surely that I came forth from You; and they have believed that You sent Me.

9 "I pray for them. I do not pray for the world but for those whom You have given Me, for they are Yours. 10 And all Mine are Yours, and Yours are Mine, and I am glorified in them. 11 Now I am no longer in the world, but these are in the world, and I come to You. Holy Father, keep through Your name those whom You have given Me, that they may be one as We are. 12 While I was with them in the world, I kept them in Your name. Those whom You gave Me I have kept; and none of them is lost except the son of perdition, that the Scripture might be fulfilled. 13 But now I come to You, and these things I speak in the world, that they may have My joy fulfilled in themselves. 14 I have given them Your word; and the world has hated them because they are not of the world, just as I am not of the world. 15 I do not pray that You should take them out of the world, but that You should keep them from the evil one. 16 They are not of the world, just as I am not of the world. 17 Sanctify them by Your truth. Your word is truth. 18 As You sent Me into the world, I also have sent them into the world. 19 And for their sakes I sanctify Myself, that they also may be sanctified by the truth.

20 "I do not pray for these alone, but also for those who will believe in Me through their word; (John 17:6-20)
Brethren, we are now back in the world, but not to be of the world.
Remain sanctified by the word of truth as you endure so you can be in the coming glorious kingdom of God.
Sincerely,
Bob Thiel
Pastor and Overseer