Dear Brethren and Co-Workers in Christ:
Greetings again from the Five Cities region of California.
We received some additional reports from around the world on the Feast of Tabernacles.
We had fourteen festival sites with a total attendance of around 1900. That is more than we had anticipated. Yet, and mainly because of financial limitations, various ones affiliated with the Continuing Church of God were also unable to attend. Currently, we have over 2000 (including children) declaring they in the Continuing Church of God (CCOG).
While we have not seen reports from all the other Church of God groups not part of the CCOG, of the groups whose leaders were once part of the old Worldwide Church of God, the Continuing Church of God seems to have had probably the fifth or sixth highest festival site attendance in 2016.
Feast of Tabernacles in Ghana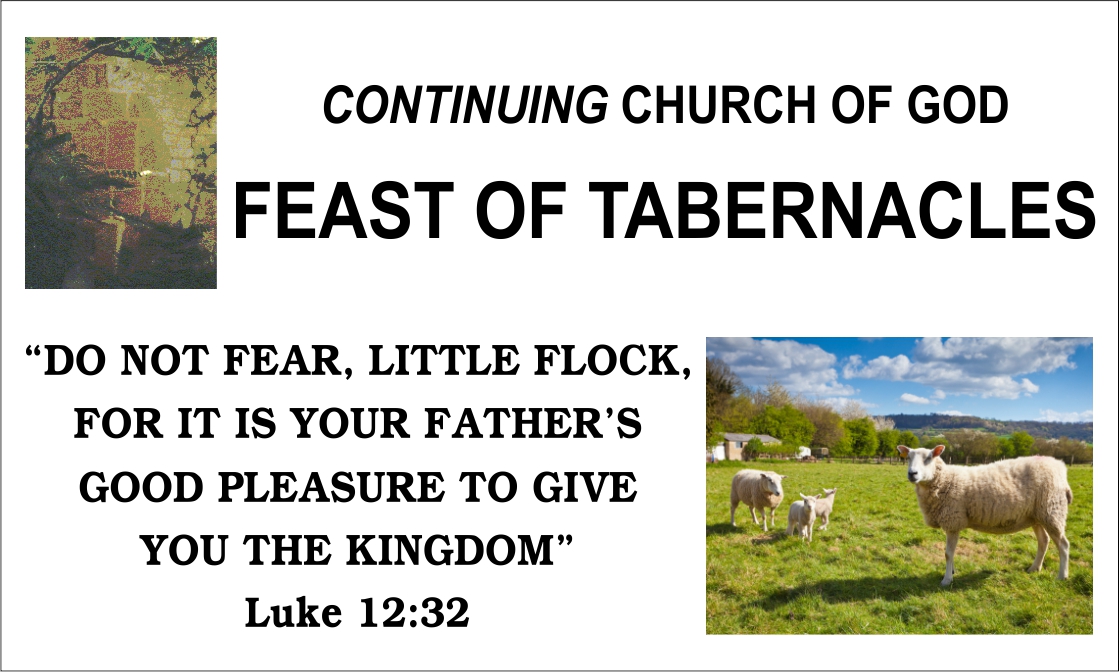 After sending out last week's Letter to the Brethren, I received two reports on the Feast of Tabernacles in Ghana, the first addressed to me, the other to the brethren in Ghana:
Dear DR. BOB,

Thank you for what you have done for continue Church of God in GHANA and i  must say we have added the Continue to our name here. For me i am happy that the whole congregation here in GHANA have actually accepted our togetherness because since we got to know about continue church of God in American all festival we attend is unique and we know is God Who have given as Continue church of God in America so that GOD'S glory will be revealed.

All good things that will uplift the Glory of God and Satan want to trample upon we will work with Continue church of in American to spread the Gospel in Africa to reveal God's glory. i thank you once again i know General overseer have thank thank you but i would also want to thank you for your marvelous gift to us.

Brethren, we hope to testify here and again that, when situation became very difficult for acquiring a place to keep the feast, because of the unbearable huge cost of facilities, the church had no option but to revert to an old place we had earlier been told never to come-seeking for their facility.

We made an approach, and to our amazement, the Roman Priest in-charge of the place having been touched by God decided we should be allowed to use their facility because he personally was interested the feast, wonderful!

This happened prior to the visit of our brothers from Kenya, talking about Pastor Evans Oching and Nimrod Odingo. After their request, we took them to the place which they actually commended. …

The first day of the feast as purposed was graced by the General overseer, Pastor Samuel Ofosu Gyeabour. His sermon dealt with the chosen theme where he highlightened on the significance of the feast of Tabernacle reading from (Numbers 9:15-23).

He said obedience to the Laws of God, dedication to our call and faithfulness to the Lord should be our hallmarks if we desire to feel the presence and power of God, (Deut 31:9-13). …

Mankind is in battle, and our spiritual warfare is none other, but against sin which chief architect is satan (Rev. 20:1-15; Rev. 22:1-27), and the result is death.

However, what will happen to satan and death is recorded and written in, (Isaiah 25:8-9; I Corinthians 15:25-34). …

BENEDICTION

I hereby with much gratitude acknowledge Pastor Bob Thiel and Pastor Evans Ochieng and all the brethren throughout the congregations of the Continuing Church of God (COG) for assisting us financially and also spiritually.

The brethren in Ghana and the entire Pastoral board are most grateful for every support.

God richly Bless you all!

Pastor Samuel Ofosu Gyeabour,

(General Overseer ) Ghana
It is great that matters went well in Ghana. There are about 500 in Ghana, most of whom seemed to be able to attend.
Feast of Tabernacles in Ndhiwa and Tanzania

Pastor Evans Ochieng sent in the following report:
Pastor Dr Bob,
Greetings from Kenya,
I  stayed for long before I sent this report simply because I was
still waiting to hear from all feast sites in Africa. The last reports
I received yesterday were from our brethren in Tanzania and Ghana.  I
am very happy to hear from our brethren in Tanzania that this is the
year that they enjoyed feast of tabernacles in the best way so far.
They were very happy to have their own feast site where by they cannot
rent. Even though the site is not complete but it helped our brethren
in Tanzania so much.I received calls from different people who were in
the feast in Tanzania when thanking and praising the standard of the
feast that they kept. I was also very happy to hear from them that
they enjoyed the feast. Martin wanga gave report that they were 32
brethren who kept the feast. Also I received a very long letter from
Samuel Efosu that was explaining many things concerning the feast of
this year. He also told me that the feast was very good.. I hope he
sent the report. Sosten also sent report long time.

KENYA
In Kenya, the feast sites were four. Namely, Ndhiwa, Chilani
Transmara, Bomet and Mau.
There was a wonderful feast in Ndhiwa where 340 people attended. The
congregations that attended Ndhiwa were – Ndhiwa, Migori, Kihacha,
Nyakach, Mbani, Oriang, Kiseke, Eberege and Sengera. the camp was very
good and enjoyable.
So many things happened during the feast of Tabernacles. We baptized 9
people during the camp.  The baby was born and they named him Evans
Ochieng.The lady who gave birth is from Nyakach congregation. We also
received two members who joined CCOG. So the camp was very good.
Other sites have already sent to you the report and I have copies from them.
Thank you very much for the assistance that you gave to the all
congregations in Africa. I got good reports from all congregations
that they enjoyed the feast.
Evans.

P.S. These are people who were baptized during the feast of tabernacles 2016 at NDHIWA in Lake Victoria. Names are Peter ochoro, Nyaboke Nyangina, Rose NyangLesi, Jared OTIENO, Monica odoyo, Jared odhiambo osutwa, Victor OTIENO, ERICK Samo and Conslata Aton.
Here are two photographs Pastor Ochieng sent from Ndhiwa:
Feast of Tabernacles in Mau
We received the following report from Mau, Kenya:
I greet you in the name of Jesus, hoping that you are all fine over there. We proceeded well through the feast of Tabernacles, it was so blessed and many groups from Mau attended the feast. We had 320 brethren who came from the following churches:-

1. osotua church

2. kewet church

3. ngoben church

we thanked pastor Ochieng for allowing us to gather here (Mau) and supported this feast financially. Many people were converted, we had a very peacefull gathering with no difficulties neither shortage of food.

Do pray for us as we pray for you.

My God bless you abundantly,

Stanley Kibet and Elder Joseah Kipngetich
The following photographs were also sent:
Rift Valley and the Church of God, Seventh Day

Last week, we had a report about the attendance in Rift Valley, Kenya (see Letter to the Brethren: October 27, 2016). So, I followed up with Pastor Evans Ochieng and asked about that.  Here is what he wrote:
Pastor Dr Bob,
Greetings from Kenya.
Thank you very much for your support for the feast of tabernacles 2016. It made the feast of tabernacles 2016 be a wonderful feast through out all African countries.
The feast sites in Kenya were full and  it increases the number we were having in church simply because many congregations of seventh day church of God in Rift Valley have decided to attend with CCOG and they have decided to join CCOG fully to be members of CCOG. Congregations like chebunyo and others from mau were not with us before but now they have decided to be with us. So that is the reason why the number has risen to over 1000. Even after the feast I went to meet some people who want to join God's church simply because of the good work and teachings and channels of CCOG. Again the outsiders were also interested to hear the teachings of the church. So we could not stop them to attend. People are very interested in our magazines and books. So we are having many co-workers and during the feast they need to hear the teachings. …

Evans
It is great to have continued growth in Africa, including in Kenya. While we have NOT targeted Church of God, Seventh Day groups, many in those groups in Africa have chosen to become part of the Continuing Church of God.
Perhaps I should mention that in 2015 the USA festival site for the Continuing Church of God was in Denver, Colorado. While there, I was able to arrange a visit with former Church of God, Seventh Day president Robert Coulter. Here is what I reported about that in the Letter to the Brethren: October 1, 2015:
Meeting With CG7′s Robert Coulter

While in Denver, I got an opportunity to visit the headquarters of Church of God (Seventh Day), Denver (CG7).  There I met with CG7′s former president Robert Coulter.  He and I have conversed over the years, mainly on matters of church history, Christology, and working with people in South America and Africa.  This was our first face-to-face meeting and we discussed those subjects and more.

Robert Coulter also showed me CG7′s 'vault,' which is a storage room with original copies of old CG7 publications.  He showed me, for example, the first edition of the old Hope of Israel magazine.

I had also hoped to meet with another former CG7 president, Calvin Burrell, but he recently moved to the State of Oregon–he has since emailed me to see if we can meet in the future.  He and I have discussed doctrinal matters as well as matters related to contacts in Africa.

Several groups in Africa which have contacted the Continuing Church of God in the past couple of years have used some version of the name Church of God Seventh-Day and I have tried to determine their sincerity as well as possible connections to the group in Denver.

In 2015, we were contacted by groups in Ethiopia and Ghana who use a version of the term Church of God 7th Day.  I discussed those groups with Calvin Burrell some months ago.  Afterwards, I determined it would be wise to send CCOG Pastors Ochieng and Owak to meet those in Ghana in August 2015. I also worked on matters related to supporting those in Ghana to observe the Feast of Tabernacles this year, as well as assisted in clarifying doctrinal issues related to the Feast of Trumpets and the Last Great Day.  We hope that CCOG Pastor Evans Ochieng will be able to go to Ethiopia relatively soon to meet with them.

Those groups in Ghana and Ethiopia were not breaking away from the Denver group according to Calvin Burrell (nor had I thought so, but wanted to check).  When I met with Robert Coulter, he explained that there are groups that are formally part of the CG7 International Conference, but that there are independent groups that have associate status–but that it is really only a name association.

He and I discussed how I was told the Ethiopians first became affiliated with a Church of God minister from Kenya and that there were around 200 in the group that contacted us.  I also mentioned that there were about 500 in the group in Ghana that we were starting to work with.  He provided some of his insights to that part of the world, and he and I discussed our own respective visits to Kenya and other parts of Africa.

While in Denver, I was unable to meet with new CG7 president Loren Stacey as he has not yet moved to CG7′s Denver office in his new role.

My main interests in meeting with CG7 was to improve information on church history, pass on doctrinal information, help prevent misunderstandings, reduce the possibility of getting misled by pretenders to the COG located in various parts of the world while we in the Continuing Church of God work to fulfill Matthew 24:14 and Matthew 28:19-20.
Perhaps I should mention that when I met with Robert Coulter in Denver, he basically told me that many use a version of the name "Church of God, Seventh Day" in Africa, that most were NOT actually affiliated with his group in Denver, and the group in Denver felt it was fine for us in the Continuing Church of God to respond to their inquiries as well as to allow them to switch their affiliation to the Continuing Church of God. Since meeting in Denver last year, many hundreds which were calling themselves some version of "Church of God, Seventh Day" have became to be part of the Continuing Church of God.
Radio
Yesterday, I unexpectedly received a telephone call for a radio interview to be on the Republic Broadcasting Network (RBN) at 2:00 pm Central Daylight Time. The host and I discussed issues such as abortion, the US presidential situation, and European views of these, plus some of the ultimate rise of the European Beast power. Another guest came on and claiming Vatican involvement in politics.
I am currently scheduled to be on that program again on November 9, 2016 at 2:00 pm Central Daylight Time. I expect to explain why the next US president-elect will be apocalyptic.
US Presidential Election
The USA is close to having it presidential election. More negative information on the major two candidates keeps surfacing (e.g. WikiLeaks releases more, FBI investigating Hillary again).
What should Christians do?
Pray (1 Timothy 2:1-3). Some might also wish to fast (cf. Isaiah 58:6).
If Donald Trump is elected, he will be apocalyptic.  If Hillary Clinton is elected, she will be apocalyptic.
It is not only because of policies and character issue, but because of how far along we are in God's 7000 year plan. The first 6000 years of God's plan for human beings to see how most will live apart from the true God is almost over.
Thus, because of the international importance of the USA and various biblical prophecies, by virtue of timing, the next President of the USA will be apocalyptic. Perhaps I should add that the current President of the USA has stated that the 'fate of the world' depends on next week's US presidential election (see Barack Obama claims 'fate of the world' hinges on next week's election).
World News Items
In the USA, more of its states are looking to legalize marijuana, despite its dangers (see More States getting closer to marijuana 'legalization').
Despite the USA's 'Asia pivot' policy, the Philippines and Malaysia have recently made deals with China, while others in Asia are looking to do so as well (see China's stealth jet, the Philippines, Malaysia, and Armageddon). The Bible tells of a confederation of 'kings of the east' (Revelation 16:12-16) and we are starting see to what appears to be preludes to this. This USA is losing influence as China rises up.
Pope Francis went to Sweden to promote his ecumenical unity agenda on the 499th anniversary of the nailing of the 95 thesis by Martin Luther (see Francis promoting Greco-Roman ecumenical unity in Sweden). The Vatican has a world agenda, and wants to have the Protestants and others to support them, and will gain many of its objectives (cf. Revelation 17:1-6).
Suggested Sabbath Service
Here is a suggested Sabbath service for this week:
Note: If you have a slow internet connection, you can watch these by starting the video, then below it (and towards the right) look for an outline of a gear–if you click on that, it will allow the YouTube video to be played with lower video quality, but at least it will not stop often–you can select a quality as low as 144p. If your internet connection is still too slow (as my home one is) and/or you prefer audio messages to audio-visuals ones, go to the YouTube link for the message, click on SHOW MORE related to the description. You will then see something that says, "Download MP3." Below that is a link to an MP3 file. Most computers (and even some cellular telephones) will allow MP3 files to be downloaded and played. This is an option we have made available (but we are also looking into ways to improve that as well)–and, of course, we have written article options. Some people have found that if their internet connections are not fast enough, that they can simply listen to the messages that are found at the new Bible News Prophecy online radio channel.
IN CASE YOU DO NOT RECEIVE A 'LETTER TO THE BRETHREN' FOR ANY WEEK, REMEMBER THAT THERE ARE MANY SERMON MESSAGES ON THE ContinuingCOGchannel AND MANY SERMONETTE MESSAGES ON THE Bible News Prophecy channel.
Concluding Comments
The psalmist was inspired to record the following:
88 Revive me according to Your lovingkindness,
So that I may keep the testimony of Your mouth.
89 Forever, O Lord,
Your word is settled in heaven.
90 Your faithfulness endures to all generations;
You established the earth, and it abides.
91 They continue this day according to Your ordinances,
For all are Your servants.
92 Unless Your law had been my delight,
I would then have perished in my affliction.
93 I will never forget Your precepts,
For by them You have given me life.
94 I am Yours, save me;
For I have sought Your precepts.
95 The wicked wait for me to destroy me,
But I will consider Your testimonies.
96 I have seen the consummation of all perfection,
But Your commandment is exceedingly broad.
97 Oh, how I love Your law!
It is my meditation all the day.
98 You, through Your commandments, make me wiser than my enemies;
For they are ever with me.
99 I have more understanding than all my teachers,
For Your testimonies are my meditation.
100 I understand more than the ancients,
Because I keep Your precepts.
101 I have restrained my feet from every evil way,
That I may keep Your word.
102 I have not departed from Your judgments,
For You Yourself have taught me.
103 How sweet are Your words to my taste,
Sweeter than honey to my mouth!
104 Through Your precepts I get understanding;
Therefore I hate every false way.  (Psalms 119:88-104)
Brethren, God is faithful and His laws are great. We all need to remember this as we face the tests, trials, and difficulties in this age.
Sincerely,
Bob Thiel
Pastor and Overseer