Dear Brethren and Co-Workers in Christ:
Greetings again from Grover Beach, California.
As always, much is going on here and around the world.
New Zealand Services, May 25, 2019
My wife Joyce and I are scheduled to visit the congregation in New Zealand this month. We are planning to be at Sabbath services on May 25, 2019 there, in Takanini, which is just south of Auckland.
For more information, contact John Hickey, email johnhickey705@xtra.co.nz
Trip to Villahermosa, Mexico
Speaking of trips, Louis Rubin emailed me on Sunday to state that he plans to go to Villahermosa, Mexico May 30 to June 2 to visit the group there.
A while back, the host there, Ishmael Jimenez, sent the following picture from the group: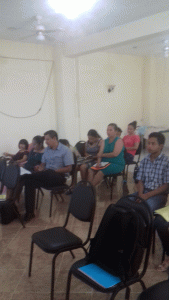 They have about 30 people. Villahermosa is in the State of Tabasco, which is basically in southern Mexico on the Gulf side.
Please pray for the success of this trip.
Spanish Language Hymnal
We finally have our own Spanish language version of The Bible Hymnal available:
There were some technical complications that caused KindleDirect to deny its publication, but with much effort, we were able to work with them. We ordered 20 copies to be sent to Tabasco Mexico, which are to be delivered in about two weeks (the freight cost is higher than the printing cost, which happens a lot for our international shipments). This should mean that they will arrive shortly before Louis Rubin does (we did not intentionally time it that way as we ordered the Spanish hymnals before Louis Rubin told us when he planned to go).
Anyway, here is a link to the Spanish language songbook: Himario Biblico.
We also have a version in Kiswahili and Serbian.
At the www.ccog.eu websites, we also have links to the old WCG hymnal in the Dutch and Danishlanguages.
We are still working on the Chichewa and French language versions of the hymnal, but have insufficient data to complete them, but we are still working on trying to produce them.
Bible News Prophecy Podcast

A podcast powered by FeedBurner
A supporter from Canada asked me about CCOG possibly putting together podcasts.
Well, we did this some time ago.
Since he did not know we did, I thought maybe others were unaware.
Basically, the podcasts are the Bible News Prophecy sermonette videos.
Here is a link: BibleNewsProphecy Podcast.
World News Items
There was a major escalation of violence between Israel and those in Gaza within the past week (see Gaza militants fire 150 rockets towards Israel and Israel responds and CNN: 430 rockets fired from Gaza, Israel responds with airstrikes. COGwriter: A prelude to Daniel 9:27?). Some suggested that Iran was behind this so it could make moves related to Syria and that Iran planned to attack one or more USA-related targets (see US sends STRIKE group to Middle East in BOLD threat to Iran – 'Prepared to attack'; Gaza link?). The Bible shows that God will one day remove the protection from Judah and that Jerusalem will sustain great damage (Isaiah 22:8-9)–and this looks to be from an Iran-Syrian alliance. It may take such "damage" to lead to the "peace deal" of Daniel 9:27.
Iran upped the stakes for the EU yesterday by threatening to increase uranium enhancement unless it (and others) can help it deal with US sanctions–and then the US announced more sanctions (see Iran threatens to increase uranium enrichment, while Europe trying to preserve the nuclear deal; WWIII?). US sanctions are pushing more in the world, including in Europe, farther away from the USA.
A supporter in Australia sent me his synopsis and comments related to a video that featured Baron Karl-Thoedor zu Guttenberg (see KT zu Guttenberg making statements consistent with 666). Herr Guttenberg remains one to watch as he keeps making statements and taking steps consistent with what the future Beast of the Sea (Revelation 13:1-10) would make. While this does NOT prove that he will be that leader, his statements continue to be supportive of such a coming leader.
Over in Israel, the Temple Institute announced that one 'red heifer' candidate was disqualified for having too many white hairs, but that it is still watching two other candidates (see Temple Institute eliminates one potential 'red heifer' but eyeing two others). Some Jews believe that a red heifer (female cow) is so rare that God only plans to allow ten to be found, and that nine have come and gone. They see the tenth as a sign that various end time events must be implemented. The Temple Institute teaches that 'the tenth red heifer will be prepared by the Messiah' (see The Red Heifer, Jewish Beliefs, and the End of the World), and of course, they sadly refuse to accept proof Jesus is the Messiah.
Suggested Sabbath Service
Here is a suggested Sabbath service for this week for our scattered brethren:
2-3 hymns (our songbook, The Bible Hymnal, contains the materials from the 1974 Bible Hymnal from the old WCG with new covers, plus ten additional hymns; there is also some Choral Accompaniment online).
Opening prayer.
Sermonette, which for most who receive this letter via email will be a recorded one. The one suggested for this week is: EU leaders pushing towards the Apocalypse. Other sermonettes are also available at our Bible News Prophecy channel.
Announcements (if any; though for many it will be this letter) and one hymn.
Sermon, which for most who receive this letter via email will be a recorded one. The one suggested for this week is: The Didache, Ignatius, and the Lord's Way. Other sermons are also available at the ContinuingCOG channel. Other sermons are also available at the ContinuingCOG channel.
Final hymn.
Closing prayer.
Note: If you have a slow internet connection, you can watch these by starting the video, then below it (and towards the right) look for an outline of a gear–if you click on that, it will allow the YouTube video to be played with lower video quality, but at least it will not stop often–you can select a quality as low as 144p. If your internet connection is still too slow and/or you prefer audio messages to audio-visuals ones, go to the YouTube link for the message, click on SHOW MORE related to the description. You will then see something that says, "Download MP3." Below that is a link to an MP3 file. Most computers (and even some cellular telephones) will allow MP3 files to be downloaded and played. This is an option we have made available (but we are also looking into ways to improve that as well)–and, of course, we have written article options. Some people have found that if their internet connections are not fast enough, that they can simply listen to the messages that are found at the Bible News Prophecy online radio channel.
IN CASE YOU DO NOT RECEIVE A 'LETTER TO THE BRETHREN' FOR ANY WEEK, REMEMBER THAT THERE ARE MANY SERMON MESSAGES ON THE ContinuingCOGchannel AND MANY SERMONETTE MESSAGES ON THE Bible News Prophecy channel. There are also some messages at the CCOGAfrica channel.
Concluding Comments
The Apostle Paul wrote:
1 I, therefore, the prisoner of the Lord, beseech you to walk worthy of the calling with which you were called, 2 with all lowliness and gentleness, with longsuffering, bearing with one another in love, 3 endeavoring to keep the unity of the Spirit in the bond of peace.  (Ephesians 4:1-4)
Brethren, we always need to remember to walk worthy of our calling and love one another.
Sincerely,
Bob Thiel
Pastor and Overseer