Dear Brethren and Co-Workers in Christ:
Greetings brethren.
We continue to be busy working on trying to serve people around the world, deal with complicated issues, as well as getting the good news out about the Kingdom of God.
Gospel of the Kingdom booklet
As mentioned before, we have been working on a new booklet titled The Gospel of the Kingdom of God.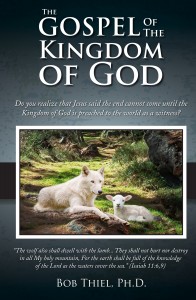 We have ordered printed copies that are to be sent to subscribers in places other than Africa (Africans will receive their copies from printing in Africa).
We have sent electronic versions of this booklet to our translators.  Our hope is to have this booklet available in over 50 languages!
We hope to be able to make all the languages available online as well as available at Amazon.com.
Pentecost: June 12, 2016

Pentecost will be here soon. June 12th this year.
I asked Steve Dupuie if he would go to Wichita, Kansas for that weekend to speak, and he has agreed to do so.
If you are not a regular attendee in Wichita, and wish to come, please contact Linda Holeman for particulars.  Her email address is lholeman1986@gmail.com
Feast of Tabernacles in Canada and the Netherlands

We have been working to finalize the locations of the sites in Canada and the Netherlands.
The facilities we were working with were pricier than our budget, and our people were able to negotiate with them.
So, this has now been taken care of.
For Canada, the location is planned to be at the following:
W. C. O'Neill Are
na Complex
Address:  24 Reed Street, St. Andrews, NB
In the Netherlands, the location is planned to be at the following:
Best Western Plus City Hotel
Address: Hoge Gouwe 201, 2801 LE Gouda, Netherlands
Phone:+31 182 860 086
Currently, the site in the Netherlands looks like it will be our smallest site.  So that is one of the reasons we took steps to reduce the costs there.  If you hope to come to the site in the Netherlands, and you have not let me know, please email me so we can be sure we will have room (we should, but just in case since we took certain cost cutting steps). My email address remains cogwriter@aol.com
Festival Tithe and the 'Tithe of the Tithe'
Someone emailed me and asked if people knew about the 'tithe of the tithe' for the Feast of Tabernacles.
Here is an explanation of it written by the late evangelist Leroy Neff and published by the old Worldwide Church of God in 1981 related to festival financing:
God explains feast finances for us in Deuteronomy 14:22-27…

We have called this tithe or tenth part of our income a second tithe; however, the Bible nowhere calls it by a specific name. We have more commonly referred to it in recent years as the festival tithe, as that is what it is used for.

This tenth of our income is not used for God's Work or the preaching of the Gospel, as the festival tithe belongs to us, to use in the way God specifies. God provides for the needs of His Work by His first tithe.

The first tithe belongs to God and is not for personal use.

Here are some commonly asked questions about the festival tithe and their answers, based on biblical principles.

What is the festival tithe?

Simply stated, the festival tithe is a tenth of one's increase (income from personal effort), which is set aside for use in attending the annual festivals ordained by God. How is the amount of the festival tithe calculated?

It is a tenth of your … income, exactly the same amount as God's first tithe or tenth. Is this amount commanded, or is it optional?

As the previous quote from Deuteronomy showed, saving the festival tithe is commanded by God, just as much as God's first tithe is commanded. Since it is a part of God's law, it is sin not to set a full tenth aside for the specified purpose. How is it to be used?

The basic use of this money is to finance attendance at God's festivals, including (as specifically mentioned) food and beverages. The festival tithe would also cover travel expenses to and from the feast site, motel or hotel expenses and other related costs.

May any of this money be used to buy clothing?

The primary use of the funds is for travel, lodging and food.

However, in some cases, people may not have sufficient or proper clothing to attend the Feast of Tabernacles. In such cases, where there is sufficient money to take care of the other needs as well, it would be permissible for a person to use some funds to buy proper clothing so that he might be better able to go to the Feast and rejoice as God commands (Deut. 16:11).

This permission in unusual circumstances, however, has been used by some to justify large or expensive purchases of clothing or even whole wardrobes. Using the festival tithe in this way violates the basic spiritual intent of the law.

What about using some of the funds for car repairs?

In some cases the family or personal car is not in condition to make the trip, or to safely make the trip, to the Feast site. Under such rare circumstances, if sufficient funds are available for the other necessities as well as minor car repairs, it would be within the spirit of the law to make repairs. In other cases it would be wiser to consider alternate transportation. …

I have heard some members talking about the tithe of the tithe. What is this?

Several years ago, because of the considerable expenses of providing the facilities and handling year-round administrative needs for the Feast, Pastor General Herbert W. Armstrong directed all members of the Church to send in one tenth of their festival tithe to cover these costs. This is commonly referred to as the tithe of the tithe.

It pays for all the festival facilities, whether Church-owned or rented; operation of the Fall Festival; and other year-round festival-related expenses.
While the Bible does NOT mandate sending in a 'tithe of the tithe,' it does state that some of the festival tithe should also go to support the ministry.  Here is some information from the Bible on the festival tithe:
22 "You shall truly tithe all the increase of your grain that the field produces year by year. 23 And you shall eat before the Lord your God, in the place where He chooses to make His name abide, the tithe of your grain and your new wine and your oil, of the firstborn of your herds and your flocks, that you may learn to fear the Lord your God always. 24 But if the journey is too long for you, so that you are not able to carry the tithe, or if the place where the Lord your God chooses to put His name is too far from you, when the Lord your God has blessed you, 25 then you shall exchange it for money, take the money in your hand, and go to the place which the Lord your God chooses. 26 And you shall spend that money for whatever your heart desires: for oxen or sheep, for wine or similar drink, for whatever your heart desires; you shall eat there before the Lord your God, and you shall rejoice, you and your household. 27 You shall not forsake the Levite who is within your gates, for he has no part nor inheritance with you.  (Deuteronomy 14:22-27)
The term 'Levite' is a reference to the ministry.  The New Testament teaches that there was a change from Levitical priesthood to the ministry of Christ (cf. Hebrews 7:11-12).  The ministry also is to 'remember the poor' (Galatians 2:10).
As far as when to send CCOG a 'tithe of the tithe' in, that is an individual matter.  Basically, whenever you are reasonably confident of how much money you will have saved for the Feast (often called second tithe), then send in 10% of that.
Some of that money will be spent to pay for expenses associated with the Feast of Tabernacles' sites in North America and/or Africa.  The money we send to Africa related to the Feast of Tabernacles helps feed poor members who attend.
World News Items
On October 31, 1517, the then Catholic priest Martin Luther nailed his '95 theses' to the door of the Wittenberg Castle church. Martin Luther did that to protest various practices and teachings of the Roman Catholic Church. The World Council of Church and others in the ecumenical community are excited about the upcoming 500th anniversary of that date. Many of the Protestants are seeing this as an opportunity to reconcile to a degree with the Church of Rome. So, instead of a celebration for the independence between the Catholics and Protestants, it is seen as "profoundly ecumenical' (see 500th anniversary of Protestant Reformation to be 'profoundly ecumenical'). The reconciliations between the harlot church and any of her daughters (cf. Revelation 17:5) should not be seen as something to celebrate.  Those groups need to repent, for the Bible shows that their union will be disastrous (Revelation 17:9-18; 18:1-24).
The Roman Catholic Church of the USA made the news for having a 35% increase in complaints alleging sexual abuse by its priests and others part of it (see 'Audit of US Catholic church shows sharp spike in sex abuse reports'). Celibacy requirements are one factor that has led to this and we may see the Church of Rome relaxing that requirement to make it more appealing to the other churches it is trying to gain ecumenical unity with.
Over in the USA, perhaps the two most disliked presumptive presidential nominees look like they are in a close battle according to various polls (see Poll: US Presidential Race closer). The Bible says God determines who will rule (Daniel 4:25) and often allows the lowest of people to do so (Daniel 4:17). God will likely allow certain events to occur that will affect the election.  Terrorist incidents,  possible statements from from Donald Trump, and possible legal issues for Hillary Clinton are three that come to mind, and there are others that none of us have probably considered. Either way, the immoral direction of the USA is not expected to turn unless the next president repents.
Suggested Sabbath Service
Here is a suggested Sabbath service for this week:
Because of the suggested sermon is shorter than usual, that is why you see two (2) recommended sermonettes.
Note: If you have a slow internet connection, you can watch these by starting the video, then below it (and towards the right) look for an outline of a gear–if you click on that, it will allow the YouTube video to be played with lower video quality, but at least it will not stop often–you can select a quality as low as 144p.
If your internet connection is still too slow (as my home one is) and/or you prefer audio messages to audio-visuals ones, go to the YouTube link for the message, click on SHOW MORE related to the description. You will then see something that says, "Download MP3." Below that is a link to an MP3 file. Most computers (and even some cellular telephones) will allow MP3 files to be downloaded and played. This is an option we have made available (but we are also looking into ways to improve that as well)–and, of course, we have written article options. Some people have found that if their internet connections are not fast enough, that they can simply listen to the messages that are found at the new Bible News Prophecy online radio channel.
IN CASE YOU DO NOT RECEIVE A 'LETTER TO THE BRETHREN' FOR ANY WEEK, REMEMBER THAT THERE ARE MANY SERMON MESSAGES ON THE ContinuingCOGchannel AND MANY SERMONETTE MESSAGES ON THE Bible News Prophecy channel.
Concluding Comments
Notice the following:
1 David spoke to the Lord the words of this song, on the day when the Lord had delivered him from the hand of all his enemies, and from the hand of Saul. 2 And he said:

"The Lord is my rock and my fortress and my deliverer;
3 The God of my strength, in whom I will trust;
My shield and the horn of my salvation,
My stronghold and my refuge;
My Savior, You save me from violence.
4 I will call upon the Lord, who is worthy to be praised;
So shall I be saved from my enemies.

5 "When the waves of death surrounded me,
The floods of ungodliness made me afraid.
6 The sorrows of Sheol surrounded me;
The snares of death confronted me.
7 In my distress I called upon the Lord,
And cried out to my God;
He heard my voice from His temple,
And my cry entered His ears. (2 Samuel 22:1-7)
Brethren, God knows our tests and trials and will properly deliver us if we are living and praying to be right with Him.
Sincerely,
Bob Thiel
Pastor and Overseer