Dear Brethren and Co-Workers in Christ:
Greetings from the Five Cities Region of California.
It has been announced that San Luis Obispo County (where the Five Cities are located) expects to lift some of the COVID-19 restrictions here in the next several days. Having them in the first place has damaged the economy here and caused other problems by cancelling school attendance. School attendance, however, is not likely to begin for several months.
Pentecost

As a reminder Pentecost is on May 31, 2020 and the actual observation begins the evening before at sunset on May 30th and runs through sunset on May 31st. Since that means back-to-back Sabbaths, you should plan accordingly as the Bible teaches, "You shall do no customary work on it" (Leviticus 23:15).
Feast of Tabernacles in 2020
In 2020, Feast of Tabernacles' services are to begin the evening of October 2nd and continue until the Last Great Day which is October 10th.
Because of COVID-19 concerns, there may be issues in various locations for the Feast of Tabernacles in 2020. Irrespective of the views of some (e.g. VOA: Are Religious Services 'Essential' During Pandemic? COGwriter: Yes, true Christians should 'gather together,' though atheists do not understand), we consider holding religious services like the Feast of Tabernacles to be essential.
We now have signed an agreement with a hotel in San Antonio, Texas as we were finally able to negotiate a better meeting room rental as well as handle some other details. It is called the Omni San Antonio Hotel at the Colonnade located at 9821 Colonnade Boulevard San Antonio, Texas 78230. Here is a photo from its website:
Should you stay there, the daily room rate is $119 per night, plus applicable taxes. You can call 1800TheOmni to make a reservation–tell them it is for the Feast of Tabernacles. They also plan to supply a link to book directly online.
While you do not have to stay at the Omni, many will find it convenient. In addition to our meeting there, it has two restaurants, one lobby snack bar, and even food available at its pool.
Furthermore, for any who fly in but do not wish to rent a car, the Omni has a complementary shuttle service to and from the San Antonio airport. The representative at the Omni said that in addition to their eating facilities that there are several restaurants within walking distance, so some may not need a rental vehicle.
Joyce, David, and I expect to fly there. However, because of COVID-19, we may wait a little while before booking our flights. Others may wish to be a bit cautious about that as well. While we could theoretically drive there, that would be a bit much for our disabled child. But, driving is still our 'backup plan,' if flying will not work.
Perhaps I should mention that I was in San Antonio once back in 1976. My wife Joyce (who has never been there) and I look forward to seeing all of you who may end up coming there for the festival this year.
As mentioned before, we have a partial backup plan in Texas in the event the hotel is unable or unwilling to have group conferences in October (such as if government officials install some last minute restrictions). It is our firm expectation to hold the Feast of Tabernacles in San Antonio, Texas or within an hour or so drive of it.
At this instant, we still intend to hold the Feast of Tabernacles in all countries we have indicated. Information on the expected general locations is included in our article: Feast of Tabernacles' Sites for 2020. However, there may be changes in location and how we can conduct services. Yet, we will still intend to hold services for the Feast of Tabernacles and encourage all who can attend to attend.
Coping with COVID and Irrigation Matters
Because of dealing with group size restrictions, and in order to assist those who speak Chichewa, we got some literature printed up and distributed. Deacon Radson Mulozowa sent the following photo: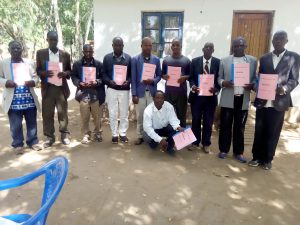 Deacon Mulozowa also sent the following photo: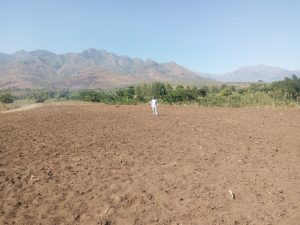 This is one of the dry fields intended to be irrigated by the pump we helped the brethren in Malawi get a couple of months ago (see Letter to the Brethren: March 26, 2020) so they can produce more of their own food.
Received the following as part of an email today from a CCOG pastor:
We are going on Preaching the word of God although we encountered something which we had never experienced before. Churches are closed due to the emergence of this covid-19 pandemic. We only make our own arrangement to meet brothers and sisters in various groups. We are doing so in fear of being arrested. Even though we face this challenges we make sure that the word of God goes on well. We follow what the government orders to do and we keep what the health official directs us too. Brethren from … call me because some of them from hills where they were evacuated due to heavy rains and there was landslide. So they are fighting to survive because the government did not assist them even though they lost everything. They are therefore requesting assistance even to get the seeds and fertilizers in order to re-plant them. The problem came after a heavy rain that destroys food on their farms.  I will inform too Evangelist Ochieng about the issue. Pray for them.
Because of the possibility of being arrested, I edited out the location and did not include the pastor's name or country. But this is in Africa. Hopefully officials in Africa and elsewhere will lift restrictions related to church meetings and other gatherings. But we still are working to go forward.
Chicken Project
Pastor Tiongik Sawek sent the following: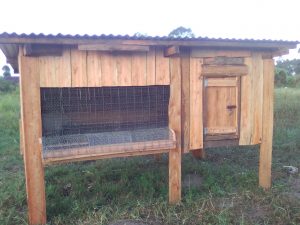 Receive greetings in Jesus. We give thanks to the Lord for his Care for all of us. I thank you for praying for Musa who have been ill and now is well. He did not forget you and your two sons. We therefore pray for the Lord to enable you to be here with us on the Feast of Tabernacle. The Group of Women in Chilani (Light of Christ) Is thanking you for your support as they bought Chickens, although it was expensive they have started to lay eggs. One of them decided to rear them because they were less and the house to rear them  is enough. They are also giving  blessing to you so that you can give them the support they need. The house for keeping the hens accomodate 150 to 200 hens The completion of the chicken's house will be done on Friday though the one constructing is very expensive due to the ongoing covid-19 pandemic. The rain is heavy as by now and there is no planting taking place. My family gave me greetings to your family and we miss you. God bless you and you family at large. Thank you

Regards

Pastor Sawek
On Monday, we sent funds to elder David Cheruyiot to acquire chickens and related items for the above, as well as to provide some assistance for the women's groups in the Rift Valley.
We are hopeful that the project to produce eggs will be successful (we are trying a total of four locations at this time: 2 in Kenya, 1 in Malawi, and 1 in Mozambique). If so, we hope to assist more congregations to do this.
There are many concerns that actions taken related to COVID-19 are hurting economies and some few see some as putting US dollar dominance at risk (see Doug Casey: The Feds Will Blame the Depression on Coronavirus; NEO: Saying Goodbye to the Dollar). US President Donald Trump made himself the subject of criticism for taking personal steps he hopes will reduce risks for him associated with COVID-19 (see Donald Trump taking zinc and hydroxychloroquine to prevent COVID-19: Mainstream media aghast! Vitamin D? Vitamin C?). While some have hopes in vaccines, European leaders do not believe that their economies should wait until there is a possibly proven one (see 'No spike in coronavirus in places reopening, U.S. health secretary says' 'European leaders are blunt: A vaccine won't come soon enough').
US statements and steps related to COVID-19 have upset many Europeans. A recent poll in Germany has found an increase in anti-American sentiment since the novel coronavirus became a worldwide issue (see 'Coronavirus turns Germans more critical of US: survey'). This will not end well for the USA (cf. Isaiah 10:5-11, Daniel 11:39).
Of course, COVID is not the only issue that many are facing. Severe weather and even locusts are problems in parts of the world (see CNN: Thousands evacuate area in Michigan after two dams fail; BIN: Biblical Plagues Worldwide).
Over in the Middle East, Benjamin Netanyahu was again sworn in as Prime Minister. He wants to quickly go forward and formally annex Judea-Samaria, against the wishes of the Palestinians, Jordanians, and Europeans (see Netanyahu sworn in and wants annexations, but Jordan's King Abdullah opposed and Iran allegedly hacked again by Israel; 'President Abbas declares end to agreements with Israel, US'). Islamic reaction to this annexation may very well help set the stage for the ride of the second horseman (of war) of the Apocalypse (Revelation 6:3-4), as well as the deal of Daniel 9:26-27. We will see.
While some people act like all the COGs are basically the same, that is not so. Two,  in different COGs, recently posted prophetic errors related to dates (see PCG claims Revelation 17:12 prophecy can happen this year! James Malm wrong about 2021.). Those who rely on false prophets and false prophecies will not know when the Great Tribulation will begin until it is too late (see also Do You Hold to Any of These Laodicean Prophetic Errors?). There are also important differences beyond prophetic ones. For details, check out the article: How does the Continuing Church of God differ from other Sabbatarian COG groups?
Suggested Sabbath Service
Here is a suggested Sabbath service for this week:
Note: If you have a slow internet connection, you can watch these by starting the video, then below it (and towards the right) look for an outline of a gear–if you click on that, it will allow the YouTube video to be played with lower video quality, but at least it will not stop often–you can select a quality as low as 144p. If your internet connection is still too slow (as my home one is) and/or you prefer audio messages to audio-visuals ones, go to the YouTube link for the message, click on SHOW MORE related to the description. You will then see something that says, "Download MP3." Below that is a link to an MP3 file. Most computers (and even some cellular telephones) will allow MP3 files to be downloaded and played. This is an option we have made available (but we are also looking into ways to improve that as well)–and, of course, we have written article options. Some people have found that if their internet connections are not fast enough, that they can simply listen to the messages that are found at the Bible News Prophecy online radio channel.
IN CASE YOU DO NOT RECEIVE A 'LETTER TO THE BRETHREN' FOR ANY WEEK, REMEMBER THAT THERE ARE MANY SERMON MESSAGES ON THE ContinuingCOG channel AND MANY SERMONETTE MESSAGES ON THE Bible News Prophecy channel. There are also some messages at the CCOGAfrica channel.
Concluding Comments
The Book of James has the following:
2 For we all stumble in many things. If anyone does not stumble in word, he is a perfect man, able also to bridle the whole body. 3 Indeed, we put bits in horses' mouths that they may obey us, and we turn their whole body. 4 Look also at ships: although they are so large and are driven by fierce winds, they are turned by a very small rudder wherever the pilot desires. 5 Even so the tongue is a little member and boasts great things.

See how great a forest a little fire kindles! 6 And the tongue is a fire, a world of iniquity. The tongue is so set among our members that it defiles the whole body, and sets on fire the course of nature; and it is set on fire by hell. 7 For every kind of beast and bird, of reptile and creature of the sea, is tamed and has been tamed by mankind. 8 But no man can tame the tongue. It is an unruly evil, full of deadly poison. 9 With it we bless our God and Father, and with it we curse men, who have been made in the similitude of God. 10 Out of the same mouth proceed blessing and cursing. My brethren, these things ought not to be so. 11 Does a spring send forth fresh water and bitter from the same opening? 12 Can a fig tree, my brethren, bear olives, or a grapevine bear figs? Thus no spring yields both salt water and fresh.

13 Who is wise and understanding among you? Let him show by good conduct that his works are done in the meekness of wisdom. 14 But if you have bitter envy and self-seeking in your hearts, do not boast and lie against the truth. 15 This wisdom does not descend from above, but is earthly, sensual, demonic. 16 For where envy and self-seeking exist, confusion and every evil thing are there. 17 But the wisdom that is from above is first pure, then peaceable, gentle, willing to yield, full of mercy and good fruits, without partiality and without hypocrisy. 18 Now the fruit of righteousness is sown in peace by those who make peace. (James 3:2-18)
Brethren, we need to strive to be careful with our words–not only those we say, but others we may write, post, or text.
Sincerely,
Bob Thiel
Pastor and Overseer