Dear Brethren and Co-Workers in Christ:
Greetings from Grover Beach, California.
Serbia
I am saddened to report that we no longer have an elder in Serbia as he and his followers decided to go in a different direction. Here is some of what the elder Skype-messaged me last Friday:
I cannot consider myself any more a part of CCOG … We have learned so much from you … In any case, thank you once again for everything. I remain very thankful to you for all the goodness you have brought to my life.
When I learned of their departure, it hurt. Now, I better understood how the Apostle Paul felt after he learned "that all those in Asia have turned away from me" (2 Timothy 1:15).
Going on AM and FM Radio Stations in the USA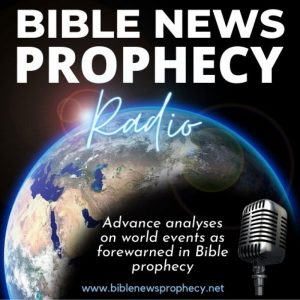 Last week, I mentioned that we were looking at going on some small radio stations in the USA.
While mourning the loss of our Serbians, it occurred to me that their departure also has freed up funds that we otherwise would have sent to the elder there.
This brought to mind the following scripture:
For I will turn their mourning to joy … (Jeremiah 31:13)
Why is that relevant?
Well, before learning of the Serbian departure, we had just signed a one-year contract to be on only some small radio stations in four American cities beginning later in March 2023. While we still mourn the Serbian departure, freeing up of funds normally sent for them has resulted in our ability to increase our planned radio presence. So, we amended the radio contract on Monday and now are to go on 12 stations in eight cities across the USA.
The New Testament reported that the spreading of the word of God to more cities brings joy to disciples of Jesus (cf. Acts 13:49-52).
Here is a list of the stations along with the times:
KKIM AM 1000 Albuquerque – Saturday 9:15 AM

KGMS AM 940 Tucson – Saturday 1:15 AM

KCNW AM 1380 & FM 96.1 Kansas City – Saturday 2:30 PM

KERI AM 1410 Bakersfield – Saturday 11:45 AM

WWNL AM 1080 & FM 103.9 Pittsburg – Saturday 11:30 AM

WSKY AM 1230 Asheville – Saturday 7:45 PM

WELP AM 1360 & FM 104.3 Greenville – Saturday 7:00 PM

WNVY AM 1070 & FM 104.5 Pensacola – Saturday 7:15 PM
Note: WWNL in Pittsburg is a 50,000 watt station, which is the most powerful that the USA FCC allows.
If responses are good on these stations, and the network agrees, we would hope to possibly add other stations in the future.
Jesus said:
The harvest truly is great, but the laborers are few; therefore pray the Lord of the harvest to send out laborers into His harvest. (Luke 10:2)
Please pray for more faithful laborers for the harvest.
Baptismal and Other Counseling
Since the death of deacon Richard Close, we asked 'Doc' Buchanan to provide counseling for those in North America. However, since his accident he has had more limited availability.
'Doc' Buchanan is recovering. He told me on Monday that he is doing better, but is still not fully recovered from that accident. So, Michael Doles has agreed to provide baptismal counseling for us. Michael Doles and his wife Sheila live in Phoenix, Arizona. His email address is mjdoles@msn.com. So, if you are in the USA or Canada, please feel free to contact him about counseling matters.
For counseling in other areas, please contact the minister or host for the area. A listing of congregation locations, minister/host names, and email addresses is in the following link: Congregations of the Continuing Church of God.
Dr. Bob Thiel also tries to counsel, respond to prayer requests, send out anointed cloths, personally anoint the sick, handle funeral matters, answer questions when asked, etc. His email address is cogwriter@aol.com. As far as baptisms go, so far in the USA, Dr. Bob Thiel has performed them in California, but also often when he is traveling to an another area, like at the Feast of Tabernacles.
Suggested Sabbath Day Service
Here is a suggested Sabbath day service for our scattered brethren and other interested people:
Note: If you have a slow internet connection, you can watch these by starting the video, then below it (and towards the right) look for an outline of a gear–if you click on that, it will allow the YouTube video to be played with lower video quality, but at least it will not stop often–you can select a quality as low as 144p. If your internet connection is still too slow (as my home one is) and/or you prefer audio messages to audio-visuals ones, go to the YouTube link for the message, click on SHOW MORE related to the description. You will then see something that says, "Download MP3." Below that is a link to an MP3 file. Most computers (and even some cellular telephones) will allow MP3 files to be downloaded and played. This is an option we have made available (but we are also looking into ways to improve that as well)–and, of course, we have written article options. Some people have found that if their internet connections are not fast enough, that they can simply listen to the messages that are found at the Bible News Prophecy online radio channel.
IN CASE YOU DO NOT RECEIVE A 'LETTER TO THE BRETHREN' FOR ANY WEEK, REMEMBER THAT THERE ARE MANY SERMON MESSAGES ON THE ContinuingCOG channel AND MANY SERMONETTE MESSAGES ON THE Bible News Prophecy channel. There are also some messages at the CCOGAfrica channel. There are also messages in the Spanish language at the CDLIDDSermones channel.
World News Items
There has been a change to the Brexit deal as the leaders of the UK and EU have agreed to modify parts related to Northern Ireland (see UK Prime Minister pushing 'Windsor Framework' in Belfast, but …). This new arrangement has massive potential to cause a rift between the EU and the UK. No matter what British leaders seem to think, Northern Ireland will one day end up under European control.
China has accused the USA of "illegal sanctions" (see AP: China accuses US of 'bullying' with new 'illegal' sanctions). While the legality of sanctions can be argued, the reality is that the USA is harming the role of its dollar as the primary reserve and cross-border trading currency of the world by imposing sanctions. This will not end well for the USA.
Despite being often denounced as a "conspiracy theory" US government officials are admitting that the "lab leak" theory for the origin of COVID-19 is likely to be correct (see WSJ: Lab Leak Most Likely Origin of Covid-19 Pandemic, Energy Department Now Says). Various "official" positions of various government, Big Tech, and the media related to COVID have been proven to be wrong (see also FBI director points to 'Lab Leak' origin for COVID–plus '10 myths told by COVID experts — and now debunked'?). As far as the "lab leak" origin goes, that is consistent with what I discussed in a video recorded way back in January 2020 (watch also Biological Warfare and Prophecy).
We seem to be getting closer to a military conflict between the Iran and Israel as Iran is closer to having nuclear weapons grade uranium and is also looking at acquiring a Russian air defense system (see Iran reportedly within days of having enough nuclear weapons material, while Israel reportedly has a shorter window to act against Iran because of possible Russian S4000 air defenses). Such a conflict may well precede the deal of Daniel 9:26-27. That deal is discussed in the recommended sermonette for this Sabbath:Will Europe be Involved in Peace in the Middle East?
Concluding Comments
The Apostle Paul wrote the following:
20 Where is the wise? Where is the scribe? Where is the disputer of this age? Has not God made foolish the wisdom of this world? 21 For since, in the wisdom of God, the world through wisdom did not know God, it pleased God through the foolishness of the message preached to save those who believe. 22 For Jews request a sign, and Greeks seek after wisdom; 23 but we preach Christ crucified, to the Jews a stumbling block and to the Greeks foolishness, 24 but to those who are called, both Jews and Greeks, Christ the power of God and the wisdom of God. 25 Because the foolishness of God is wiser than men, and the weakness of God is stronger than men. (1 Corinthians 1:20-25)
Brethren, do not be deceived by those who falsely claim science disproves any part of the Bible or those who push improper sexual identity and various forms of immorality.
The word of God is wiser than any human.
Sincerely,
Bob Thiel
Pastor and Overseer