Dear Brethren and Co-Workers in Christ:
Another full week in the Five Cities region of California.
As usual, we are proclaiming the good news of the Kingdom of God as we are able around the world and working on many projects.
Magazines in More Languages
For the first time, our Bible News Prophecy magazine is available online in the Hebrew, Greek, and Hindi languages.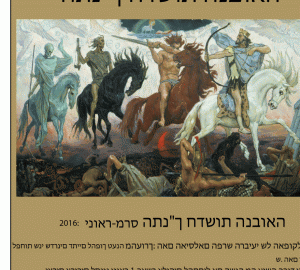 That brings us to a total of 11 languages that the magazine has been translated into and made available.
An Arabic language version of the April-June 2016 edition of the magazine has been translated and should be available fairly soon.
This means that we will have put the magazine out in 12 languages.  Here is a list of the 12 in the order from when we got our first translation:
Arabic
We also hope to get the magazine in French and Zulu this year.  Perhaps also in Portuguese and Ekegusii.
Since the Bible shows there will be "a great multitude which no one could number, of all nations, tribes, peoples, and tongues, standing before the throne and before the Lamb, clothed with white robes" (Revelation 7:9), we believe that we need to reach people in as many languages as we can manage.
Continuing History Book(let)
We were able to upload the French language edition of the Continuing History of the Church of God booklet.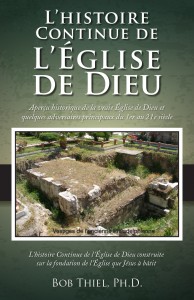 Here is a link: L'Histoire Continue de l'Église de Dieu.
By now, English language subscribers should have received the 2nd edition of the booklet.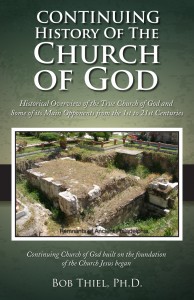 As part of our goal to reach more people with our literature, a third edition was produced and uploaded for sale at Amazon.com.  The CreateSpace/Amazon edition is four pages longer (we maxed out the number of pages for a booklet), and because Amazon has better shipping rates, this will allow us to get some of these sent internationally at lower cost than what we are able to get.
Nigeria and Ethiopia
The government of Nigeria is insisting that the CCOG own its own building as it claims a rented facility is not permanent enough in case it wants to contact leaders.  This is causing strains there as well as with our finances here.  Anyway, after getting in some 'end of the year' donations, we were able to assist with this.
As soon as it is safe enough (because of the terrorist group Boko Haram) and we have funds, Pastor Evans Ochieng intends to visit those in Nigeria who have declared that they are part of the CCOG.
Received the following on Tuesday from Koang Deng of Ethiopia:
Dear Dr. Bob:

Two young men join the (ccog) this month. And thanks. God
bless.

koang deng.
While I do not report every time we get one or two more members, it is nice that we have gotten two more there since Pastors Ochieng and Owak visited Ethiopia in late November 2015.
We would like to have Pastors Ochieng and Owak visit Nigeria, as well as one or more of them to again visit Malawi and Ethiopia.
Radio
Last Thursday afternoon, I ended up covering my post, Ten items to watch in 2016 on radio over the Genesis Communications Network.
The tenth item had to do with gospel of the kingdom proclamation by the CCOG.
The host has some ideas about the kingdom of God and I have attempted to have him convey those views more perfectly (cf. Acts 18:26, KJV).
Feast of Tabernacles 2016
We are looking at various sites for the Feast of Tabernacles and thought this would be a good time to share what we are thinking with all  of you.
In Africa, they will probably be in the same sites as last year, with the addition of Ethiopia and Malawi.  So, that would mean multiple sites in Kenya, plus one or more in Ethiopia, Ghana, Malawi, Nigeria, and Tanzania.
In North America, we are looking at New Brunswick, Canada and somewhere within an hour drive of the Chicago airport in in the USA (maybe Naperville or Aurora, Illinois or ?).
We have no specific information on the New Zealand location yet, but a site for there is planned.
We plan to have our first CCOG site ever in Europe.  Currently, Gouda, Netherlands is the top consideration.
Here is information from Joanna Kersten:
In regards to the Feast in Holland. Whilst I was with dad we did go and look around and we found a wonderful site, which would suit all the needs we discussed for the Feast.
Gouda is a central town and next year happens to be "the year of the Bible" and the local township and church building and adjacent museum will have much dedicated to the Bible etc which could be interesting – and of course it is home to the famous Cheese. https://en.wikipedia.org/wiki/Gouda,_South_Holland
There is a couple of "cheaper" places but the Best Western Gouda was a lovely hotel and we checked the rooms which were beautiful.
They have full conference facilities, which include projectors etc. …
The rooms themselves should we book a conference facility would come to a discounted rate of 110euro per couple per night.(and includes breakfast)
As far as activities go the town itself is lovely and has a central square approximately 400m from the hotel. There are many restaurants and eateries offering good well priced food.
There is a lovely museum just off the square and also Gouda is home to the longest church in Holland – which we visited for 4euro and the windows and art inside are lovely.
Activity wise the town is wonderful and could be a lovely location – some windmills and lots of lovely waterways to walk along.
Activities – which would require a car include the wonderful Kinderdikehttps://www.kinderdijk.com/ which is very cheap and a lovely boat ride and walking track (we went for the day – photo attached). This is about 30min from Gouda.
Another place we visited is a lovely castle just outside of Utrech – another nice place to visit,  but the castle was amazing and there is lovely gardens and deer etc. Also the guided tour was only 10euro and well worth it http://media-cache-ak0.pinimg.com/736x/b1/22/72/b1227208cda8795974248859c8d574f5.jpg
At this instant, my wife and I expect to spend about 1/2 the Feast in the Netherlands, and the rest in the USA site.
Information on the sites is expected to be at the link: Feast of Tabernacles' Sites for 2016.
The Feast sites have not yet been finalized, and if you have some insights on any that you feel we need to know, please email me.
New Video Group
Terry & Sharon LaFrance have asked to host weekly Sabbath services.
It is at the office of State Wide Real Estate Mainstreet. The address is: 844 N Van Dyke, Almont, Mi 48003.
Almont is about 48 miles north of Detroit.  If I come to Michigan in 2016, I will try to attend.
Services are scheduled for 10:00 am, but that time can sometimes be changed with notice.  So, if you want to come or even visit from out-of-state, the time can often be changed.
You can email Terry & Sharon LaFrance for more information: terrytoon22@yahoo.com
World News Items
Many stock markets around the world started calendar-year 2016 with a loss (see Stock markets opening down in parts of the world: Financial volatility expected for 2016).  Financial volatility is to be expected.  But the time will come, for the USA at least, a total financial collapse will occur (no later than Habakkuk 2:6-8).
Despite the nuclear deal with Iran, Iran has taken military steps that have upset some in the West (see Iran unveils second underground missile; USA is watching Iran, but . . .).  At some point in time, I suspect that Iran will take a strong enough step that others will react militarily with it.
Some are concerned about the spread of a mosquito-born disease called Zika from Africa to various place in the Western Hemisphere (see Zika: A pestilential threat?).  Jesus warned about pestilences as part of the beginning of sorrows (Matthew 24:7-8), and that certainly could include something tied to mosquitoes.
 Suggested Sabbath Service
Here is our suggested format for Sabbath services this week:
Note: If you have a slow internet connection, you can watch these by starting the video, then below it (and towards the right) look for an outline of a gear–if you click on that, it will allow the YouTube video to be played with lower video quality, but at least it will not stop often–you can select a quality as low as 144p.
If your internet connection is still too slow (as my home one is) and/or you prefer audio messages to audio-visuals ones, go to the YouTube link for the message, click on SHOW MORE related to the description. You will then see something that says, "Download MP3." Below that is a link to an MP3 file. Most computers (and even some cellular telephones) will allow MP3 files to be downloaded and played. This is an option we have made available (but we are also looking into ways to improve that as well)–and, of course, we have written article options. Some people have found that if their internet connections are not fast enough, that they can simply listen to the messages that are found at the new Bible News Prophecy online radio channel.
IN CASE YOU DO NOT RECEIVE A 'LETTER TO THE BRETHREN' FOR ANY WEEK, REMEMBER THAT THERE ARE MANY SERMON MESSAGES ON THE ContinuingCOGchannel AND MANY SERMONETTE MESSAGES ON THE Bible News Prophecy channel.
Concluding Comments
The Apostle Paul wrote:
9 But as it is written:

"Eye has not seen, nor ear heard,
Nor have entered into the heart of man
The things which God has prepared for those who love Him."

10 But God has revealed them to us through His Spirit. For the Spirit searches all things, yes, the deep things of God. (1 Corinthians 2:9-10)
Brethren, despite the tests and trials we are going through and the challenges we face, God has a reward we all need to seek in His kingdom.
Sincerely,
Bob Thiel
Pastor and Overseer