Dear Brethren and Co-Workers in Christ:
Greetings from the Five Cities region of California.
We received additional translations of our English-language booklet The Gospel of the Kingdom of God and keep working at uploading more of them to have them online. Matthew 24:14 will be fulfilled before the end (meaning in this case, the Great Tribulation) begins and these translations are part of us preparing for that as well as the short work of Romans 9:28.
Last week, I mentioned we were having difficulty in securing a location in Hershey, Pennsylvania for the primary Feast of Tabernacles' site for the USA this year. Well, unless something changes, Hershey itself looks to be out as the last meeting rooms that we were aware of that could work for us are fully booked. So, at this time, there is a possibility of Harrisburg, Pennsylvania. We are also looking at the possibility of Mt. Poconos in Pennsylvania, as well as possibly considering a different state.
Death of Barthlomew Otieno
Evangelist Evans Ochieng sent the following: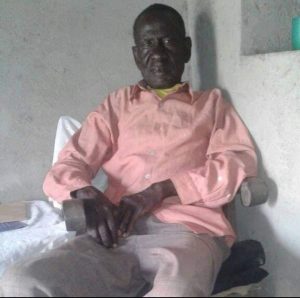 Barthlomew Otieno
Pastor Dr Bob,Greetings from Kenya.Sorry to inform you that Barthlomew Otieno who is now 90 years old is dead. He has served the church from Worldwide, Global, Living and now died when he was in Continuing church of God. He was the oldest man in the church. He died today at 12 noon.Evans
I met deacon Barthlomew Otieno several years ago, when I last visited Africa.
He also participated in some evangelical campaigns with Evans Ochieng on behalf of the Continuing Church of God.
His presence and stability will be missed by the many who loved him.
The World Today
This morning, a CCOG congregant had the following in an email:
There are waves targeting the Church of God. Let us pray for one another for these days are evil. This is the reason why we made this appointment with God to pray for the church.
And, to target the Church of God, this is done in many ways. Often this involves personal tests and trials. And sometimes, the work itself is affected.
This week a credit card company sent me a couple of emails about a suspicious charge of the card we use for our Google advertising campaign. Apparently, someone in Georgia attempted to use the card number (not the card) to make a purchase. After explaining to the credit card company that my wife Joyce and I were not in Georgia on Monday, the credit card company cancelled the card, and said they would send another one.
Within an hour of that, Google contacted us and put our campaign on hold as they were unable to charge that card. Although they usually charge twice per month, that is when they decided to try to charge the card. We could not get the Google campaign started again until after we received the new card. So, the campaign was paused–and then even having the new card, it took a long time to do get Google to resolve the matter.
While that was a relatively minor matter in the scheme of the horrors of various sins today, what happened is consistent with the following warning from the Apostle Paul:
1 But know this, that in the last days perilous times will come: 2 For men will be lovers of themselves, lovers of money, boasters, proud, blasphemers, disobedient to parents, unthankful, unholy, 3 unloving, unforgiving, slanderers, without self-control, brutal, despisers of good, 4 traitors, headstrong, haughty, lovers of pleasure rather than lovers of God, (2 Timothy 3:1-5)
The world today is getting worse and worse.
But it will be replaced by a better world.
Remember to pray, as Jesus said, for God's kingdom to come (Matthew 6:10).
Fruits of Fertilizer
CCOG's Radson Mulozowa of Malawi sent an email titled 'Fruits of Fertilizer.'
Greetings Dr BobI have sent these pictures for you to see the fruits of the fertilizer boughtWhat has remained is the coming of rainfall so that the cobs might grow well inBest regardsRadson
He sent three photos. Here is one: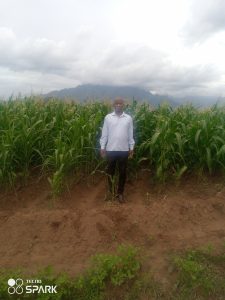 As you all may recall, we sent funds to Malawi to assist in the purchase of fertilizer so that the brethren could grow more food as fertilizer prices have risen quite a bit in the past year.
Suggested Sabbath Day Service
Here is a suggested Sabbath day service for our scattered brethren and other interested people:
Note: If you have a slow internet connection, you can watch these by starting the video, then below it (and towards the right) look for an outline of a gear–if you click on that, it will allow the YouTube video to be played with lower video quality, but at least it will not stop often–you can select a quality as low as 144p. If your internet connection is still too slow (as my home one is) and/or you prefer audio messages to audio-visuals ones, go to the YouTube link for the message, click on SHOW MORE related to the description. You will then see something that says, "Download MP3." Below that is a link to an MP3 file. Most computers (and even some cellular telephones) will allow MP3 files to be downloaded and played. This is an option we have made available (but we are also looking into ways to improve that as well)–and, of course, we have written article options. Some people have found that if their internet connections are not fast enough, that they can simply listen to the messages that are found at the Bible News Prophecy online radio channel.
IN CASE YOU DO NOT RECEIVE A 'LETTER TO THE BRETHREN' FOR ANY WEEK, REMEMBER THAT THERE ARE MANY SERMON MESSAGES ON THE ContinuingCOG channel AND MANY SERMONETTE MESSAGES ON THE Bible News Prophecy channel. There are also some messages at the CCOGAfrica channel. There are also messages in the Spanish language at the CDLIDDSermones channel.
World News Items
There were some large earthquakes that affected Turkey and Syria (see I365; As massive earthquake hits the Middle East, what does biblical tradition teach us about it?). It had been about a century since that area hit had a significant earthquake according to a radio report. The Associated Press reported today that over 19,300 people were killed! Jesus warned of "earthquakes in various places" (Matthew 24:7) as part of the "beginning of sorrows" (Matthew 24:8) and what has happened in Turkey and Syria certainly qualifies.
The USA-based group calling itself The Satanic Temple is supposed to open an abortion clinic next week where it intends to perform abortion as a "religious ritual" (see Satanic Temple opening an abortion clinic to murder babies in a 'religious ritual'). Speaking of abortion, singer Taylor Swift claims to be a "Christian" but "fully supports" abortion and basically thinks all "Christians" should push abortion access (https://redstate.com/jimthompson/2023/02/06/taylor-swifts-bizarre-take-on-abortion-is-yet-another-reason-i-cant-stand-her-n699539). But, of course, no real Christians pushes the pro-abortion mantra.
The Apostle Paul warned about the following in the last days about various ones who claim they are:
5 having a form of godliness but denying its power. And from such people turn away! 6 For of this sort are those who creep into households and make captives of gullible women loaded down with sins, led away by various lusts, 7 always learning and never able to come to the knowledge of the truth. … 13 … evil men and impostors will grow worse and worse, deceiving and being deceived. (2 Timothy 3:5-7,13)
We are seeing that more and more.
That said, left-leaning commentator Bill Maher warned that the cancel culture and other aspects of the woke agenda could be setting the USA up for a terrible deadly cultural disaster like what happened in China last century (see Bill Maher compares 'woke' mob to enforcers of Mao's Cultural Revolution). The USA and the world are setting themselves up for the rise of a terrible dictator, and it does not look like the USA, its British-descended allies. nor the other nations of the world will repent enough to stop that from happening (e.g. Hosea 11:5)–even though some secular sources can partially see what is happening. Bible believers know "famine of hearing the word of the LORD" is coming to the world per Amos 8:11-12, and there have been many steps taken in that direction in the past several years.
Concluding Comments
The Apostle Paul was inspired to write the following:
4:30 And do not grieve the Holy Spirit of God, by whom you were sealed for the day of redemption. 31 Let all bitterness, wrath, anger, clamor, and evil speaking be put away from you, with all malice. 32 And be kind to one another, tenderhearted, forgiving one another, even as God in Christ forgave you.

5 Therefore be imitators of God as dear children. 2 And walk in love, as Christ also has loved us and given Himself for us, an offering and a sacrifice to God for a sweet-smelling aroma. (Ephesians 4:30-5:2)
Brethren, Satan is bitter and does not have love.
Satan wants you to be like him, which is why he wants you to be bitter and speak evil against brethren.
Remember to be forgiving.
Be kind. Imitate God and really love others.
Sincerely,
Bob Thiel
Pastor and Overseer