Dear Brethren and Co-Workers in Christ:
Greetings from the Five Cities region of California.
Thought many of you would be interested to know that we have received a couple of inquiries from unaffiliated groups in Algeria and Zambia.
Unlike the groups I mentioned last week who went away after we pointed them to the draft book Hope of Salvation: How the Continuing Church of God differs from most Protestants, the groups in Algeria and Zambia still have expressed continuing interest. So, I have put them in contact with Evangelist Evans Ochieng and Deacon Radson Mulozowa respectively.
Fruits for a book we have not yet finalized seem to be being produced.
Speaking of books, Terry Nelson told me that he did receive a number of books we sent him to take to Africa. These are books that have not yet been printed in Africa as they are much longer than our earlier booklets. And since Terry Nelson is scheduled to visit congregations in three countries, the plan is for him to give three different books to leaders in many congregations.
He and his two sons are scheduled to fly to Kenya next week. Please have them in your prayers.
Feast of Tabernacles in North America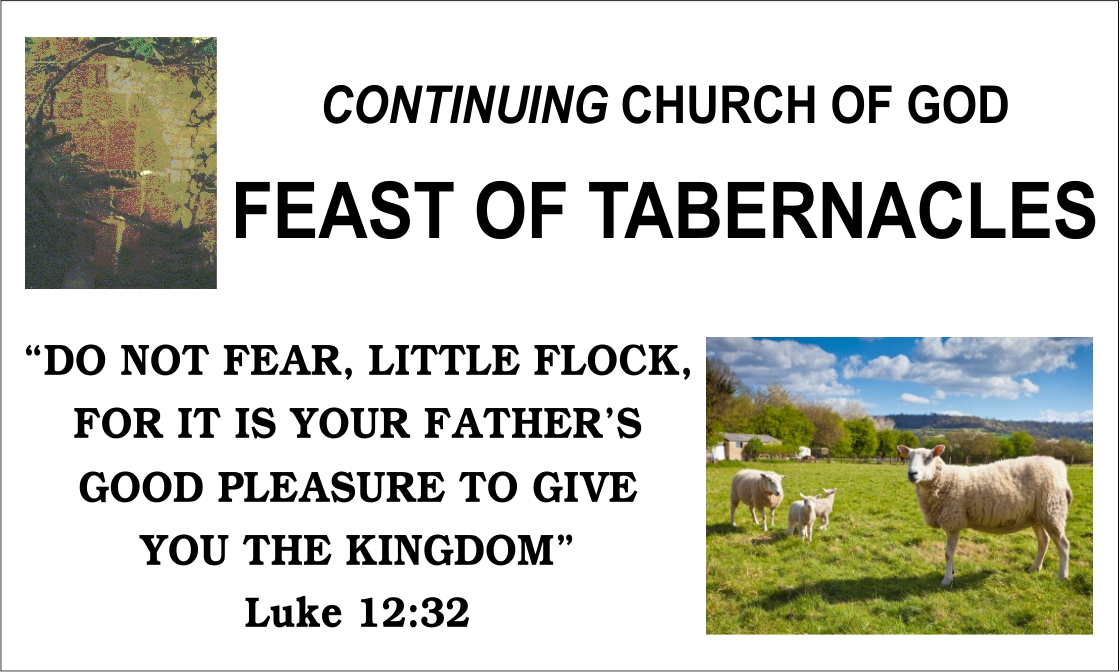 In 2020, Feast of Tabernacles' services are to begin the evening of October 2nd and continue until the Last Great Day which is October 10th.
We began to contact a few cities in the USA (San Antonio, Corpus Christi, and Fort Worth–all in Texas). We had hoped to announce a location today, but were unable to finalize an agreement, so we are awaiting more quotes tomorrow. We plan to announce the USA site here as well as probably first at the link Feast of Tabernacles' Sites for 2020 once we have an agreed location. If none of the cities we contacted work out, we will look at other cities, probably in Texas and Tennessee.
In Canada, it seems like New Brunswick will be the location in 2020 (it was in Montreal, Quebec in 2019), but the city has not been finalized.
Major Recording Study Change?
My wife Joyce was able to find some reddish-pink curtains on Ebay (no, CCOG did not pay for this) to replace the more crimson colored ripped ones we had for decades that are normally shown behind me when we make sermon and sermonette videos in our house. While I thought that perhaps some would comment about the change, we noticed that colors do not always come out clear on YouTube for the videos (for example, I was wearing green suit, green shirt, and green tie with spots that Joyce thought were black-gray as it appeared on a recent video when we played it).
That's fine, and I really was not looking for comments, but thought I would mention this small change. Actually, the new curtains seem to slightly help with certain curtain closing problems we have had while recording in the past.
And no, we do not really have a 'recording studio,' as we simply record the videos where we happen to be on any given Sabbath, which is normally here in the Five Cities region of California.
Speaking of the Five Cities, someone recently asked me what the five are. The "five cities" are Arroyo Grande, Oceano, Grover Beach, Pismo Beach, and Shell Beach (which is technically part of Pismo Beach). Currently some consider Avila Beach instead of Shell Beach (since it is legally part of Pismo Beach) as the fifth of the "five cities." However, the "original" Five Cities were called Arroyo Grande, Halcyon (which is next to Arroyo Grande, but not a city), Fair Oaks (renamed Oceano), and Grover City (renamed Grover Beach).
World News Items
Last Friday night, the United Kingdom formally left the European Union (see After Brexit, now what?). The UK wants to free itself of EU controls and various standards (see UK's Raab supports COGwriter prediction related to trade and EU standards). The UK will have ups and downs, before it is one day eliminated by the coming European King of the North Beast power (see Brexit could temporarily improve UK prosperity and harm the European Union). The suggested sermonette for this Sabbath discusses some of the ramifications of the UK's departure, watch: Brexit Happened: Now What?
In the Middle East, the Palestinian Authority was not pleased with Donald Trump's 'deal of the century' peace plan (see 'Palestinian Authority cuts ties with Israel and U.S.'). Furthermore, some Jews see it in conflict with scripture, 22 Arab nations rejected it, as did a Muslim nation organization and the European Union (see BIN: Why America Might Want to Prepare for Devastating Natural Disaster Following Trump's Peace Deal). Turkey's President said that the Trump Administration threatened him because of his opposition to their plan (see ZH: Trump Admin "Threatened Me" After Rejecting Peace Plan: Erdogan; COGwriter: The USA will not like what Turkey will end up doing). Despite all of that, a temporal peace will come to the Middle East (Daniel 9:26-27).
On Monday night, Democratic Congressman Adam Schiff warned that if Donald Trump was not impeached, he might give Alaska to the Russians (see Adam Schiff: An unimpeached Donald Trump could give Alaska to Russia). Yesterday, the US Senate voted to acquit Donald Trump of the impeachment charges. While Donald Trump is not about to give Alaska to Russia, because of various biblical prophecies, I suspect that the coming King of the North may give Alaska (and perhaps parts of Canada) to the Russians (cf. Daniel 11:39; see also Will the Anglo-Saxon-Celtic Nations be Divided and Have People Taken as Slaves?).
In the USA the presidential primaries kicked off with the caucuses in Iowa on Monday night. There was disarray on the Democratic side as certain new software did not work. That being said, Donald Trump gave his required State of the Union address on Tuesday in what seems to be the most partisan divide in my lifetime (see Donald Trump gives optimistic 'State of the Union' speech, then Nancy Pelosi rips her copy into pieces).
Jesus taught:
25 Every kingdom divided against itself is brought to desolation, and every city or house divided against itself will not stand. (Matthew 12:25)

17 Every kingdom divided against itself is brought to desolation, and a house divided against a house falls. (Luke 11:17)
The USA is more and more a house divided.
Suggested Sabbath Service
Here is a suggested Sabbath service for this week:
2-3 hymns (our songbook, The Bible Hymnal, contains the materials from the 1974 Bible Hymnal from the old WCG with new covers, plus ten additional hymns; there is also some Choral Accompaniment online).
Opening prayer.
Sermonette, which for most who receive this letter via email will be a recorded one. The one suggested for this week is: Brexit Happened: Now What? Other sermonettes are available at the Bible News Prophecy channel.
Announcements (if any; though for many it will be this letter) and one hymn.
Sermon, which for most who receive this letter via email will be a recorded one. The one suggested for this week is: Identifying the USA and its Destruction in Prophecy. Other sermons are also available at the ContinuingCOG channel.
Final hymn.
Closing prayer.
Note: If you have a slow internet connection, you can watch these by starting the video, then below it (and towards the right) look for an outline of a gear–if you click on that, it will allow the YouTube video to be played with lower video quality, but at least it will not stop often–you can select a quality as low as 144p. If your internet connection is still too slow (as my home one is) and/or you prefer audio messages to audio-visuals ones, go to the YouTube link for the message, click on SHOW MORE related to the description. You will then see something that says, "Download MP3." Below that is a link to an MP3 file. Most computers (and even some cellular telephones) will allow MP3 files to be downloaded and played. This is an option we have made available (but we are also looking into ways to improve that as well)–and, of course, we have written article options. Some people have found that if their internet connections are not fast enough, that they can simply listen to the messages that are found at the Bible News Prophecy online radio channel.
IN CASE YOU DO NOT RECEIVE A 'LETTER TO THE BRETHREN' FOR ANY WEEK, REMEMBER THAT THERE ARE MANY SERMON MESSAGES ON THE ContinuingCOG channel AND MANY SERMONETTE MESSAGES ON THE Bible News Prophecy channel. There are also some messages at the CCOGAfrica channel.
Concluding Comments
James wrote:
2 For we all stumble in many ways. If anyone does not stumble in what he says, this one is a perfect man, able indeed to bridle the whole body.

3 Now if we put bits into the mouths of the horses for them to obey us, we turn about even their whole body. 4 Behold also the ships, being so great and being driven by strong winds, are turned about by a very small rudder wherever the impulse of the one steering resolves.

5 Thus also the tongue is a small member, and boasts exceeding things. Behold a small fire, how great a forest it kindles. 6 The tongue also is a fire, the world of unrighteousness. The tongue is set among our members, defiling all the body, and setting on fire the course of nature, and itself being set on fire by Gehenna.

7 For every species both of beasts and of birds, both of creeping things and things of the sea, is subdued and has been subdued by the human race, 8 but no one of men is able to subdue the tongue; it is an unruly evil, full of deadly poison.

9 With it we bless our Lord and Father, and with it we curse men, those being made according to the likeness of God. 10 Out of the same mouth proceed forth blessing and cursing. My brothers, these things ought not to be so. 11 Does the spring pour forth out of the same opening both fresh and bitter? 12 Is a fig tree able, my brothers, to produce olives? Or a vine, figs? Neither is a salt spring able to produce fresh water.

13 Who is wise and understanding among you; let him show his works out of the good conduct, in the humility of wisdom. (James 3:2-14, Berean Literal Bible)
Brethren, words matter.
Be careful about what you say.
Perhaps I should mention that I did NOT quote James 3:2-14 because of any recent (or past) specific problem we have encountered.
In general, I pray before selecting the scripture(s) to close with, and this is where I felt led to quote and comment on.
Sincerely,
Bob Thiel
Pastor and Overseer