Dear Brethren and Co-Workers in Christ:
Greetings from Grover Beach, California.
As always, we are working on many aspects of Matthew 24:14, 28:19-20, and Romans 11:25.
Live Question and Answer Session
We tried something new when we held a type of live Bible study online on Tuesday. We would like to thank all of you who tried to tune in for your support.
However, as I warned about the possibility last week, we did run into technical difficulties. While we had tested this first, we were not aware that going for the length that we did would pose a problem for the transmission and YouTube's ability based on actual upload speeds. So, YouTube did not properly save the broadcast, nor did it properly transmit it.
So, much of what was covered was not adequately heard.
Anyway, I decided to make my next planned sermon one where I will answer questions, and that will attempt to include questions that were asked for the live Q&A session.
Sometime in the future, we plan to make some technical changes, test again, and again consider a live session.
Haiti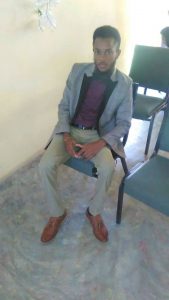 Moise Nicholas
Herb Haddon sent me the following email Monday:
Dr. Thiel

Thanks for the info. …

In a recent conversation with Moise, he informed us that your parcel as well as the package from Terry and Sharon, were stolen from a postal delivery vehicle which was hijacked in Haiti during the the rioting.  He did tell us that the envelope that we sent with the anointing cloths was received. He had to contact various post offices within Port-au-Prince to get it.  He has made arrangements with the postal services there so that he will be able to pick up any mail personally.  However, in order for him to receive the mail it has to be sent using the Post office by: International Parcel Air/Surface delivery.  This service is a little more expensive but is more reliable. This service allows us to track the mail/parcels. Hopefully this will resolve the problem.

On a different note we contacted Air Canada to see when they will resume flights to Haiti and it will not be until November (subject to revision). The advisory is still in effect by the Government of Canada. We truly hope and pray that this situation in Haiti be resolved soon.
And while we had hoped that the Haddons would be able to go to Haiti sooner, I am glad that they are still willing to go when they can. They have various supplies that they hope to bring with them to directly supply the people of Haiti. I hope that they will be able to go in December or January (November would be fine, but since Air Canada has delayed its flight resumptions before, they may again).
As far as what we sent to Haiti, the situation changed. Gisèle Haddon sent me an email late yesterday:
Good evening Dr. Thiel,

I have received an email from Moïse and it seems that the postal service in Haïti has found your parcel and Terry Lafrance's also.  So this is resolved.

Today we sent him 10 Lifestraws which he should receive in 2 to 3 weeks.

Gisèle
That is great news! We have been trying for many months to get help to Haiti so at least they could have access to safer water. So, finally this has happened.
Terror Within
The Bible warns:
25 … There shall be terror within (Deuteronomy 32:25)
There is terror within the USA.
We saw a racist murder in El Paso (see At least 20 were killed because of the shooting at a Walmart in El Paso, Texas and Chaos in Hong Kong) and a Satanist murder in Ohio (see House divided: El Paso shooter a racist, Dayton shooter a Satanist), plus there are murders in many US cities.
Notice also:
August 7, 2019

Those angry loner white boys with guns, this time in El Paso, Texas, and Dayton, Ohio, have again erupted on the body politic.

And those with eyes to see are reminded that the American culture is ill.

You might think these are "mass shootings" too, but, in political/media terms, they're not treated as such. The victims, and in all likelihood the shooters, are black. …
There is a lot of violence in the USA (and there have been more incidents that those listed above).
The shootings (and abortions) bring the following scriptures to mind:
3 For your hands are defiled with blood, And your fingers with iniquity; Your lips have spoken lies, Your tongue has muttered perversity. 4 No one calls for justice, Nor does any plead for truth. They trust in empty words and speak lies; They conceive evil and bring forth iniquity. 5 They hatch vipers' eggs and weave the spider's web; He who eats of their eggs dies, And from that which is crushed a viper breaks out. 6 Their webs will not become garments, Nor will they cover themselves with their works; Their works are works of iniquity, And the act of violence is in their hands. 7 Their feet run to evil, And they make haste to shed innocent blood; Their thoughts are thoughts of iniquity; Wasting and destruction are in their paths. 8 The way of peace they have not known, And there is no justice in their ways; They have made themselves crooked paths; Whoever takes that way shall not know peace. (Isaiah 59:3-8)
The murderous violence we have been seeing does show problems with the state of the USA.
Notice the following prophecy:
14 'But if you do not obey Me, and do not observe all these commandments, 15 and if you despise My statutes, or if your soul abhors My judgments, so that you do not perform all My commandments, but break My covenant, 16 I also will do this to you: I will even appoint terror over you, … and you shall flee when no one pursues you. (Leviticus 26:14-17)
Consider that with the following:
August 7, 2019

Panic ensued Tuesday night in Times Square after a backfiring motorcycle was mistaken for a possible mass shooting, according to CBS News, which reported that the bike was traveling with a large group of motorcycles at the time.

..in the wake of the recent mass shootings in El Paso, Texas and Dayton, Ohio, chaos ensued as people raced to escape what they thought could be an active shooter carrying out another attack. Some witnesses called it a stampede.

CBS New York said people were literally running out of their shoes, dropping their bags, jumping over counters, even trampling those who couldn't keep up. Lots of children were crying. –CBS News

"There were shoes everywhere," one man told CBS New York, while a woman said she was "praying this wasn't the end." https://www.zerohedge.com/news/2019-08-07/edge-chaos-ensues-times-square-after-crowd-mistakes-backfiring-motorcycle-mass

WATCH: Chaos ensues in Times Square after crowd mistakes backfiring motorcycle for mass shooter Tuesday night https://cbsn.ws/2GRYAE4 

597 people are talking about this
People are panicking as terror is affecting more people. Biblical prophecies are being confirmed. More terror is coming.
One indirectly-related concern about the recent mass murders is that this will lead to more governmental surveillance and interference. Even prior to some of these shootings it was leaked that the US Federal Bureau of Investigation wants to look into what government officials consider to be 'conspiracy theories" of "domestic extremists" (see NBC: FBI field office warns of 'conspiracy theory-driven domestic extremists').
Consider that believing in the hope of the return of Jesus and the millennial portion of the Kingdom of God, has been called an extremist view. Consider that believing that the world will be deceived into accepting an ecumenical/interfaith religion is specifically called a conspiracy theory. Consider that accepting biblical standards of sexual morality is called extremist and believing that the LGBTQ agenda will not end well (cf. Romans 1:18-32) is thought of as a conspiracy theory.
A 'famine of the word' is coming (Amos 8:11-12). How governments react to what they consider to be extremists who hold to conspiracy theories will ultimately lead to it.
World News Items
Physical violence was not the only topic in the news. The USA imposed what was called "a full economic embargo" against Venezuela as well as tariff's on more Chinese goods (see Donald Trump intensifies trade war with Venezuela and China).
The UK and the EU are not seeing eye-to-eye on Brexit. The UK is currently trying to negotiate a major trade deal with the USA, while some see that the EU will be negatively impacted by Brexit (see UK working on trade deal with USA, Brexit will harm the European Union). Both the UK and Europe will be hit economically by Brexit, though to at least some degree, both will (for a time and in different ways) recover.
Did you hear that July of 2019 has been proclaimed the hottest month ever recorded (see Copernicus: July 2019 hottest month on record; COGwriter: It will get much worse)? Although many wish to change the trend without repentance, the Bible shows that even worse heat will strike the earth (Revelation 16:8-9) before Jesus returns.
Prior to His return, the Beast of Revelation 13 will arise, who looks to be a Germanic leader (cf. Isaiah 10:12). Over in Germany, a poll that came out this week showed that its anti-immigrant Alternative für Deutschland party looks to be the most popular political party in some regions (see Poll shows Germany's Alternative for Germany (AfD) party taking the lead: Germany will change!). That party is now more popular in parts of Germany than Adolf Hitler's party was back in 1930. Germany will change, and not all the changes will be good.
Suggested Sabbath Service
Here is a suggested Sabbath service for this week for our scattered brethren:
2-3 hymns (our songbook, The Bible Hymnal, contains the materials from the 1974 Bible Hymnal from the old WCG with new covers, plus ten additional hymns; there is also some Choral Accompaniment online).
Opening prayer.
Sermonette, which for most who receive this letter via email will be a recorded one. Here is the recommended sermonette for the week: The Plain Truth About Exercise. Other sermonettes are also available at the BibleNewsProphecy channel.
Announcements (if any; though for many it will be this letter) and one hymn.
Sermon, which for most who receive this letter via email will be a recorded one. The one suggested for this week is: 'By the Mouth of All His Holy Prophets'. Other sermons are also available at the ContinuingCOG channel.
Final hymn.
Closing prayer.
Note: If you have a slow internet connection, you can watch these by starting the video, then below it (and towards the right) look for an outline of a gear–if you click on that, it will allow the YouTube video to be played with lower video quality, but at least it will not stop often–you can select a quality as low as 144p. If your internet connection is still too slow and/or you prefer audio messages to audio-visuals ones, go to the YouTube link for the message, click on SHOW MORE related to the description. You will then see something that says, "Download MP3." Below that is a link to an MP3 file. Most computers (and even some cellular telephones) will allow MP3 files to be downloaded and played. This is an option we have made available (but we are also looking into ways to improve that as well)–and, of course, we have written article options. Some people have found that if their internet connections are not fast enough, that they can simply listen to the messages that are found at the Bible News Prophecy online radio channel.
IN CASE YOU DO NOT RECEIVE A 'LETTER TO THE BRETHREN' FOR ANY WEEK, REMEMBER THAT THERE ARE MANY SERMON MESSAGES ON THE ContinuingCOGchannel AND MANY SERMONETTE MESSAGES ON THE Bible News Prophecy channel. There are also some messages at the CCOGAfrica channel.
Concluding Comments
James wrote:
12 Can a fig tree, my brethren, bear olives, or a grapevine bear figs? Thus no spring yields both salt water and fresh. 13 Who is wise and understanding among you? Let him show by good conduct that his works are done in the meekness of wisdom. 14 But if you have bitter envy and self-seeking in your hearts, do not boast and lie against the truth. 15 This wisdom does not descend from above, but is earthly, sensual, demonic. 16 For where envy and self-seeking exist, confusion and every evil thing are there. 17 But the wisdom that is from above is first pure, then peaceable, gentle, willing to yield, full of mercy and good fruits, without partiality and without hypocrisy. 18 Now the fruit of righteousness is sown in peace by those who make peace. (James 3:12-18)

Brethren, do not fall for vain human wisdom. Be properly peaceable, gentle, full of mercy, and good fruits.
Sincerely,
Bob Thiel
Pastor and Overseer