Dear Brethren and Co-Workers in Christ:
Greetings again from the Five Cities region of California.
Last Sabbath, we recorded the final part of our nine-part sermon series on the Book of Acts.
This makes the sixth book of the New Testament that we have covered every verse of on a book-by-book basis since the incorporation of the Continuing Church of God less than six years ago.
While many people outside the CCOG claim that they want to "hear more Bible" in sermons, when it comes down to it, we have found based on YouTube statistics, etc., that many prefer to watch more 'entertaining' topics. However, we do not put sermons out to cater to whims, but to preach the word. Notice what the Apostle Paul told Timothy:
2 Preach the word of God. Be prepared, whether the time is favorable or not. Patiently correct, rebuke, and encourage your people with good teaching.
 (2 Timothy 4:2, New Living Translation)
That is what we have been striving to do and plan to continue to do. Including even when we are not doing sermons going through every verse of some particular book of the Bible.
Anyway, we trust that most of you have been watching the Book of Acts sermons and the final one for this series is recommended for this upcoming Sabbath. And, of course, you can go back and watch parts over again, or for the first time  if you missed any.
Feast of Trumpets and Alexandria Museum of the Bible Activity
The Holy Day season is just about upon us, starting with the Feast of Trumpets beginning after sunset September 9th. So if need to, you should arrange to be off work and/or school from sunset September 9th to sunset September 10th.
As mentioned before, we have planned a group activity after services on September 28, 2018 during the Feast of Tabernacles. And that is to go to the relatively new place called the Museum of the Bible.
While we were told it was free to attend, they ask for a 'donation' of $19.95 each for adults and $9.95 for younger children. As it turns out, they have a group discount if enough want to attend.
That is $12 for people 12 and older (adult) and $7 for those 5-11 years of age (child).
If you want to go to at the reduced rate, you need to send me an email with the number of adult and child tickets you want as we must pay weeks in advance in order to get the discount. If you want the discount, you need to email me by the end of August 2018. So, by tomorrow if interested and if you have not done so already. My email address remains cogwriter@aol.com
Tabasco, Mexico
Last week, I mentioned that a group contacted us from Mexico.
The leader there, Ishmael Jimenez, sent the following picture from the group: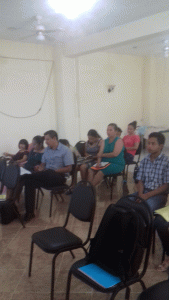 They are in Tabasco, Mexico which is basically in southern Mexico on the Gulf side. As I mentioned last week, we sent them magazines in the Spanish language. Carlos Leal from the USA and Elder Sasha Veljic from Serbia have been speaking with them. Sasha and I are now trying to learn more about them as well as determine legal requirements for churches in Mexico.
World News Items
More and more voices are calling for a new financial system to replace the USA dominated one (see SWIFT end of the USA by 2025 as EU, Russia, China, and Iran take steps?). Some of this is consistent with the recommended sermonette for this week: Is Donald Trump pushing Europe to Russia?
We are also continuing to see actions and calls for Europe to develop its own military independent of the USA (see France's Macron says Europe must develop its military as it should not rely on the USA and Germany creates DARPA-like cybersecurity agency).
Many nations are working to replace the current Anglo-American dominated world order. This will result in the rise of the Beast in Revelation 13 & 17. There have been more anti-migrant protests in Germany (see More protests in Germany against Islamic immigrants). Anti-Islamic migrant sentiment will be a factor in the rise of the Beast.
On other matters, the Vatican pedophile and related sex scandals have been in the news. At least one prominent Roman Catholic called on Pope Francis to resign (see 'Former Vatican official calls for Pope's resignation amid sex abuse scandal'). The Pope has issued apologies, but has not resigned (see Francis says no comment on resignation letter; 'By secular standards, the Catholic Church is a corrupt organization' and Pope speaks & CGBS attendee published about sex scandals).
Despite the bad publicity for the Church of Rome, at some point in time, it will temporarily reconcile with the coming Beast. But eventually, supporters of the Beast will turn against the Church of the City of Seven Hills (Revelation 17:15-18).
Suggested Sabbath Service
Here is a suggested Sabbath service for this week:
Note: If you have a slow internet connection, you can watch these by starting the video, then below it (and towards the right) look for an outline of a gear–if you click on that, it will allow the YouTube video to be played with lower video quality, but at least it will not stop often–you can select a quality as low as 144p. If your internet connection is still too slow (as my home one is) and/or you prefer audio messages to audio-visuals ones, go to the YouTube link for the message, click on SHOW MORE related to the description. You will then see something that says, "Download MP3." Below that is a link to an MP3 file. Most computers (and even some cellular telephones) will allow MP3 files to be downloaded and played. This is an option we have made available (but we are also looking into ways to improve that as well)–and, of course, we have written article options. Some people have found that if their internet connections are not fast enough, that they can simply listen to the messages that are found at the Bible News Prophecy online radio channel.
IN CASE YOU DO NOT RECEIVE A 'LETTER TO THE BRETHREN' FOR ANY WEEK, REMEMBER THAT THERE ARE MANY SERMON MESSAGES ON THE ContinuingCOGchannel AND MANY SERMONETTE MESSAGES ON THE Bible News Prophecy channel. There are also some messages at the CCOGAfrica channel.
Concluding Comments
At the beginning of this letter, I cited 2 Timothy 4:2. Now let's look at it and the following verses in another translation:
2 Preach the word! Be ready in season and out of season. Convince, rebuke, exhort, with all longsuffering and teaching. 3 For the time will come when they will not endure sound doctrine, but according to their own desires, because they have itching ears, they will heap up for themselves teachers; 4 and they will turn their ears away from the truth, and be turned aside to fables. (2 Timothy 4:2-4, NKJV)
Brethren, you are part of a Church of God that actually preaches the word. Do not be like those with itching ears who prefer fables or entertainment to the word of God.
Sincerely,
Bob Thiel
Pastor and Overseer