Dear Brethren and Co-Workers in Christ:
Greetings again from the Five Cities region of California.
Spent a lot of time getting flights arranged for October and working on the Kiswahili songbook.
Serbia
My wife Joyce and I are excited to announce that for the first time, we plan to visit the group in Serbia who is now part of the Continuing Church of God.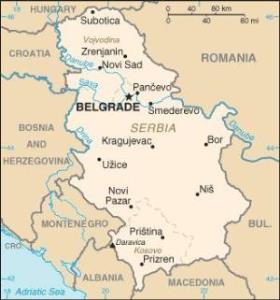 Serbia, itself, is in the middle of the Balkan peninsula.
This trip will be a bit tricky for us, but we plan to hold Sabbath services in our hotel (we have not yet booked a room) on October 8, 2016.  We look forward to meeting our Serbian brethren personally.
Feast of Tabernacles
The Feast of Tabernacles will be here very soon. Services are to begin the evening of October 16th and continue until the Last Great Day which is October 24, 2016.
This week, my wife and I made our plane arrangements to go to two sites: one in Gouda, Netherlands and then to Aurora, Illinois. One of the reasons we choose Aurora this year was because Chicago, which is not too far away, is the only airport in the US Midwest that you can fly to directly from Amsterdam.  Arranging this trip was fairly complicated, especially as we are not going to have our son David with us going to Serbia, but we are to meet him (along with his caregiver) in Amsterdam, where we plan to be for the Day of Atonement.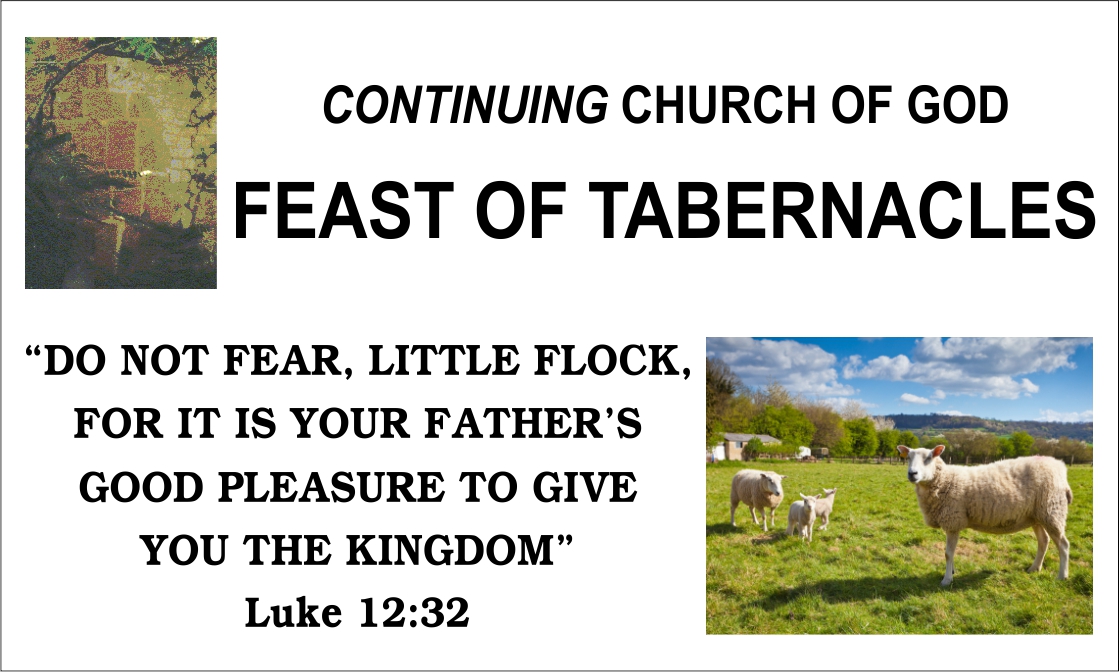 As a reminder, those of you who are planning to go to the sites in either Aurora, Illinois, USA or New Brunswick, Canada, who have not let me or Herb Haddon know (his email address ishwhaddon@gmail.com), should let us know now, so we can plan better. Please respond as soon as you can.
My email address remains cogwriter@aol.com
The Bible Hymnal in Kiswahili
It has taken a lot longer than we originally hoped, but finally we were able to approve a proof ofThe Bible Hymnal in the language of Kiswahili today. We asked CreateSpace (an Amazon company) to send four dozen copies of them to Kenya to start. We hope that some will be able to have them prior to the Feast of Tabernacles this year.
We later expect to send some to Tanzania and probably elsewhere.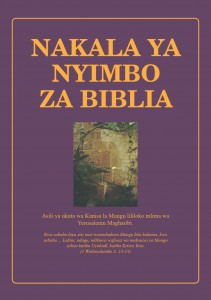 We would like to thank Aaron Dean, Mark Graham, and others at the United Church of God for their cooperation in providing us their translated music files. We would also like to thank Ondigo Ochieng of the Continuing Church of God for his translation assistance for the covers and aContinuing Church of God introduction.
As far as Kiswahili goes, it is the language of the Swahili people. But many just call the language Swahili. There are 75-115 million native speakers and about 50-90 million who use it as a second language.  So, between 65 – 165 million people speak it. Kiswahili is native to Tanzania, Democratic Republic of the Congo, Kenya, Mozambique (mostly Mwani), Burundi, Rwanda, Somalia, Uganda, Comoros, Mayotte and the margins of Zambia, Malawi, Madagascar, and South Sudan. Kiswahili has been considered the 'lingua franca' in many parts of Africa, meaning that it is a language that many know, even though it is not their native language.
It is great that this songbook is now available. If you would like to see it, here is a link Nakala ya Nyimbo za Biblia.
On other songbook matters, John Owak is working on translating the full English version of The Bible Hymnal int0 the language of Dholuo. While it is not likely to be completed prior to the Feast of Tabernacles, we hope to have it available some time next year. Although a lot less people speak Dholuo than Kiswahili, most people in the Continuing Church of God speak Dholuo than Kiswahili.  But because we were able to get the songs already translated into Kiswahili, we were able to produce the Kiswahili songbook first.
We are also were able to make progress on putting together a type of songbook for Malawi and Mozambique in Chichewa. It is not as well laid out, nor as complete, as the English or Kiswahili versions, but it represents our first step to get those in Mozambique and Malawi something in Chichewa. I also plan to send one or more English and Kiswahili songbooks to Malawi when the Chichewa version is partially available to see if that will assist in getting a more complete and useful version in Chichewa. We hope to have more African languages someday.
We also are looking at one or more European languages to produce songbooks in as well. Maybe someday, we will have Asian ones too.
Radio
Got a somewhat 'last minute' radio interview by Larry Whitler on AM Ocala Live. WOCA 1370 am and 96.3 fm out of Ocala, Florida.  I was on today at 10:35 am EDT/7:35 am PDT. We touched on end time prophecies, but spent a lot of time discussing the fact that since God is love, all wise, and all powerful, that He has a plan that will offer salvation to all. It was probably the best radio interview I had this year.
World News Items
There was a deadly earthquake in a town in central Italy yesterday around 3:36 am (local time), as well as a larger earthquake in Myanmar (see Scores dead after earthquake in Italy; plus a larger quake in Myanmar). "The town isn't here anymore," said Sergio Pirozzi, the mayor of Amatrice, Italy. Consider that people went to bed feeling everything was fine, but before they would have normally woken up, their town was devastated.  Many believe that things will continue as they have been, but that is not true (cf. 2 Peter 3:1-13). Various ones in Italy have now seen how quickly circumstances can change.
Elsewhere is Europe, Germany would like to ban some aspects of Islamic burqas, related to covering faces (see Germany proposing a type of burqa ban). Others in Europe have done that.  But oddly, some coastal areas of France have banned what are called burkinis, which is sort of like a one piece bathing suit over leotards (also see Germany proposing a type of burqa ban), that does not cover the face. While I can understand why some want to ban burqas, telling women that they have to wear less when they go to the beach is wrong and will unnecessarily incense more Islamic terrorists.
On other matters, some are concerned that Germany may be taking steps related to World War III (see World War 3: Merkel wants conscription back as fears grow of war'). At this moment, most of the public moves that Germany has been looking into are primarily defensive (like the civil defense issues they met about yesterday; see also Europeans 'prepping' for terror and war; Estonia wants Germany to defend it), though building up their military is something various leaders in Germany are working towards (see, for example, German Defense Minister states that Germany is now ready to lead Europe militarily). Germany will be a leading figure in what could be called World War III (Daniel 11:39).
Over in Turkey, a boy, reportedly between 12-14 years of age, killed dozens supposedly in the name of his false religion (cf. Boy in Turkey murders dozens supposedly for the so-called Islamic State). And while he killed Kurdish Muslims, do not think that true Christians will not be affected in the future by deranged religious zealots.  Notice something that Jesus warned about:
2 … yes, the time is coming that whoever kills you will think that he offers God service.  3 And these things they will do to you because they have not known the Father nor Me.  4 But these things I have told you, that when the time comes, you may remember that I told you of them. (John 16:2-4)
We are getting closer to that time (see also Persecutions by Church and State).
Over in the USA, there has been some resistance to the transgender agenda. Both a federal judge and a scientific report are seemingly opposed to it (see Science, the law, and the transgender agenda). But those pushing for such an agenda do not care and are still working on promoting it–that will not end well for the USA (cf. Romans 1:18-32).
Suggested Sabbath Service
Here is a suggested Sabbath service for this week:
Note: If you have a slow internet connection, you can watch these by starting the video, then below it (and towards the right) look for an outline of a gear–if you click on that, it will allow the YouTube video to be played with lower video quality, but at least it will not stop often–you can select a quality as low as 144p. If your internet connection is still too slow (as my home one is) and/or you prefer audio messages to audio-visuals ones, go to the YouTube link for the message, click on SHOW MORE related to the description. You will then see something that says, "Download MP3." Below that is a link to an MP3 file. Most computers (and even some cellular telephones) will allow MP3 files to be downloaded and played. This is an option we have made available (but we are also looking into ways to improve that as well)–and, of course, we have written article options. Some people have found that if their internet connections are not fast enough, that they can simply listen to the messages that are found at the new Bible News Prophecy online radio channel.
IN CASE YOU DO NOT RECEIVE A 'LETTER TO THE BRETHREN' FOR ANY WEEK, REMEMBER THAT THERE ARE MANY SERMON MESSAGES ON THE ContinuingCOGchannel AND MANY SERMONETTE MESSAGES ON THE Bible News Prophecy channel.
Concluding Comments
Notice something that the prophet Daniel was told:
4 "But you, Daniel, shut up the words, and seal the book until the time of the end; many shall run to and fro, and knowledge shall increase." (Daniel 12:4)
Between travel via aircraft and the available knowledge explosion because of technology like the internet, this prophecy of travel and knowledge is being fulfilled. Bible prophecy is coming to pass, so make sure that you really believe the warnings and promises that are promised in the Bible.
Sincerely,
Bob Thiel
Pastor and Overseer