Dear Brethren and Co-Workers in Christ:
Greetings again from Grover Beach, California.
We made progress on literature, member issues, and international matters.
We also worked on more routine issues, like accounting and festival preparation.
One literature item to mention is that although I have pointed to it in sermon and sermonettes, we still are not ready to print the book Proof Jesus is the Messiah. But we have made major progress on it and hope to get it out for final editing soon.
We also expect to send the English language version of our latest booklets (Dating: A Key to Success in Marriage, a practical dating guide for Christians, Is God's Existence Logical?, Is God Calling You?, and Christians: Ambassadors for the Kingdom of God, Biblical instructions on living as a Christian) to our supporters next month as we ordered them from the printer.
Literature to Mexico
A couple of months ago, a leader of a group of about 30 people with a Worldwide Church of God background in Mexico contacted me.
We have maintained a little contact since then. In the past week or so, however, we had more contact with them and have also had two of our people (not me as I am not fluent in Spanish) speak with them.
They have expressed interest in being part of the Continuing Church of God.
On Tuesday, we mailed them many Bible News Prophecy magazines in the Spanish language (current and past issues).
At some point in time, hopefully we will be able to visit them.
Feast in Alexandria
We got another reminder email from Marriott in Alexandria, Virginia that the rates they have been holding will be expiring.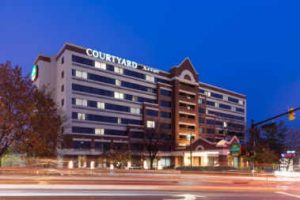 Marriott Courtyard Alexandria Old Town/Southwest
The Marriott Courtyard Alexandria Old Town/Southwest gave us a special rate that is only given for a short period of time. If you do not book soon, it will cost about 60% MORE if you wish to stay there! This is expected to be the last time we will remind people of that in the weekly Letter.
Now, the CCOG does NOT get any money for you booking through the following link: Book your group rate for CCOG Feast of Tabernacles. But if you do that, you will save money.
So, this is just a reminder to help you save money.
Also, last week I mentioned that there is a discount for going to the Museum of the Bible if enough people tell me in advance that they wish to go after services on September 28th. If we do not hear from more people soon, my family and I still plan to go, but we will not be able to book get the group discount.
While we were originally told it was free to attend, they ask for a 'donation' of $19.95 each for adults and $9.95 for younger children. As it turns out, they have a group discount if enough want to attend. That is $12 for people 12 and older (adult) and $7 for those 5-11 years of age (child). If you want to go to at the reduced rate, you need to send me an email with the number of adult and child tickets you want as we must pay weeks in advance in order to get the discount. If you want the discount, you need to email me by the end of August 2018. My email address remains cogwriter@aol.com
World News Items
There reportedly have been at least 70 major earthquakes in the past several days (see 69 Major Earthquakes Hit Pacific 'Ring of Fire'). There was also one large (7.3) one in Venezuela, which is NOT part of the Pacific Ring of Fire. Jesus warned of earthquakes in different places (Mark 13:8) and we are seeing that, and perhaps also seeing an acceleration of quakes. More large quakes are coming (Luke 21:11), and one more massive than scientists tend to think is possible will also come one day (Revelation 16:18-20).
Censorship by major internet companies remains in the news (see Facebook algorithms and other censorship: Acceptance of a 'police state'?). The Bible prophesies a coming famine of the word of God (Amos 8:10-11). For years, and this is before internet companies were accused of the type of censorship that they are now involved with, I warned that internet censorship would be a way that Amos 8:10-11 will be fulfilled. That is looking more and more certain.
US trade policies and Chinese ambitions have been in the news (see China's Belt and Road Initiative, Iran, and Armageddon). Since China is NOT prophesied to be the dominant power after the USA/UK (Europe is), expect China to be negatively impacted directly and indirectly by this.
The US has also threatened Turkey with more sanctions (see US threatening more sanctions against Turkey: Could this lead to the rise of the Beast and the end of the USA dollar?).
Germany's Foreign Minister now wants a way around US payment systems (see 'Germany Calls For Global Payment System Independent Of The US').
The US is offending more nations and this will not end well for the US (Daniel 11:39) or its Anglo-Saxon descended allies (Daniel 8:24-25; Isaiah 17:3a).
Suggested Sabbath Service
Here is a suggested Sabbath service for this week:
2-3 hymns (our songbook, The Bible Hymnal, contains the materials from the 1974 Bible Hymnal from the old WCG with new covers, plus ten additional hymns; there is also some Choral Accompaniment online).
Opening prayer.
Sermonette, which for most who receive this letter via email will be a recorded one. The one suggested for this week is: Andy Stanley opposes prophesies of Jesus? Other sermonettes are available at the Bible News Prophecy channel.
Announcements (if any; though for many it will be this letter) and one hymn.
Sermon, which for most who receive this letter via email will be a recorded one. The one suggested for this week is: Acts 23-25: Vows, Secrets, Cults, & Criticisms. Other sermons are also available at the ContinuingCOG channel.
Final hymn.
Closing prayer.
Note: If you have a slow internet connection, you can watch these by starting the video, then below it (and towards the right) look for an outline of a gear–if you click on that, it will allow the YouTube video to be played with lower video quality, but at least it will not stop often–you can select a quality as low as 144p. If your internet connection is still too slow (as my home one is) and/or you prefer audio messages to audio-visuals ones, go to the YouTube link for the message, click on SHOW MORE related to the description. You will then see something that says, "Download MP3." Below that is a link to an MP3 file. Most computers (and even some cellular telephones) will allow MP3 files to be downloaded and played. This is an option we have made available (but we are also looking into ways to improve that as well)–and, of course, we have written article options. Some people have found that if their internet connections are not fast enough, that they can simply listen to the messages that are found at the Bible News Prophecy online radio channel.
IN CASE YOU DO NOT RECEIVE A 'LETTER TO THE BRETHREN' FOR ANY WEEK, REMEMBER THAT THERE ARE MANY SERMON MESSAGES ON THE ContinuingCOGchannel AND MANY SERMONETTE MESSAGES ON THE Bible News Prophecy channel. There are also some messages at the CCOGAfrica channel.
Concluding Comments
Many have written to me and gone over various tests and trials that they are facing.
The New Testament teaches:
3 For consider Him who endured such hostility from sinners against Himself, lest you become weary and discouraged in your souls. 4 You have not yet resisted to bloodshed, striving against sin. 5 And you have forgotten the exhortation which speaks to you as to sons:

"My son, do not despise the chastening of the Lord,
Nor be discouraged when you are rebuked by Him;
6 For whom the Lord loves He chastens,
And scourges every son whom He receives."

7 If you endure chastening, God deals with you as with sons; for what son is there whom a father does not chasten? 8 But if you are without chastening, of which all have become partakers, then you are illegitimate and not sons. 9 Furthermore, we have had human fathers who corrected us, and we paid them respect. Shall we not much more readily be in subjection to the Father of spirits and live? 10 For they indeed for a few days chastened us as seemed best to them, but He for our profit, that we may be partakers of His holiness. 11 Now no chastening seems to be joyful for the present, but painful; nevertheless, afterward it yields the peaceable fruit of righteousness to those who have been trained by it. (Hebrews 12:3-11)

18 For I consider that the sufferings of this present time are not worthy to be compared with the glory which shall be revealed in us. 19 For the earnest expectation of the creation eagerly waits for the revealing of the sons of God. 20 For the creation was subjected to futility, not willingly, but because of Him who subjected it in hope; 21 because the creation itself also will be delivered from the bondage of corruption into the glorious liberty of the children of God. 22 For we know that the whole creation groans and labors with birth pangs together until now. (Romans 8:18-22)
So, yes, tests and trials are part of this life for Christians. But this will also lead to "the peaceable fruit of righteousness" for us to enter "into the glorious liberty of the children of God" if we are willing to be trained by it.
Sincerely,
Bob Thiel
Pastor and Overseer