Dear Brethren and Co-Workers in Christ:
Greetings from Grover Beach, California.
As most of you have heard, there was a devastating earthquake in Haiti (see Haiti hit with massive earthquake: at least hundreds of lives lost, many homes destroyed).
CBS reported today that over 2000 people lost their lives because of the quake. Thus far, we have not learned of any loss of life among the brethren (but we heard reports that two of our brethren there had bones broken from falling building materials). We have provided financial assistance to Haiti and await more information from the brethren there in order to determine what we will do next. Please remember Haiti in your prayers.
Three Reports
In last week's letter (see Letter to the Brethren: August 12, 2021), we went over COVID matters with the upcoming Feast of Tabernacles. This morning I saw three reports from three different nations.
Here is one from our deacon in Ethiopia:
Hello Dr.Bob, we received now a 3rd quarter of BNP this morning.

We always give thanks to our GOD Almighty for his protection to his people around the globe.

We are waiting for the blessing coming feasts to be celebrate without hindered of this pandemic disease covid_19, which now disturbing people on earth.

Again, People of gambella got feared for the rebels coming up around gambella.

And we believe that, our God's protection still on us.

Thanks,

Koang.
Here is one from of our pastors in Kenya, Tiongik Sawek:
Receive greetings in Jesus christ. We are doing well here in Rift valley Kenya. Last month I was in various locals churches preaching the gospel, i had invited Elder Cheruiyot from the North rift region where we interacted and discussed the upcoming feast of tabernacles. We therefore go ahead and plan the visits in Narok County, Maasai Land where we have received lots of invitations though we had not accomplished due to Covid-19. So we decided to visit these areas once the feast of tabernacles is over. We are also requesting that you plan for us these visits. We picked four sites including Kilgoris, Langatasoen, Angata Barikoi and Ewaso nyiro. As quoted in the bible Mark 16:16, John 6:44 and Romans 10:13-17 where the bible talks about spreading the gospel to different regions.

We therefore seek your prayers as we make all these plans.

We also play for the Malawi region that they recover easily with Covid-19 so as to allow the Evangelist to visit them.

Furthermore, I recently visit Bomet where I met with the local leaders and thereafter met with Takitech groups. After the meeting later went and pray together in one of the brethrens who had lost his husband, the mother is upset has she has left with burden of educating her children. Lets also pray for her, she is called Selina.
Here is one from New Zealand that was forwarded to me, so I did not include the person's name:
Yes we are in lockdown after one community case found.

It will be likely that Auckland will stay in lockdown for a couple of weeks at least, which, if it does, will affect our Feast. …

At the moment we are in the waiting game – see what transpires on Friday. It might confirm we have to pull the pin or just leave us uncertain as to if we will be out of lockdown in time. Shirley and Fai are in Auckland. Ritchie is travelling up from the South and I have to travel through Auckland to get to our FOT destination.

There is pressure to be vaccinated, it is a constant rhetoric.

4 hour queues to get tested for those who were in the 'places of interest'

Not allowed in two of the three supermarket chains without a mask.

Unmasked 'in public' can be fined $300

I wore a mask at the supermarket. My glasses steamed up.

I did not wear a mask walking my dogs in the woods and at the beach – both locations close to me. Hopefully I will not be challenged for driving to these locations as my two old dogs cannot walk very far but love to mooch through the woods and along the beach. It really makes their day!

People who test positive for covid are taken to a 'government quarantine facility where they are 'cared for'. They may need to consider facilities outside of Auckland who are constantly taking the brunt of these lockdowns.

Like Steve, I would definitely like to NOT have the vaccine, but if it comes to having to, in obedience to our authorities to enable us to do what we need to do to support the work and get to where we need to be to gather together, then I will do so, and trust in the power of the Living God to protect me from the poison as others in our little flock have had to do.
Yes, we are affected by various circumstances. Those of us in the 'West' are not used to our governments being as restrictive as we have seen in the past 1 1/2 years related to COVID-claimed policies.
As far as vaccines go, here is a link to a related article: CCOG on vaccines.
Radio In Migori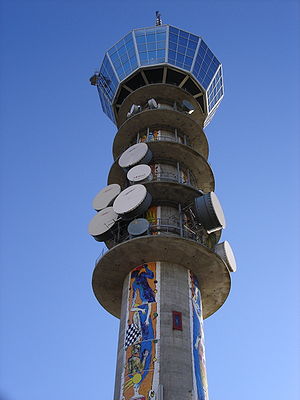 Radio tower (Wikipedia)
Deacon Ondigo Ochieng (no relationships to Evans Ochieng) sent the following report:
Dear Evangelists:

Greetings from Kehancha.

I got another opportunity to go on the radio.

On 8/8/2021, I discussed about the Faith for those called and chosen.The booklet really helped me dwell in the faith for those called and chosen.27 people called and some enquired to know more about our faith.Some asked for prayers,while others asked for materials in both Swahili and English to help in knowing deeply on what we teach.I was given an airtime of 1 hour.

On 15/8/2021,I discussed about the Resurrections. It was a big shock to so many especially some 5 pastors who called to ask me more about Daniel 12:2 and John 5:28-29. The total number of those who called were 15. I also got some invitation to a place called Naora to meet some few people there and discuss with them. Hope I will go when I feel well. Still feeling unwell, today I was diagnosed with malaria. I hopefully, will print lots of CCOG fundamental beliefs and carry some articles during the visit.

God bless you for your prayers and encouragement. Love to you and your families.

Best regards,

Bro. Ondigo
We are hoping to be able to continue this. Some in France have indicated that they would like to help sponsor this and hope to do so once we can get international transfer issues resolved.
Ghana and the Feast of Tabernacles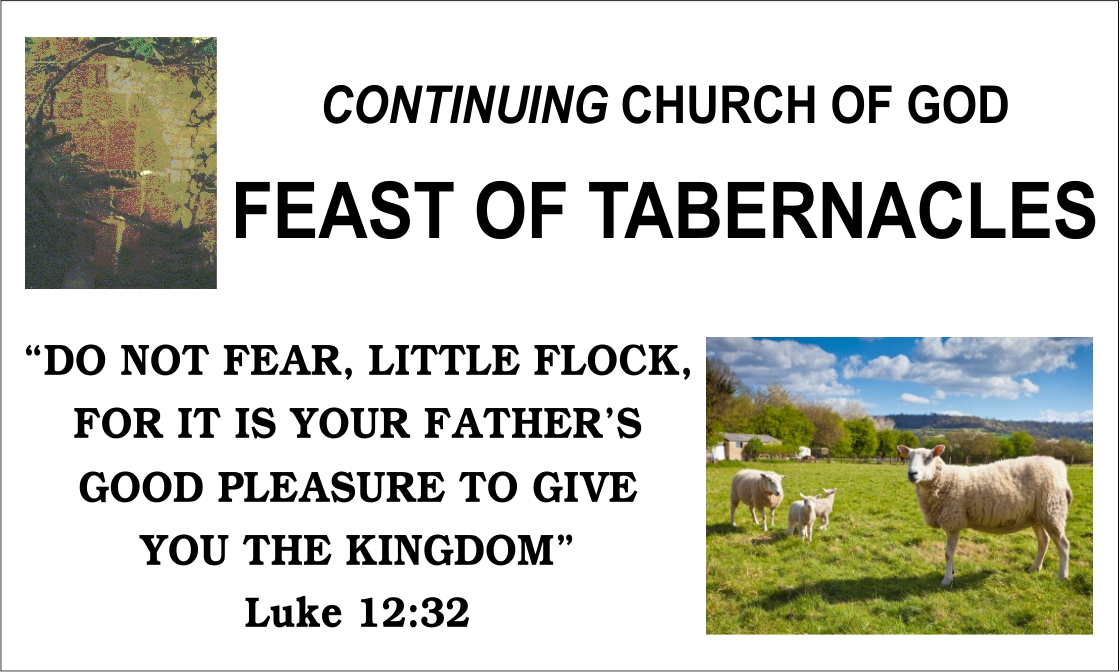 Pastor Samuel Ofosu sent the following from Ghana:
Dear Bob,

Thanks for your benevolent support for the coming Feast of Tabernacles as you have been given to me and brethren. Really your kindness have SECURED us a place for the FEAST.

We pray that you will be blessed and keept for your concerns regarding the workplace of the Supreme God and your vision for the future Salvation of Africa and the world. God richly bless you and your family.

Best Regards.

Samuel Ghana.

P.S. The location is RAMSEYER RETREATS CENTER IN KUMASI.
Glad that they were finally able to finalize a location.
Around the world, services for the Feast of Tabernacles are to begin the evening of September 20th and continue until the Last Great Day which is September 28th in 2021.
For information on CCOG sites, check out the article: Feast of Tabernacles' Sites for 2021.
Suggested Sabbath Day Services
Here is a suggested Sabbath day service for our scattered brethren and other interested people:
Note: If you have a slow internet connection, you can watch these by starting the video, then below it (and towards the right) look for an outline of a gear–if you click on that, it will allow the YouTube video to be played with lower video quality, but at least it will not stop often–you can select a quality as low as 144p. If your internet connection is still too slow (as my home one is) and/or you prefer audio messages to audio-visuals ones, go to the YouTube link for the message, click on SHOW MORE related to the description. You will then see something that says, "Download MP3." Below that is a link to an MP3 file. Most computers (and even some cellular telephones) will allow MP3 files to be downloaded and played. This is an option we have made available (but we are also looking into ways to improve that as well)–and, of course, we have written article options. Some people have found that if their internet connections are not fast enough, that they can simply listen to the messages that are found at the Bible News Prophecy online radio channel.
IN CASE YOU DO NOT RECEIVE A 'LETTER TO THE BRETHREN' FOR ANY WEEK, REMEMBER THAT THERE ARE MANY SERMON MESSAGES ON THE ContinuingCOG channel AND MANY SERMONETTE MESSAGES ON THE Bible News Prophecy channel. There are also some messages at the CCOGAfrica channel. There are also messages in the Spanish language at the CDLIDDSermones channel.
World News Items
The withdrawal of US troops from Afghanistan and the quick success of the Taliban have been dominating the news (see AP: Afghan president flees the country as Taliban move on Kabul and Iran praises USA military defeat in Afghanistan; USA worried about terrorism). Some see terrorist risks rising in Afghanistan as well as terrorist potential coming from refugees fleeing that country who feel betrayed by the US government (see also Potential terrorists? USA wants Afghani refugees, France's Macron says EU should not). The USA will be hit by terrorists from within its borders (cf. Deuteronomy 32:25).
Speaking of terrorists, the US government issued a warning that those who do not agree with COVID policies, those who questioned the last presidential election, and even those who keep 'religious holidays' are considered to be potential domestic terrorists (seeMS: They Have Come Up With Some Ominous New Definitions For What Constitutes "Domestic Terrorism"). This is a disturbing development from a country that claims to believe in freedom of speech and freedom of religion.
China expects to take advantage of the USA's departure as it has made ties with the Taliban– it also sent out a warning to Taiwan that the USA could not be relied upon (see HD: Post-American World Order? China Uses Afghan Crisis to Warn Taiwan: When We Take Over, 'US Military Won't Come To Help'). One day, Taiwan is biblically expected to align with China (cf. Revelation 16:12).
We continue to see odd and record weather in the USA (see 'Utah wildfire forces thousands of homes to evacuate as the nation's largest fire in California rages') as well as other parts of the world (see also 'Dangerous record heat bakes the US on both coasts' Sicily sets heat record). While God sometimes uses weather to encourage repentance (e.g. Amos 4:7-9), we are not seeing massive repentance, so more problems are expected.
Concluding Comments
The Apostle Paul wrote
If, then, any exhortation [is] in Christ, if any comfort of love, if any fellowship of [the] Spirit, if any yearnings and mercies, fulfill my joy, that you may mind the same thing—having the same love—of one soul—minding the one thing, nothing in rivalry or vainglory, but in humility of mind counting one another more excellent than yourselves—do not each look to your own, but each also to the things of others. For let this mind be in you that [is] also in Christ Jesus, who, being in the form of God, thought [it] not something to be seized to be equal to God, but emptied Himself, having taken the form of a servant, having been made in the likeness of men, (Philippians 2:1-7, LSV)
Brethren, we need to have love for one another, and like Jesus, be willing to give up our lives for the truth and to help increase love throughout eternity.
Sincerely,
Bob Thiel
Pastor and Overseer