Dear Brethren and Co-Workers in Christ:
Greetings from the Five Cities Region of California.
Received an email from Europe yesterday from a man who had accepted some of the nonsense that some who left us this year put forth. Anyway, he apologized for his temporal acceptance of some of their accusations and is back with us again. There are others like him, so please pray that God would open their eyes so that they will believe and act upon the truth as well as to have proper Philadelphian focus for the work.
Related to the work, we received another 53 translations to our English booklet The Gospel of the Kingdom of God. We continue to lead the Final Phase of the Work as we prepare for the 'short work' of Romans 9:28 (see also Preparing for the 'Short Work' and The Famine of the Word) and take other steps related to the fulfillment of Matthew 24:14.
Death of Sheila Doles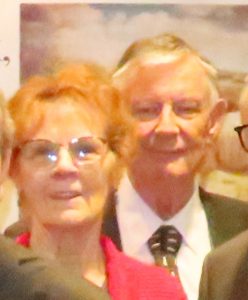 Sheila and Mike Doles
(Photo from the CCOG Feast of Tabernacles, Pigeon Forge, 2021)
I was saddened to learn of the loss of Sheila Doles from Arizona last week. She died two Sabbaths ago. I believe that the first time we met was in a church conference in Arizona put on by my prior COG. We discussed literature and I explained to her why there was a need for articles, books, and booklets that are longer than what she was used to in the old Worldwide Church of God. My wife Joyce remembers Sheila as 'can do' type of person who was adventurous and willing to see and do things that many women her age did not have the strength or will to do. That said, Sheila had been suffering a lot, and last year she was diagnosed with stage four cancer. Her suffering is now over.
She will be missed. She is survived by her husband, Mike Doles, who has assisted with matters such as baptismal counseling for the Continuing Church of God. We look to see Sheila in the first resurrection, which may only be about a decade away.
Africa Matters
Deacon Koang Deng, from Ethiopia, sent in the following:
Dear Dr. Bob:
Amhara people in Ethiopia started another war against the government of Ethiopia. But we don't know what will be the end of it.Ethiopia right now has a more tribulism than the years back.Last three months, gambella was under a threaten fight between two tribes, Nuer and Anyuak, which lost more lifes than a numbers thirty years back.Politicians are on their way to do many obstacles and to let people fight themselves and many other divisions in the region of gambella, the same to in Amhara region.Please pray for safety of Ethiopia and God's people.
Best regards,
Koang Deng
Saw a news report about the conflict in Ethiopia today–please pray for the protection of our brethren in Ethiopia and God's Kingdom to come.
Pastor Tiongik Sawek, from the Rift Valley in Kenya, sent the following report:
Receive greetings in Jesus Christ. Last week we met together with Evangelist Ochieng ,Elder Cheruiyot and Brother Limo at Bomet Town. Evangelist Ochieng was from Malawi. We held a meeting purposely for the feast of Tabernacles for this year. We agreed to be held in Mau, Molo, Njoro, Bomet, Chilani and Takitech regions. Each region will therefore be planning for the event in their respective local churches.
Lastly, the CCOG has greatly improved and so far brethrens have appreciated the ongoing spiritual events being held. We had also planned together with Evangelist Ochieng to visit Ngarooni-Sagemian coming this September, a date to be scheduled soon.
We are therefore seeking for your prayers as we are planning all these events.
May God Bless you.
Regards,
Pst. Sawek
We were recently asked to fund plastic chairs for the brethren in Njenjete, Malawi to use for church services. Pastor Radson Mulozowa sent the following photo of what was purchased: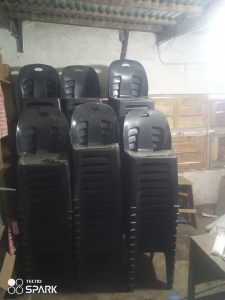 We continue to provide physical and spiritual support for our brethren around the world, including Africa.
Pastor Mulozowa sent the following photo and report today: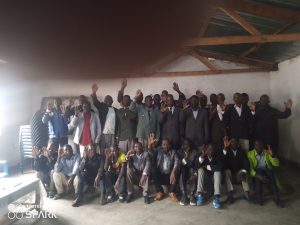 Let me report that they seminar for the leaders has ended todayAm the meeting was very successfulDuring the meeting I talked about the kingdom of GodOrdained feastA leader must be a hard worker not a lazyChurch administration and it's procedures to mention fewDuring the meeting the whole night leaders could not sleep asking me to continue teaching because they will sleep when they arrive homeReally it was a wonderful moment with brethren and they requested me to arrange another meeting for the whole week …Best regardsRadson
We are striving to teach the leaders and others in Africa what Jesus commanded as per Matthew 28:19-20.
Feast of Tabernacles
The Feast of Tabernacles will begin next month.
Services are to start the evening of September 29th and continue until sunset ending the Last Great Day which is October 7th in 2023.
In the USA, we are planning to observe the Feast of Tabernacles in Wisconsin Dells, Wisconsin.
We plan to hold services in the Fairfield Inn & Suites Wisconsin Dells. Its address is 511 Wisconsin Dells Pkwy, Wisconsin Dells, WI 53965.


Fairfield Inn & Suites Wisconsin Dells
It reportedly shares a parking lot, and has affiliation, with the SpringHill Suites Wisconsin Dells. Its address is 461 Wisconsin Dells Pkwy, Wisconsin Dells, WI 53965.
The hotel representative sent the following:
Hotel(s) offering your special group rate:
Fairfield Inn & Suites Wisconsin Dells for 99 USD per night
Book your group rate for CCOG Feast of Tabernacles
SpringHill Suites Wisconsin Dells for 109 USD per night
Book your group rate for CCOG Feast of Tabernacles
The SpringHill Suites Wisconsin Dells is supposedly a little nicer than the Fairfield Inn & Suites Wisconsin Dells and also is to have the option of having connecting rooms.
The rates for each include some type of breakfast.
The discount being offered to us is substantial as when we tried to book them for the period of the Feast of Tabernacles, the rates that came up online were about USD$50 more per night, so we feel that the rates being offered are quite good.
While we do not require that people stay at either of those properties, it is usually much easier for those who choose to stay where services will be held.
Congregants should already be saving second tithe so they can afford to go and observe the Feast of Tabernacles joyfully, as God's word declares they should.
Do not put it off as time marches on fairly quickly.
You do not need to stay at the hotel it will likely be held at in order to attend the Feast of Tabernacles here. However, many will find staying at the meeting hotel convenient.
According to Tripadvisor, the Wisconsin Dells has about 118 restaurants and 110 places to stay.
The closest airport is Madison Truax Field (MSN), which is 40.56 miles away. The Milwaukee Airport (MKE) is 127.2 miles away.
Here is the expected schedule for services for the USA site and it should be similar for Canada:
DAILY SCHEDULE

Friday, September 29, 2023. Services: 7:30 pm.
Saturday, September 30, 2023. Services: 2:00 pm.
Sunday, October 1, 2023. Services: 9:30 am.
Monday, October 2, 2023. Services: 9:30 am.
Tuesday, October 3, 2023. Services: 9:30 am.
Wednesday, October 4, 2023. Services: 9:30 am.
Thursday, October 5, 2023. Services: 9:30 am.
Friday, October 6, 2023. Services: 9:30 am.
Saturday, October 7, 2023. Services: 2:00 pm.
More information on this site is expected to be added once it is available.
If you have not let me know that you are attending, please do not delay and send me an email cogwriter@aol.com
For information on our sites around the world, go to the article: Feast of Tabernacles' Sites for 2023.
Suggested Sabbath Day Service
Here is a suggested Sabbath day service for our scattered brethren and other interested people:
Note: If you have a slow internet connection, you can watch these by starting the video, then below it (and towards the right) look for an outline of a gear–if you click on that, it will allow the YouTube video to be played with lower video quality, but at least it will not stop often–you can select a quality as low as 144p. If your internet connection is still too slow (as my home one is) and/or you prefer audio messages to audio-visuals ones, go to the YouTube link for the message, click on SHOW MORE related to the description. You will then see something that says, "Download MP3." Below that is a link to an MP3 file. Most computers (and even some cellular telephones) will allow MP3 files to be downloaded and played. This is an option we have made available (but we are also looking into ways to improve that as well)–and, of course, we have written article options. Some people have found that if their internet connections are not fast enough, that they can simply listen to the messages that are found at the Bible News Prophecy online radio channel.
IN CASE YOU DO NOT RECEIVE A 'LETTER TO THE BRETHREN' FOR ANY WEEK, REMEMBER THAT THERE ARE MANY SERMON MESSAGES ON THE ContinuingCOG channel AND MANY SERMONETTE MESSAGES ON THE Bible News Prophecy channel. There are also some messages at the CCOGAfrica channel. There are also messages in the Spanish language at the CDLIDDSermones channel.
World News Items
The United Nations seems to be testing the world community to see if the term "global boiling" will get more people to accept their agenda than using the term "climate change" (see FC: The era of 'global boiling' has arrived — So says a U.N. official, at least). As far as what could be called "global boiling" or at least closer to it, that will not happen until a couple of years after the start of the Great Tribulation during the Day of the Lord (cf. Revelation 16:8-9).
Infection concerns are back in the news (e.g., see MILLIONS die every year from superbug infections because of censorship and because the medical establishment ignores scripture and most natural treatments). There is also a new strain of COVID-19 that is concerning some (see 'New Covid-19 variant detected: What we know so far about EG.5.1'). We know that Jesus prophesied pestilences (Matthew 24:7) and we are getting closer to the time where there will be one more deadly than COVID-19 (cf. Revelation 6:7-8).
Germany's Alternative für Deutshland (AfD) had a conference this past weekend–and it wants Europe to change (see AfD rising: Dexit or Revelation 17:12-13?). Furthermore, the "strong man of the AfD," Björn Höcke, said, "If you want to hear a populist statement from me … This EU must die so that the real Europe can live" (see AfD's Björn Höcke: If you want to hear a populist statement from me … This EU must die so that the real Europe can live). He wants Europe to reorganize. The Bible calls Europe's coming strong man "the beast" in places like Revelation 13. More and more the stage is being set for Europe to reorganize and turn power over to the beast as prophesied in Revelation 17:12-13.
In the USA, some keep placing their confidence in Donald Trump, and some wonder if a Roman Catholic hermit's prediction about Donald Trump turning that nation to God will come to pass (see 'REVEALED: 35 Year Old Prophecy Says Trump Will Lead America Back to God'). Others believe that Donald Trump will cause the destruction of America, while others believe that if Joe Biden is re-elected the USA is doomed (see MS: Is America Doomed?). Let me make this quite clear, without national repentance the USA is doomed to destruction (cf. Daniel 11:39; Habakkuk 2:6-8).
Concluding Comments
The Apostle Paul taught:
12 Therefore do not let sin reign in your mortal body, that you should obey it in its lusts. 13 And do not present your members as instruments of unrighteousness to sin, but present yourselves to God as being alive from the dead, and your members as instruments of righteousness to God. 14 For sin shall not have dominion over you, for you are not under law but under grace.

15 What then? Shall we sin because we are not under law but under grace? Certainly not! 16 Do you not know that to whom you present yourselves slaves to obey, you are that one's slaves whom you obey, whether of sin leading to death, or of obedience leading to righteousness? 17 But God be thanked that though you were slaves of sin, yet you obeyed from the heart that form of doctrine to which you were delivered. (Romans 6:12-18)
Brethren, the world is deceived to think that people have to obey improper lusts. Do not let that attitude that Satan amplifies affect you.
We are under grace, not to sin, but to live as God wishes us to. And we have been delivered from the lusts the world is entrapped in, and we will ultimately be granted eternal life in His kingdom.
That is something to be grateful for.
Sincerely,
Bob Thiel
Pastor and Overseer