Some of wondered how the Continuing Church of God (CCOG) spends the tithes and offerings its headquarters in the U.S.A. receives.
To address this, we put together the following chart related to 2020: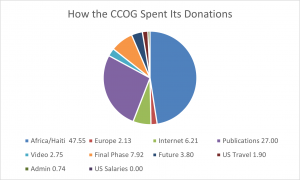 Now, 2020 was an interesting, and in many ways a unique year.
On the positive side, income received into the USA was up 31.7%. On the negative side, items such as government policies related to COVID-19 impacted our spending needs and priorities.
Overall, if you sent the CCOG a check for US$100.00 in 2020 here is how it was spent:
Internet proclamation 6.21
Printed publications 27.00
Video and animation production 2.75
Foreign final phase of the work 7.92
Future projects 3.80
US Feast of Tabernacles' costs and US travel 1.90
Administration and legal expenses 0.74
Salaries, health insurance, and retirement plans for US leaders 0.00
Support to Europe 2.13
Support to or for Africa, Haiti, and the Philippines 47.55
Yes, most of our money goes to support proclamation of the truth as well as the physically and spiritually poor as we work to fulfill Matthew 24:14, Romans 11:25, the Ezekiel Warning, and Matthew 28:19-20.
1) Internet proclamation 6.21
Directly or indirectly, many people have tended to come into the Continuing Church of God via God calling them through the internet.
From my personal COGwriter.com website, to the various official websites and video platforms, we have a lot of materials on the internet.
Internet proclamation includes paying for servers, URL fees, platforms (like Vimeo), our e-zine (Church of God News page headlines and links for COGwriter.com that goes out automatically on a daily basis) and our Google and Microsoft campaigns to reach people around the world. The Google campaign has now made over 207 million computer impressions with parts of the Philadelphian message. In 2020, we added cg7.org and have been doing a Microsoft promotion of it since. We actually spent about the same on the internet in 2020 as in 2019, but because of our increase in income, this percentage dropped.
Here are some of our website names:
BibleNewsProphecy channel
Bible News Prophecy Flipboard
Prophecy https://www.bitchute.com/channel/prophecy/
Bible News Prophecy https://www.brighteon.com/channel/ccogbnp
Bible News Prophecy https://vimeo.com/channels/biblenewsprophecy
BibleNewsProphecy online radio
BibleNewsProphecy Podcast
Church of God Seventh Day Sabbatarian Christians
CCOGAfrica channel
CCOG.AFRICA
CCOG.Asia
CCOG Canada (CCOGCANADA.CA)
CCOG.ORG English Language
CCOG.EU Europe
CCOG.IN India
CCOG.NZ New Zealand
CCOG (PHIND.PH) Philippines
CCOG (CDLIDD.ES) Spanish Language
CG7.ORG
ContinuingCOG channel
Continuing Church of God Facebook page This has news and prophetic information.
In 2020, we updated nearly 100 foreign language editions of our booklet The Gospel of the Kingdom of God in order to be able to better assist in the fulfillment of Matthew 24:14.
2) Printed publications 27.00
Jesus taught:
10 And the gospel must first be published among all nations. (Mark 13:10, KJV)

14 And this gospel of the kingdom will be preached in all the world as a witness to all the nations, and then the end will come. (Matthew 24:14, KJV)
The actual Greek supports "publishing," showing that there was a plan to get the written word to the world as a witness from the time of Jesus. Jesus further confirmed this when He told John to write the Book of Revelation (Revelation 1:1,11) (Note: This is not clear from the English NKJV which uses "preached" in the accounts in Mark 13:10 & Matthew 24:14, even though there are variants in the Greek words, etc. in those passae). This is also consistent with Thayer's Greek English-Lexicon.
This "publishing" plan is one of many reason why there are so many ancient copies of portions of the New Testament—over 5,800 (Holden, p. 103). So despite, Imperial burnings etc., there are still more copies of parts of the New Testament than any other comparable ancient document.
Printed publications include the production, printing, and distribution of the BibleNewsProphecy magazine in various languages as well as various books and booklets. We put together printed literature in multiple languages.
This category of expense includes spending for printed literature, software licenses to produce the literature and graphics, graphics' labor, editing costs, postage to ship literature, and labor to ship literature. The costs here also include formatting non-English literature in forms that it can be available on the internet as well as forms to allow it to be printed in the USA and Africa. The good news is supposed to be "published" (Mark 13:10, KJV/AFV) and we are doing that in both the Western and Eastern Hemispheres.
Now, by mailing literature all over the world, we also can reach people who otherwise would not be reached.
We have also been diligently adding books. In several areas, we have the most detailed and scripture-filled books ever produced and printed by a Church of God.
These are necessary as we prepare for the short work of Romans 9:28 (see also Preparing for the 'Short Work' and The Famine of the Word) and well as to help teach the brethren (some of whom God will use to "instruct many" Daniel 11:33).
3) Video and animation production 2.75
Video and animation production covers the costs to produce the BibleNewsProphecy videos, CCOG animations, the Behind the Works video, and the creation of DVDs that are sent to some international locations for the Feast of Tabernacles. It also, sometimes, includes cost for sermon production–but those costs are negligible. These videos are one of the major ways we reach people around the world. Because we mainly use free platforms, we do not have to spend massive amounts here. Although we modified one animation 2020, we did not produce any animations in 2020. In 2020, we produced Spanish-language videos for the first time–all by volunteers, and there was no direct financial costs associated with them.
4) Foreign final phase of the work 7.92
Final phase of the work expenses (professional fees, government fees, and travel) are generally for non-USA matters (essentially long-term proclamation matters). We are making contacts and working with various governments, NGOs, and private organizations in Europe, Asia, and Latin America. We have a kingdom of God proclamation focus, as well as one to reach the world with all that Jesus taught and some of this is being done "behind the scenes," so to speak related to Romans 9:23-28 and 11:23-28. But some has been more public, such as some of what we have been doing related to the work in Spanish and Puerto Rico and years back in Israel. US expenses related to the final phase of the work are in other categories (like printed publications and internet expenses).
5) Future projects 3.80
Future expenses represent unspent funds and essentially act as a reserve. These increased slightly in 2020 and some may be used for literature and other promotion in 2021.
As one who was a certified management accountant (CMA), it makes sense for our reserves should to be larger than they are, and we should have more here than we do (which is a little under one month's average donations). Since we have a lot of volunteers, we do not need to have reserves as high as some may prefer.
6) US Feast of Tabernacles' costs and US travel 1.90
US Feast of Tabernacles' costs include what the hotel charges for the meeting room and some travel and other expenses. This category also includes other travel, which tends to be low. An example of US travel would be costs associated with Deacon Richard Close making a baptizing and counseling tour. We would like to spend more for US travel in this category in 2021 if Richard Close, COVID-19 restrictions, and other matters allow for it.
7) Administration and legal expenses 0.74
Administrative expenses. This tends to include a few office supplies, mandatory government fees, and telephone costs. My business office does NOT charge the CCOG for use of space, electricity, postal machine use, etc. Now, it should be mentioned that for those who send funds via PayPal, PayPal deducts between one – three percent before we get the funds. So, those costs are not reflected here as we used the example of someone sending a US check. Let it be pointed out that PayPal is still the most cost-effective way of sending US dollars from outside the US and is also conveniently effective for US supporters that use it.
We spend significantly less in terms of actual dollars and percentage of donations on this category than other churches our size and larger. Typical COGs spend between 8-16% of their donations on this category as we have always spent less than 1%.
We simply do not have an appreciable administrative waste.
8) US Salaries, retirement, health insurance 0.00
While this is the biggest expense item for most USA churches, it is not for us.
Salaries are not paid to CCOG leaders in the USA. People such as myself (as well as my wife), Richard Close, Steve Dupuie, Louis Rubin, Bill Wedekind, and Terry Nelson (who went to Africa on CCOG's behalf in 2020) are not paid—we all have freely donated time. Nor have we paid their spouses. Nor have we funded any retirement nor health insurance plans. It is not that we would not consider having a paid US ministry, but we had none in 2020.
The Old Testament warned about religious shepherds who cared more about their own luxury than the well-being of the people they were supposed to serve.
1 And the word of the Lord came to me, saying, 2 "Son of man, prophesy against the shepherds of Israel, prophesy and say to them, 'Thus says the Lord God to the shepherds: "Woe to the shepherds of Israel who feed themselves! Should not the shepherds feed the flocks? 3 You eat the fat and clothe yourselves with the wool; you slaughter the fatlings, but you do not feed the flock. 4 The weak you have not strengthened, nor have you healed those who were sick, nor bound up the broken, nor brought back what was driven away, nor sought what was lost; but with force and cruelty you have ruled them. 5 So they were scattered because there was no shepherd; and they became food for all the beasts of the field when they were scattered. 6 My sheep wandered through all the mountains, and on every high hill; yes, My flock was scattered over the whole face of the earth, and no one was seeking or searching for them."

7 'Therefore, you shepherds, hear the word of the Lord: 8 "As I live," says the Lord God, "surely because My flock became a prey, and My flock became food for every beast of the field, because there was no shepherd, nor did My shepherds search for My flock, but the shepherds fed themselves and did not feed My flock" — 9 therefore, O shepherds, hear the word of the Lord! 10 Thus says the Lord God: "Behold, I am against the shepherds, and I will require My flock at their hand; I will cause them to cease feeding the sheep, and the shepherds shall feed themselves no more; for I will deliver My flock from their mouths, that they may no longer be food for them." (Ezekiel 34:1-10)
Although embittered anti-Church of God bloggers like to claim that the COG is all about money and having the ministry live off the back of tithe-payers, this is easily proven false as far as the CCOG goes.
Now, while we understand that many American Laodicean ministers are hirelings (cf. John 10:12-13), we in the CCOG are not.
We have never paid a salary to any American minister, elder, or deacon. It is not that we never would, but we never have.
Are ministers entitled to be paid?
Yes. Notice the following:
14 How then shall they call on Him in whom they have not believed? And how shall they believe in Him of whom they have not heard? And how shall they hear without a preacher? 15 And how shall they preach unless they are sent? As it is written:

"How beautiful are the feet of those who preach the gospel of peace,
Who bring glad tidings of good things!" (Romans 10:14-15)
Ministers who are sent, are sent with funds.
Notice also the following writings:
17 Let the elders who rule well be counted worthy of double honor, especially those who labor in the word and doctrine. 18 For the Scripture says, "You shall not muzzle an ox while it treads out the grain," and, "The laborer is worthy of his wages." (1 Timothy 5:17-18)

9 For it is written in the law of Moses, "You shall not muzzle an ox while it treads out the grain." Is it oxen God is concerned about? 10 Or does He say it altogether for our sakes? For our sakes, no doubt, this is written, that he who plows should plow in hope, and he who threshes in hope should be partaker of his hope.

11 If we have sown spiritual things for you, is it a great thing if we reap your material things? 12 If others are partakers of this right over you, are we not even more?

Nevertheless we have not used this right, but endure all things lest we hinder the gospel of Christ. 13 Do you not know that those who minister the holy things eat of the things of the temple, and those who serve at the altar partake of the offerings of the altar? 14 Even so the Lord has commanded that those who preach the gospel should live from the gospel. (1 Corinthians 9:9-14)
Those who believe the New Testament realize that the ministry is entitled to compensation.
Christians are to generously support the church physically, starting with the ministry:
6 Let him who is taught the word share in all good things with him who teaches. 7 Do not be deceived, God is not mocked; for whatever a man sows, that he will also reap. 8 For he who sows to his flesh will of the flesh reap corruption, but he who sows to the Spirit will of the Spirit reap everlasting life. 9 And let us not grow weary while doing good, for in due season we shall reap if we do not lose heart. 10 Therefore, as we have opportunity, let us do good to all, especially to those who are of the household of faith. (Galatians 6:6-10)
This also shows that money is something to share.
Hebrews 7 further shows that the money the Church was entitled to included the tithes that previously had been paid to the Levites. While I personally feel that I am entitled to be compensated (and do accept reimbursement for expenses, etc.), I, like Paul, have forfeited a regular salary and for the time I make my income another way (owning a business), as there are other needs in the work that I have placed as a higher priority this "present distress" (1 Corinthians 7:26).
Jesus taught, "Man shall not live by bread alone, but by every word that proceeds from the mouth of God" (Matthew 4:4), which is how I try to live my life. Jesus also taught, "My food is to do the will of Him who sent Me, and to finish His work" (John 4:34)–should we not be about our "Father's business" (cf. Luke 2:49)?
While we do, as Jesus instructed "pray the Lord of the harvest to send out laborers into His harvest" (Matthew 9:38) and are willing to pay US salaries should the need arise, thus far we have not had to do that with any CCOG leaders in the US.
9) Europe 2.13
Funds sent to Europe in 2020 were basically exclusively sent for the purpose of supporting CCOG elder Aleksandar 'Sasha' Veljic and others in Serbia. The funds are used essentially as a ministerial stipend, with some to handle poverty and other issues.
The work that elder Veljic does includes holding online church services, meeting and baptizing people, literature production, and reaching people with the good news of the Kingdom of God.
While most of this work is more or less tied to continental Europe, elder Veljic's knowledge of the Spanish language has been helpful as well for some in the Western Hemisphere.
We had intended to spend additional funds in Europe in 2020, but COVID-19 restrictions on international and other travel sidelined most of that.
10) Support to or for Africa, Haiti, and the Philippines 47.55
Support to Africa, Haiti, and the Philippines includes paying for ministerial expenses to reach and teach, travel to preach the gospel of the Kingdom of God, printing some literature, certain translation expenses, distributing literature, meeting space assistance, supporting the poor (Galatians 2:10; Romans 12:13; cf. James 2:14-16; Hebrews 13:16; Isaiah 58:7; Proverbs 28:27), including widows and orphans (James 1:27). While most of the direct support for Haiti comes from the Canadian office, the US office helps advise on this, sometimes also directly sends funds, as well our office has not asked for funds to reimburse for literature it produces and sends to Canada in order for that office to better be able to provide support for Haiti. Philippine expenses were minor and mainly related to the Feast of Tabernacles. The vast bulk of the money in this Support category goes to Africa as that is where the vast majority of our members reside and where many fruits are being produced.
While the percentage of income spent there dropped in 2020, because of our increase in income, we sent above 25% more to Africa in 2020 than in 2019.
Too much spent on Africa?
As mentioned before, the Apostle Paul referred to the "present distress" in his letter to the Corinthians (1 Corinthians 7:26).
Because of the poverty in Africa, as well as Haiti, their "distress" was a reason that my wife Joyce and I have never taken a salary from the CCOG.
In 2020, government COVID-19 restrictions caused us to have to provide financial support to many that we never needed to assist before as they were not allowed to work enough to have sufficient food. So, that "present distress" caused us to have to spend more on that type of assistance than we otherwise would have.
Another way that COVID-19 affected our finances is that it because necessary to pay to get materials translated (and printed) into one or more native languages so that people could keep the biblical Passover (much of that is shown in the Publications' category). Around Passover time, many African governments were afraid and had more extreme restrictions than they have had since.
Now, some have criticized the COGs in general for not providing enough support to the poor. Other COGs have their priorities, but those of us of the Philadelphian remnant organization (CCOG) realize that the admonition "Let brotherly love continue" (Hebrews 13:1), meant that we needed to do what was needed to be done.
The Apostle James wrote:
14 What does it profit, my brethren, if someone says he has faith but does not have works? Can faith save him? 15 If a brother or sister is naked and destitute of daily food, 16 and one of you says to them, "Depart in peace, be warmed and filled," but you do not give them the things which are needed for the body, what does it profit? 17 Thus also faith by itself, if it does not have works, is dead.

18 But someone will say, "You have faith, and I have works." Show me your faith without your works, and I will show you my faith by my works. 19 You believe that there is one God. You do well. Even the demons believe — and tremble! 20 But do you want to know, O foolish man, that faith without works is dead? (James 2:14-20)
Furthermore, Christians understand the following:
7 Do not be deceived, God is not mocked; for whatever a man sows, that he will also reap. 8 For he who sows to his flesh will of the flesh reap corruption, but he who sows to the Spirit will of the Spirit reap everlasting life. (Galatians 6:7-10)
Some leaders who claim to be Philadelphian Christians have placed high priorities in the 21st century on buildings, organizational spending, retirement accounts, and other aspects of spending more than they should.
Many who are not Philadelphian Christians fail to fully accept the following:
9 And let us not grow weary while doing good, for in due season we shall reap if we do not lose heart. 10 Therefore, as we have opportunity, let us do good to all, especially to those who are of the household of faith. (Galatians 6:9-10)
Various ones have said something to the effect that there are lots of poor people in places like Africa, there is no point in assisting them much as it will not help anyway.
Yet, the Apostle Paul warned Christians NOT to grow weary while doing good AND that includes doing good to those in the household of faith.
Now, someone in a COG criticized us for spending too much on Africa.
He said that first tithe is for gospel proclamation and third tithe is for the poor–and that the two should not be intertwined.
Of course, we know that what is commonly called third tithe is for the poor as well as the ministry as scripture teaches:
12 … your increase in the third year — the year of tithing — and have given it to the Levite, the stranger, the fatherless, and the widow, so that they may eat within your gates and be filled (Deuteronomy 26:12)
Notice that both the widows and the Levites are included.
Well, if I spent the same amount of church money for a salary and benefits like the evangelist and his wife who led the last COG I was part of did, there would be basically no money left to assist in Africa.
Yet, because my wife and I choose to give away what we are entitled to, like Paul, I have been criticized for being too generous for not taking what I was entitled to.
Paul wrote to Corinthians complaining about him:
7 Did I commit sin in humbling myself that you might be exalted, because I preached the gospel of God to you free of charge? (2 Corinthians 11:7)
Jesus warned about having the wrong attitude towards how others generously spend money:
1 "For the kingdom of heaven is like a landowner who went out early in the morning to hire laborers for his vineyard. 2 Now when he had agreed with the laborers for a denarius a day, he sent them into his vineyard. 3 And he went out about the third hour and saw others standing idle in the marketplace, 4 and said to them, 'You also go into the vineyard, and whatever is right I will give you.' So they went. 5 Again he went out about the sixth and the ninth hour, and did likewise. 6 And about the eleventh hour he went out and found others standing idle, and said to them, 'Why have you been standing here idle all day?' 7 They said to him, 'Because no one hired us.' He said to them, 'You also go into the vineyard, and whatever is right you will receive.'

8 "So when evening had come, the owner of the vineyard said to his steward, 'Call the laborers and give them their wages, beginning with the last to the first.' 9 And when those came who were hired about the eleventh hour, they each received a denarius. 10 But when the first came, they supposed that they would receive more; and they likewise received each a denarius. 11 And when they had received it, they complained against the landowner, 12 saying, 'These last men have worked only one hour, and you made them equal to us who have borne the burden and the heat of the day.' 13 But he answered one of them and said, 'Friend, I am doing you no wrong. Did you not agree with me for a denarius? 14 Take what is yours and go your way. I wish to give to this last man the same as to you. 15 Is it not lawful for me to do what I wish with my own things? Or is your eye evil because I am good?' 16 So the last will be first, and the first last. For many are called, but few chosen." (Matthew 20:1-16).
Notice that the Kingdom of God, according to Jesus was like this parable. A parable where someone gave more to many than they had to. Money that should be mine and my wife's has instead gone to the poor.
The fact that Joyce and I have done that is NOT something a truly Philadelphian Christian should criticize. Or if they have, they should change their attitude and not be like grumblers who have no right to complain.
The fact that I spend as many hours as I do related to the work means that yes, we have the right proclamation focus. The fact that I do not take a salary for it should not diminish its importance. The priority is there.
Some have claimed that they would focus on Matthew 24:14 and other public proclamation matters as they had income to support it. They tended to look to the physical–how much money they had after salaries, rent, etc.
The Apostle Paul wrote that Christians "walk by faith, not by sight" (2 Corinthians 5:7).
God's Plan Will Be Accomplished
The vast bulk of CCOG funds are spent to preach, reach, and teach, with nearly all the rest to support the poor and widows.
God owns everything:
8 'The silver is Mine, and the gold is Mine,' says the Lord of hosts. (Haggai 2:8)

5 … all the earth is mine. (Exodus 19:5b)
God does not need our money. But His word says He wants you to give (see Tithing Questions and Some Answers and Why Holy Day Offerings?). And to do so cheerfully:
6 But this I say: He who sows sparingly will also reap sparingly, and he who sows bountifully will also reap bountifully. 7 So let each one give as he purposes in his heart, not grudgingly or of necessity; for God loves a cheerful giver. 8 And God is able to make all grace abound toward you, that you, always having all sufficiency in all things, may have an abundance for every good work. 9 As it is written:

"He has dispersed abroad, He has given to the poor; His righteousness endures forever."

10 Now may He who supplies seed to the sower, and bread for food, supply and multiply the seed you have sown and increase the fruits of your righteousness, 11 while you are enriched in everything for all liberality, which causes thanksgiving through us to God. 12 For the administration of this service not only supplies the needs of the saints, but also is abounding through many thanksgivings to God, 13 while, through the proof of this ministry, they glorify God for the obedience of your confession to the gospel of Christ, and for your liberal sharing with them and all men, 14 and by their prayer for you, who long for you because of the exceeding grace of God in you. (2 Corinthians 9:6-15)
Yes, supporting the needs of the saints in places like Africa, Haiti, and Serbia helps in glorifying God–despite criticisms that those who are full and think they are fine (cf. Revelation 3:14-22) may heap upon us.
That being said, while money is helpful, if we DO our part, the work of God will be done.
6 This is the word of the Lord to Zerubbabel:
'Not by might nor by power, but by My Spirit,'
Says the Lord of hosts. (Zechariah 4:6)

5 Look among the nations and watch —
Be utterly astounded!
For I will work a work in your days
Which you would not believe, though it were told you. (Habakkuk 1:5)
It is God's Spirit that provides the signs of Acts 2:17-18 which CCOG has (see Does the CCOG have the confirmed signs of Acts 2:17-18?). It is ONLY by us acquiescing to His Spirit that we can have a part in the work that will be done.
Jesus said:
32 "Do not fear, little flock, for it is your Father's good pleasure to give you the kingdom. 33 Sell what you have and give alms; provide yourselves money bags which do not grow old, a treasure in the heavens that does not fail, where no thief approaches nor moth destroys. 34 For where your treasure is, there your heart will be also. (Luke 12:32-34)
Our focus is NOT on having fancy facilities for our members.
Our focus is NOT in providing lavish lifestyles for the ministry.
Our focus is to DO WHAT THE BIBLE SAYS. And that is how we strive to spend the funds that we receive.
Jesus also said, "You will know them by their fruits" (Matthew 7:16).
As the fastest growing xWCG group in the 21st century, the Continuing Church of God has the type of fruits–also including our literature AND helping the poor–that the Philadelphian remnant should have.
The way we spend our funds is consistent with how we believe Jesus wants us to.
We strive to spend based upon biblical priorities, and believe we have done that in 2020 and prior years–and we expect to do the same in the future.
Here is a link to a related sermon: CCOG spending and priorities.
Should you wish to support the CCOG financially, here is a link to the Continuing Church of God Donations page. Which has a mailing address as well as PayPal link and other information (like the facts that donations are eligible for income tax deductions for USA income tax filers).