About the Continuing Church of God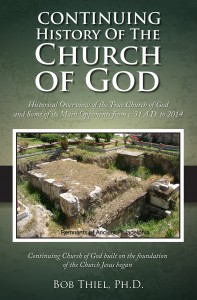 Jesus said His true Church would be a "little flock" and be around until He returns. The Continuing Church of God is the "little flock" that traces its history from the Book of Acts, throughout the ages, and into the 21st Century. Would you like to learn more about the faithful remnant? Read
CCOG's statement of beliefs for more information
.
Updated Edition: Continuing History of the Church of God
This booklet provides an overview on early church history and shows the differences between the real Church of God and other groups that claim Christianity. It also explains information on how the formation of the Continuing Church of God is consistent with the start of the Philadelphia era of the Church of God. Most groups that claim Christianity, COG or otherwise, have tended to shy away from reporting details about what really happened in the post-apostolic period of the second century, yet this booklet by the Continuing Church of God boldly explains why ONLY THE CHURCH OF GOD truly can continue to represent the continuation of the "faith once for all delivered to the saints."
Content
NEWS & PROPHECY
BIBLE NEWS PROPHECY
Bible News Prophecy Radio
Dear Brethren and Co-Workers in Christ: My prayer is that you are all doing well. Things are generally fine, though busy, here in the Five Cities region of California. Spring Holy Days As mentioned last week, the Spring Holy Days are getting nearer. Again, if any of you wish to…
BOOKLETS, MAGAZINES & BIBLE STUDY COURSE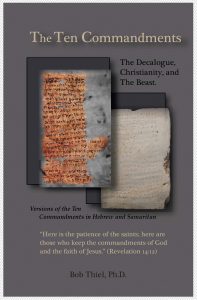 Latest Booklet:
The Ten Commandments: The Decalogue, Christianity, and the Beast
Do you know much about the Ten Commandments? How long have they been in place? What did early Christians think about them? How did early Christians number them? Were they in effect before Mt. Sinai? Were they 'nailed to the cross' as some claim? What is the "mystery of lawlessness" that the Apostle Paul warned about in 2 Thessalonians 2:7? What do most professing Christian groups misunderstand about the Ten Commandments? What is the relationship between Christians, the Ten Commandments, and the Beast of Revelation in the end times? In addition to addressing those questions, this booklet explains various practical points about the Ten Commandment and how to not violate them. Each of the Ten Commandments is discussed separately and many scriptures are referenced related to each one. The Ten Commandments are important to understand in the end times. Here is a link to the booklet:
The Ten Commandments: The Decalogue, Christianity, and the Beast
..
Latest Magazine:
BibleNewsProphecy: April-June 2017: Africa Conference
Contents:
2. From the Editor: African Conference 2017 The Continuing Church of God held a conference for some of its African leaders in 2017. 3. Where are the 12 Tribes of Israel? While many people understand where the tribe of Judah is located, most do not realize where the other 12 tribes (including the two 'half-tribes') ended up. 19. Twenty-Eight Tips for More Effective Prayers: Part 7. Would you like to learn how to make your prayers more effective? 24. Lesson 12 Study the Bible Course: Proof of Biblical History-Introduction 31. Passover: Is It Only About Christ's Death? Should Christians keep the Passover?
Click here for our Bible Study Course